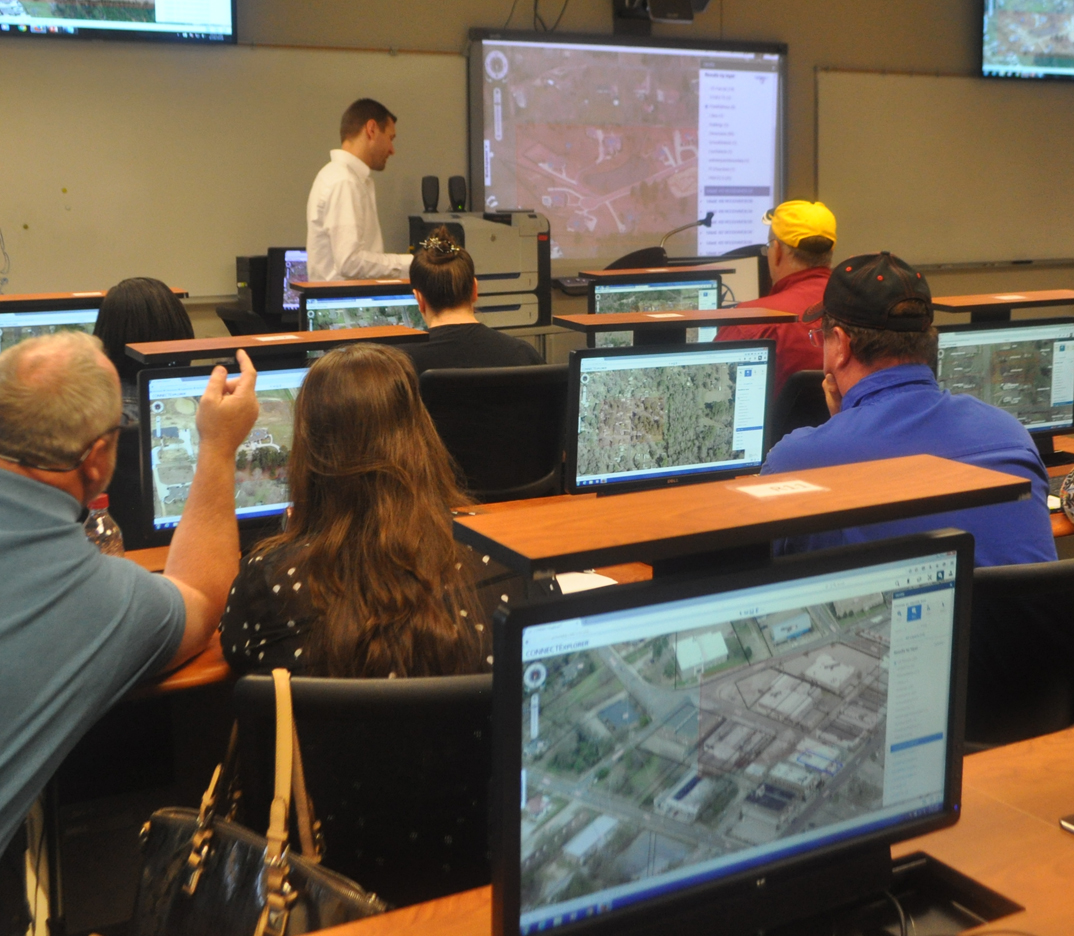 A new aerial imagery program is opening a world of possibilities for several different Webster Parish agencies.
On Wednesday and Thursday, several parish and muncipal agencies took part in a training course at Northwest Louisiana Technical College on ConnectExplore, a web-based aerial imagery program that allows agencies to use it to meet their specifications. Members of the Webster Parish Sheriff's Office, Webster Parish Office of Homeland Security and Emergency Preparedness, the Webster Parish Police Jury, Webster E-911, the Cities of Minden and Springhill as well as different area fire departments participated.
Carl Thompson, deputy assessor and project coordinator, says six of these agencies agreed to share the cost of bringing the program to Webster Parish, which makes them all stakeholders in it.
"It is a very useful tool for all of our parish and municipal entities," he said.
Sharing the cost of the program includes the assessor's office, Webster OEP, the police jury, the sheriff's office, E-911, and the Cities of Minden and Springhill split the roughly $160,000 cost.
Jenny Reynolds, director of Webster Parish OEP, says it is user friendly and will allow them to assess situations more quickly than in years past.
"From an emergency management perspective, this new dashboard and program will allow us to do better planning and preparedness as well as response to emergencies and natural disasters," she said. "Our first order of business is to protect life and property, so in an emergency situation, say, involving a hazardous material, we could go into this program quickly to the area visually. We could draw protective zones around that area based on whatever data we have on the incident and be able to extract information from that area as to the number of houses we're dealing with or critical facilities that may be involved, which helps in a more expedited evacuation, for example."
Dan Attoma, a technical trainer from Rochester, New York, says the program provides two different sets of resolutions for the imagery, from the top down and from a 45-degree angle.
"It's designed to be utilized by assessment folks, GIS folks, emergency management folks, fire and public safety folks, all the key entities that bought into it are the key targets for the application," he said. "Being able to have a firefighter go in and put in a location where there's an incident and see there's an access road north of the location they didn't know about before. Being able to, from a GIS or planning standpoint, identify electric utilities."
He says law enforcement will be able to pin different areas such as a crime scene or the direction in which a suspect escapes police. For instance, he showed an aerial image of a city block that had been tagged as a crime scene. Law enforcement agents were able to pinpoint where they found a weapon, where the crime had been committed and which direction the perpetrator took in his escape.
Attoma explained all images are saved onto a cloud, or a secure server based in Rochester. All entities that have admittance are able to access the images and do what they need to do and save it for future use.
The photos used in this program were taken in December 2015 and January, Attoma said. Kyle Robertson, cartographer for the assessor's office, says ideally, aerial imagery needs to be updated about every four years to have maximum effectiveness for all involved.
Users will be able to access street level imagery through other programs too, Attoma said. For instance, there is a tool in the program that allows ConnectExplore to link with another program, such as Google Maps, to use street level imagery, he said.
"This system is pretty intuitive and based off a lot of GI software and imagery other people utilize," he said. "We tried to make this revamped version the most user-friendly and intuitive so that essentially everybody can take advantage of it and use it they way the want."
Robertson says while he's still learning the program, he feels this will be more efficient in the office's every day duties.
"What this will allow our office as a whole to do is our parish deputies that go out and check houses will be able to get a full 180-degree view of a house before they go out there," he said. "If something happens and they can't go, now we can all do it from the computer. Not to say that we won't go out. We'll still go out and physically check houses, but if there is a situation that arises that we need to do a quick measurement at the terminal, now we have that capability."
The last time the assessor's office imagery was updated was in 2011, and in 2009 before that, he said, paid for by Homeland Security.
"This all started with looking at just doing an update with a flyover," Robertson said. "Then we came across Pictometry. We've come so far, because in 2005, we had black and white images. They were just old and out of date."