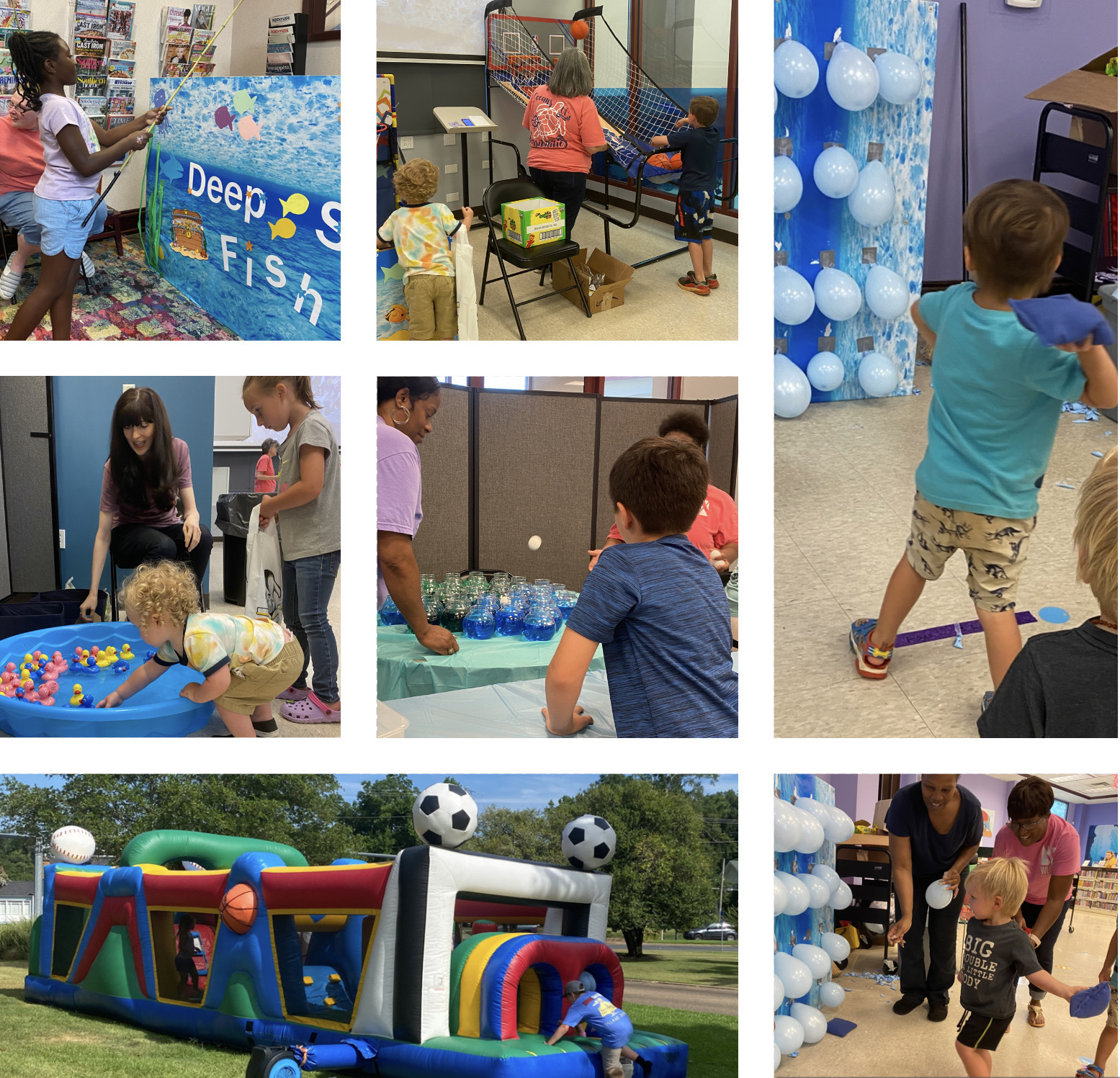 Webster Parish Libraries kicked off their Summer Reading Program on Monday with a host of fun-filled activities. This year's theme is "Oceans of Possibilities."
During the kick-off event, children played in the bounce obstacle course, did a little "deep sea" fishing, tossed balls for goldfish, and more. They were also able to get a library card and sign up for the program. Certificates of completion will be awarded at the Year End Party on July 29.
"Participating in the summer reading program not only encourages lifelong reading and brings families together, it does so much more," said Kim Sentell, Director of Marketing and Community Liaison for Webster Parish Libraries.
The purpose of the Summer Reading Program (SRP) is to cultivate growth in literacy and to promote cognitive development. Studies have shown that students who participate in a SRP are likely to score higher on reading assessments at the beginning of the next school year. Studies also show that students who participate increase their motivation to and enjoyment of reading which, in turn, leads to more reading and learning. This puts students on an upward spiral of achievement.
"I'm excited for this year's program. Our Children's Coordinator, Cassidy Duck, developed a fantastic lineup of special performers that I believe participants will really enjoy," said Savannah Jones, Director of Webster Parish Libraries. "So much hard work has gone into developing this year's program from staff all across the parish in different departments. I'm not being partial when I say Webster Parish has some of the most passionate people working for them."
This week children are invited to make crab fridge magnets, create an under-the-sea diorama, watch the movie Dolphin Tale, and create an edible volcano. Next week there will be sand art, magic shows, and the movie Treasure Planet. Kids will be able to make a mason jar aquarium and visit Steve's Snaketuary.
The Minden main branch will be having special performances – which require registering for the event — including a magic show on June 29 which will be followed by a magic workshop by David Leboeuf, the Into the Deep science show on July 8, the Dinosaur Experience on July 14, Steve's Snaketuary on July 20, and Never Ending Story Time with Ariel & Friend on July 27.
"The Webster Parish Library team has really worked hard to expand this year's program well beyond traditional reading by adopting a connected learning approach, which focuses on interest-driven and hands-on learning for optimal success," said Sentell. "By integrating reading and literacy into activities that center on passions and interests, we are hoping to effectively engage summer readers."
While the kick-off was Monday, you can still register your children for the SRP. Events are happening at all branches of the Webster Parish Library. For more information, call your local branch or go to their website at websterparishlibrary.org.