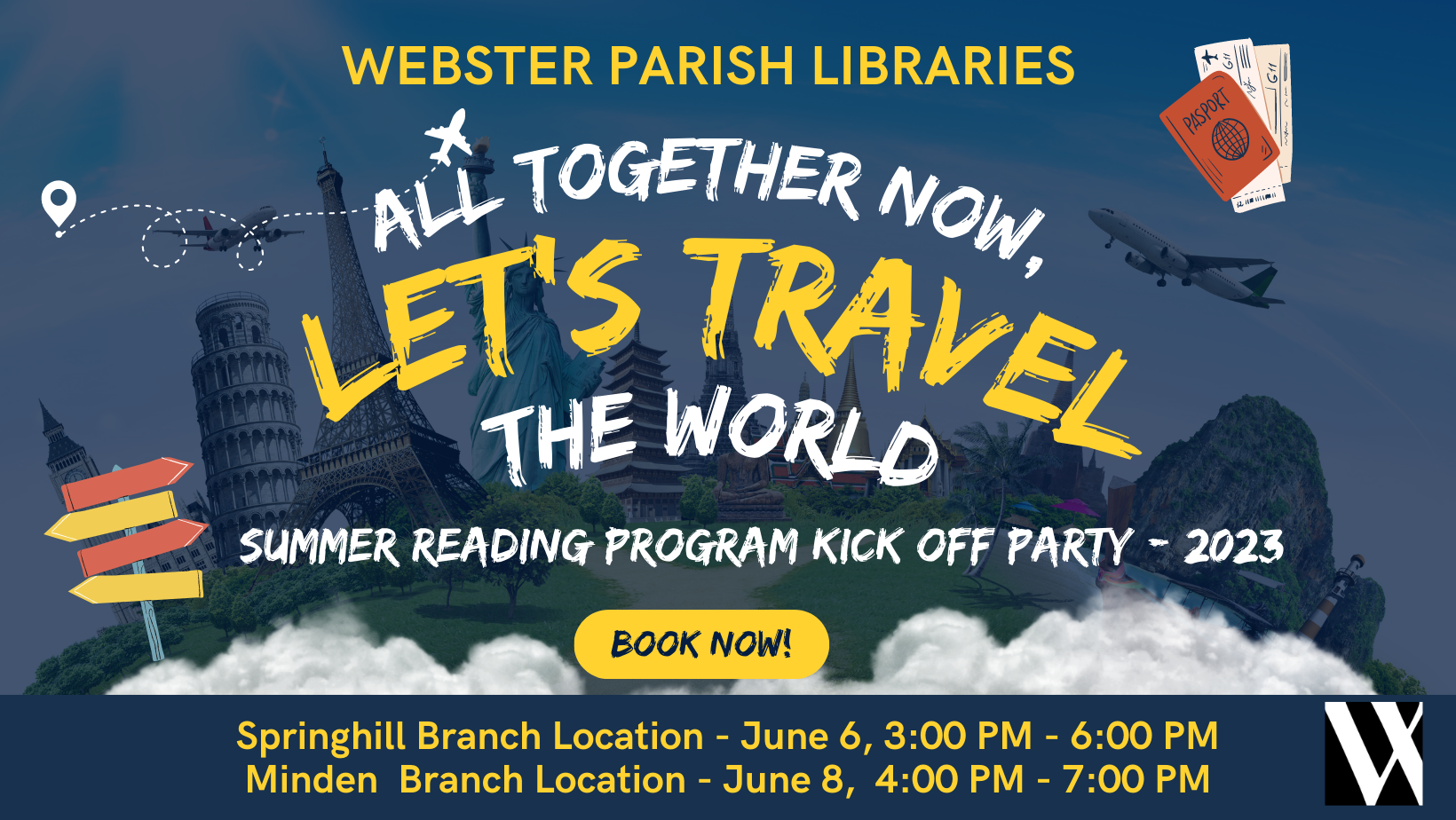 Calling all globetrotters! Webster Parish Libraries is excited to announce this year's Summer Reading Program theme, "All Together Now, Let's Travel the World!" Together we'll explore our wonderful world and different cultures!
Get ready for takeoff and join in on the fun at your first destination! Visit your Minden and Springhill library branch locations for the 2023 Summer Reading Kickoff Events. The kickoff party for the northern end of the parish will be held at your Springhill library branch location on Tuesday, June 6, 2023, from 3 PM – 6 PM, and the kickoff party for the southern end of the parish will be at your Minden library branch location on Thursday, June 8, 2023, from 4 PM – 7 PM.
The events, which will mark the beginning of the annual Summer Reading Program, will feature fun activities from around the globe such as Mine Golf (Scotland), Darts (England), Chopsticks (China), and more! Come put your navigation skills to use as you make your way through an onsite inflatable obstacle course! Don't forget to make your way to the registration table while you are there, though.
Registration packets for the 2023 Summer Reading Program will be available for pickup that include all you need to know to get started on your upcoming quest along with a few other travel necessities.
If you can't attend the events, you can register now in person at your local library branch or online through Beanstack by visiting https://websterparishlibraries.beanstack.com/reader365 . Beanstack is a mobile platform that will allow travelers to track their reading journey online to earn cool travel rewards!
Mark your calendars and prepare to make your way around the world on a learning adventure this summer with your Webster Parish Libraries as we visit new and exciting destinations together!
We are so excited for summer–so stay tuned for more updates! We can't wait to see you!