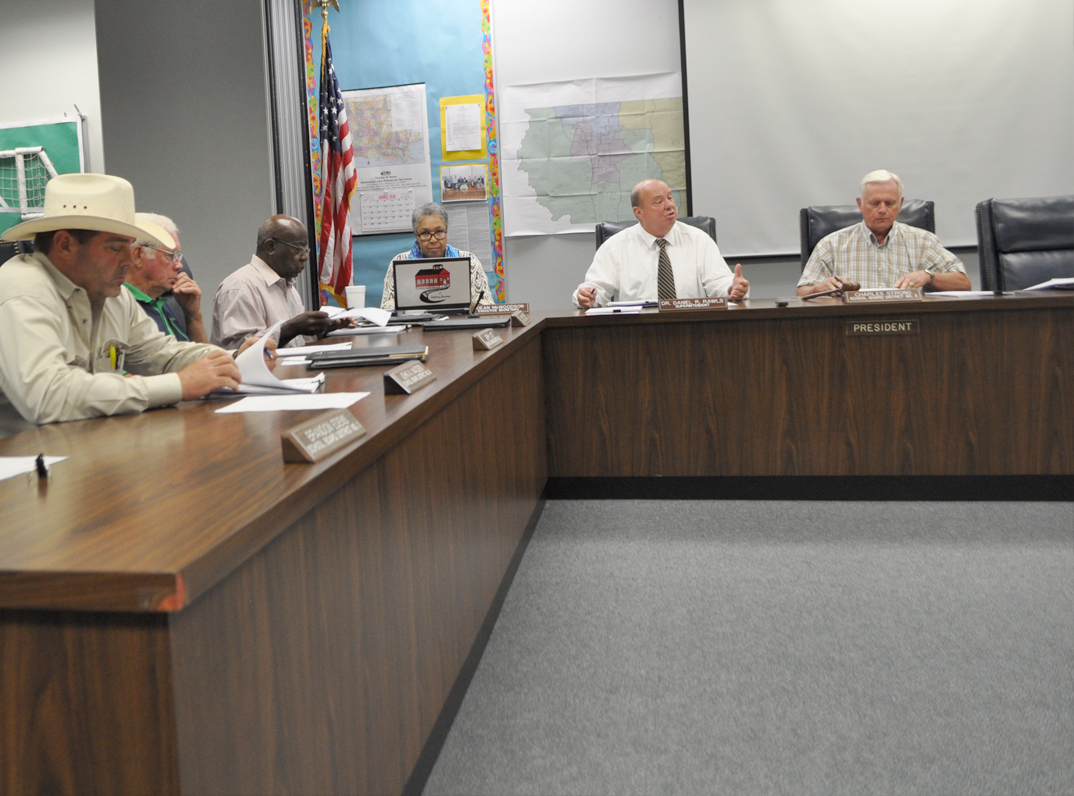 The Webster Parish School Board formally awarded the bid for the construction and renovations of two schools to Boggs and Poole Contracting Group, Inc. of Bossier City.
In a special meeting Monday, Architect Perry Watson, with Yeager, Watson and Associates, says they were the lowest bid coming in at roughly $5.7 million, with the alternate 1 plan at $46,000 to add a wing to J.A. Phillips Middle School and a wing to Webster Junior High School, along with renovations to each school.
The alternate plan is to add an additional covered walkway with the concrete work on the east side of WJHS.
"We had a published budget for $5.9 million for construction," Watson said. "You can spend whatever available funds within the bond issue, but the $5.9 million is a legal number that has to be out there from the owner's side to tell the bidders that if the bids are proper and they come in at or under that money, that you're going to award the contract."
Watson explained the board still has the total $7 million bond issue, less bonding attorney fees, architect fees and other expenses.
"As it looks right now, you're going to have ample funding for furniture, equipment and contingencies," he said.
Boggs and Poole Contracting Group, Inc., has done sizeable work to schools in Desoto Parish, Watson says, and is a reputable company.
"They ran the job in a top notch fashion," he said, "and I have no problem recommending them to do a top notch job for Webster Parish."
District 6 Board Member John Madden commended Watson on his work with the plans on the project, saying they were straight-forward and specific as to what is needed for the students affected.
"When you typically have that many bids that close together on that big a job, you have to have a pretty big set of plans drawn," he said. "There's not that many ambiguities in there, so kudos to Mr. Watson and his staff."
A total of five bids were opened last Thursday. Other bidders included Don M. Barron Contractors Inc., with a bid of roughly $5.9 million and $34,500 for the WJHS addition, ELA Group Inc., with a bid of $5.78 million and $45,000 for the addition, Brown Builders with a bid of $5.8 million with $39,800 for the addition and Walker Construction Co., Inc., with a bid of $5.78 million with $34,000 for the addition.
The project consists of two wings, one at Phillips, which will serve as the kindergarten wing, and one at WJHS, which will serve as the sixth grade wing. Renovations will take place inside Phillips to make the school age appropriate for kindergarten and first grade students. At WJHS, additional bleachers will be added in the gymnasium to handle the influx of the 200 additional students.
Phillips already has a pre-K wing, and at the completion of the project will serve as the school for kindergarten and first grade as well. The sixth graders at Phillips will move to WJHS.
The project comes from the issues plaguing kindergarten and first grade students and faculty and staff at J.E. Harper Elementary School. The biggest complaint is the noise levels that come with an open air classroom setting, as well as inadequate restroom space and other infrastructure issues.
The project is expected to be completed by the end of 2017.