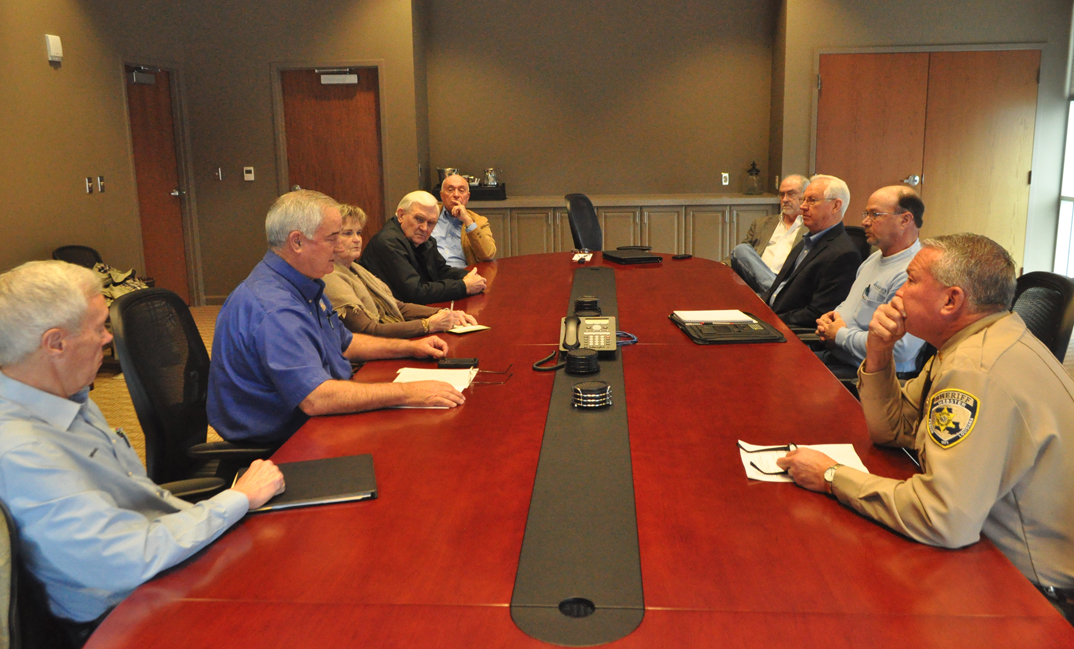 Seven Webster Parish municipalities, plus the Webster Parish Sheriff's Office, will be seeing a significant savings to their budgets following a Thursday meeting with parish assessor Morris Guin.
Historically, the eight entities have been required to pay the assessor's office an annual fee for processing municipal tax notices. That won't be happening anymore, effective immediately, Guin says.
"I am eliminating this charge to the municipalities and the WPSO, which will benefit Webster Parish tax payers," Guin said in a news release.
Guin met with the sheriff and the mayors of Doyline, Minden, Sarepta and Sibley Thursday at Minden City Hall and explained why his office would no longer charge the fee. Earlier in the week, Guin held a similar sit-down with the mayors of Cullen, Cotton Valley and Springhill.
Forgiving the fee means Sheriff Gary Sexton's office will save a total of $18,379.50, the City of Minden saves $6,581.50, Springhill will not have to pay $3,554, Doyline saves $625, Cotton Valley will save $977, Cullen saves $943, Sarepta will save $684 and Sibley saves $866. Total savings to the communities is $32,610 for 2015.
"Some of the amounts may not seem like much, but that money is important to everyone," Guin said during the meeting. "It was sort of a labor charge to the sheriff and the municipalities that we really don't need. We're here to tell you that you will not get another bill from us anymore."
Guin says his office could have found something to do with the money. But, comparing this fee cancellation to the return of $500,000 to parish taxpayers last year, the money wasn't a factor in operating the assessor's office.
"It's a little like the $500,000, we could have hired more people, but we don't have the liability you all have," he said. "The sheriff has 'x' number of employees, we have eight, nine counting me. We've got two vehicles, the sheriff has probably 100 and the City of Minden has many."
Guin says new technology expedites the processing of all tax notices, and that's one reason his office can return the money.
"We do things a lot quicker now than 15 to 20 years ago. We just don't need to charge for this," he said.
"I'm the biggest benefactor of this and I really appreciate what you do," Sheriff Sexton said. "This will help on the aerial imagery we're about to do in the next few years."
"We're the next largest and you may think $6,500 doesn't mean a lot to the city, but in this day and age, we have to watch our pennies pretty closely around here," Minden Mayor Tommy Davis said. "This is a good thing for us."