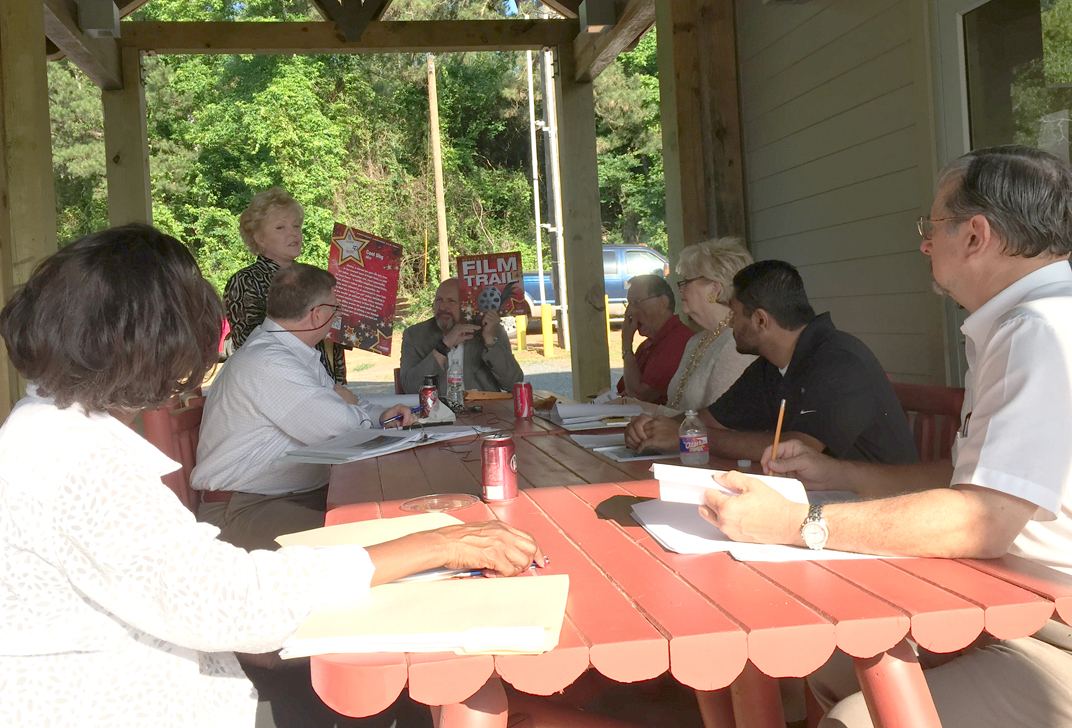 Tourists will soon be able to follow the film trail through Webster Parish.
With Webster Parish becoming home to the sites of several movies filmed within its borders, Webster Parish Convention and Visitors Bureau executive director Lynn Dorsey is putting the finishing touches on getting film trail signs completed and installed in downtown Minden.
"Thanks to Kerry (Easely), we have prototypes here," she said. "These are our logo signs and they will face the traffic. For anyone who wants to do the film trail, they'll have to park and get out of their car and go along the street in different locations and they'll have the location number and the description of the movie. The city and the mayor have already approved these."
The signs will have a QR code to make them interactive.
"We have a group right now taking video clips from each of the movies that we have signage for," she said. "You'll be able to scan this code as you walk down Main Street and it will take you to the scene from that movie that was filmed in the location your standing. We're real excited. I do really think we'll have these up by the end of June."
Easley, commission chairman, says one of the things that really needs to be pushed in the signage advertisement is how it works.
"You have to have an app on your phone for it to work," he said. "For this to really work for us, we really need to encourage and plan in our advertising how to get the app and where to get it."
It's a free app, he says, and it's going to take some extra effort to teach people where to get the app and how it works.
In other news, Kyle Edmonston, assistant secretary of tourism, will be coming to the next meeting in September to speak to the board of commissioners.
Dorsey says the state introduces the new programs the Office of Tourism offers for the upcoming year.
"Last year, the lieutenant governor decided to start having the summits in August instead of January because then they know what monies they have funded for the next fiscal year," she said. "It's a much smarter way to do it, and Kyle will be able to reiterate what's offered to us."
The tourism commission also approved grants for the following functions: Ride for Life in Springhill, 4th of July Celebration in Sarepta, Blues Festival by R&D Foster LLC, the Heflin Sawmill Festival, Heart of the Pines Film Festival by Pine Heart Productions and the Vintage Car Club in Minden for the Show and Shine Car and Bike Show.
The next meeting will be at 8 a.m. Sept. 15, in Springhill. For more information, or for questions, call the convention and visitors bureau at 377-4240.