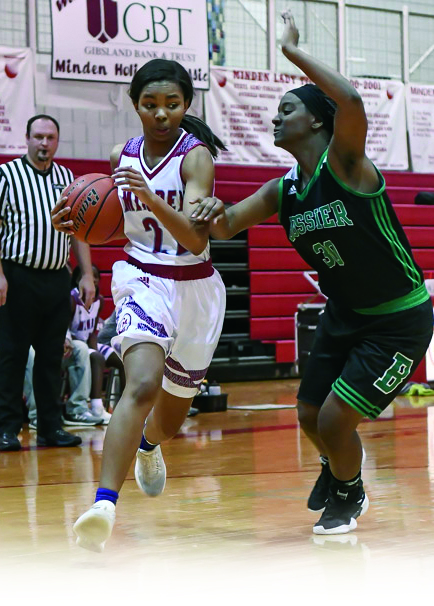 Power ratings are just formulas. They run on algorithms.
But, computers are not infallible.
Just look at this week's 4A Louisiana power ratings. Benton still sits in the top spot above #2 Minden, despite the Lady Tiders' 50-44 win over the Lady Tigers in last week's Doc Edwards Memorial tournament semi-finals.
"It's good for talk, but being number one only really matters in March," Minden head coach Jacob Brown said. "I think our girls have a bigger picture in mind."
Minden went on to win the tournament in dramatic fashion with a 74-68 double-overtime win over North Caddo in the finals.
Benton still holds the top spot due to strength-of-schedule and more quality wins. If the rating system took the eye-test into account, the Lady Tiders would surely be the top seed as both teams head into district play. 
Luckily for us, the fans, both teams compete in the same district. The top two teams in the state still have at least two more games against each other before the playoffs start.
Jan. 11 is the first official district matchup, and it will be at Benton.
"Beating Benton was definitely a confidence-booster," Brown said. "Last year they went to the state semi-finals. It puts us in the mindset that we can do something special this season."
This season has already proven to be special for the Tiders.
After dropping the first game of the year to Ruston by two points, Minden has yet to lose a game at full strength.
Their only other loss of the year was against Red River (by three points) in a game where Minden sat three starters, including leading scorer Derrica Gilbert (15 points-per-game).
Until the Doc Edwards tournament, none of the games have been particularly close, something Brown says isn't too concerning.
"We've been in close games all year," Brown said. "If you look at the Ouachita tournament, every one of those games the margin of victory was in double-digits, but it was a possession game throughout."
The Doc Edwards tournament saw the Tiders reel off four straight wins against quality opponents.
DeRidder's Domonique Davis will suit up for LSU next season.
North Caddo's Destiny Rice is one of the best players in the state and scored 46 points in their loss to Minden. 
Benton is still a top team in 4A. Even Class-B Stanley has a solid team. 
"Each game brought different challenges," Brown said. "There is a reason we go to that tournament. I think it shows the challenges that are out there, but it's also given us another confidence boost."
So what has been the key to Minden's 19-2 start? Trust, balance, and chemistry.
"We have a humble group of girls," Brown said. "They aren't selfish, they are always at practice, working on their games. They have played together from rec league to middle school up until now."
That trust in each other has led to balanced scoring with nearly four players averaging double-digits scoring. Gilbert leads the team, but Bre Rodgers has returned from an early-season injury to put up 10.8 points-per-game. Janiya Reed has exploded on offense of late, giving the Tiders over ten points a night.
"There are nights where Tayler Banks has been one of our leading scorers," Brown said. "We have so many different players who can rise to the occasion."
Brown said that doesn't just mean scoring points.
"In our first district game, Bre [Rodgers] didn't score a point," Brown said. "But she had seven rebounds, five blocks and eight assists. There's other ways to fill a box score."
Trust among players led to balance. Add that to Brown's system and style as a head coach, and you can see why Minden exudes chemistry.
"Their games compliment each other, and they have bought in," Brown said. "There's not a whole lot a coach can do, it's just a blessing."
Brown's humility aside, he has the Lady Tiders in position to head into the playoffs as the favorites to win it all come March.
The only time being #1 really matters.