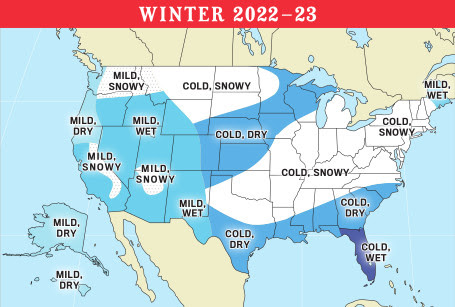 The Old Farmer's Almanac releases Christmas Day forecast ahead of winter's arrival on December 21st
In the U.S., the Old Farmer's Almanac's famous long-range predictions are forecasting snow for much of the country over Christmas week.
In most regions, periods of snow showers or flurries are expected to occur in the days leading up to Christmas, which means that many folks will be able to enjoy a Whitte Christmas! Looming rain threatens to make it a wash down the West Coast and across the South, however.
–In the Northeast, Lower Lakes, Upper Midwest, Heartland, High Plains, Intermountain, and Alaska, expect snow showers in the days leading up to Christmas with temperatures trending colder.
–Rain showers will turn to snow flurries around Christmas in the Atlantic Corridor, Appalachians, and Ohio Valley.
–Expect rain showers around the holiday in Florida and the Southeast, accompanied by cool, seasonable weather.
–The Deep South and Texas-Oklahoma will be blessed with sunny skies around Christmas, accompanied by chilly temperatures in the Deep South but milder weather in Texas-Oklahoma.
–The Desert Southwest looks like it wants to have a bit of everything, with snow showers in store for the eastern half of the region and rain the west.
–In the Pacific Northwest, rainy periods will occasionally turn to wet snow, accompanied by cold temperatures. In the Pacific Southwest, that snow will be rain instead.
–The eastern and western island of Hawaii should expect rain showers for Christmas with isolated showers occurring in the central part of the archipelago.
In Canada, snow will be on the ground (or at least in the air) for Christmas Day in Southern Ontario,Southern Quebec, the Prairies, and Southern British Columbia, as well as way up north in the Yukon and Northwest Territories.
In Atlantic Canada, rain will plague the days leading up to Christmas, but snow is likely to make an appearance on the holiday itself.
Check out where snow is most historically likely to fall (or be on the ground) on Christmas Day!
The first day of winter 2022 is on Wednesday, December 21! The Old Farmer's Almanac winter 2022-2023 forecast tells A Tale of Two Winters.