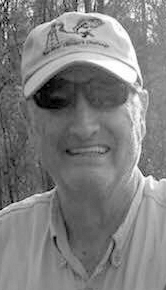 Willard Wray Moore, 79, passed away in his Minden home on Monday, July 21, 2018, five days before his 80th birthday. He battled cancer for several years before finishing his race and is now home with his Lord fishing in the heavenly Crystal Seas.
Mr. Moore was born on July 21, 1938 in Obion County, Tennessee. He received a bachelor's degree from Centenary College and a master's degree from Northwestern State University. Willard was a retired school teacher and coach from Bienville Parish. He was also a professional fisherman who owned Moore's Marina, hosted his own television series "Outdoor with the Moore's", and was nationally recognized for his accomplishments in his favorite sport. For the past 11 years, Willard served as the lay speaker and supply pastor for Arizona United Methodist Church and Colquitt United Methodist Church in Homer, Louisiana. Willard loved spending time with family and friends and was beloved throughout Northern Louisiana and beyond.
Willard is preceded in death by his parents and his first wife Elizabeth "Betsy" Moore.
Surviving him is his wife of twenty years, Jamie Moore, and their three wonderful children, Kathryn (Kathy), Rebecca (Becky), and Andrew and older sister, Betty Beal, who resides in Florida.
The family would like to thank Dr. Dhawan and Lauren Scheffy and staff of Highland Clinic Cancer Center, Minden Medical ER staff, Dr. Michael Chanler and Aime Hospice who journeyed alongside us.
A celebration of Willard's life will be held on Saturday, August 4, 2018 at 11AM at First United Methodist Church in Minden, Louisiana with Reverend John Cannon of Lafayette's Asbury United Methodist Church officiating.
The family kindly asks that in lieu of flowers, please donate to either the Willard Moore Memorial Fund set up at Gibsland Bank in Minden, or to the charity of your choice.