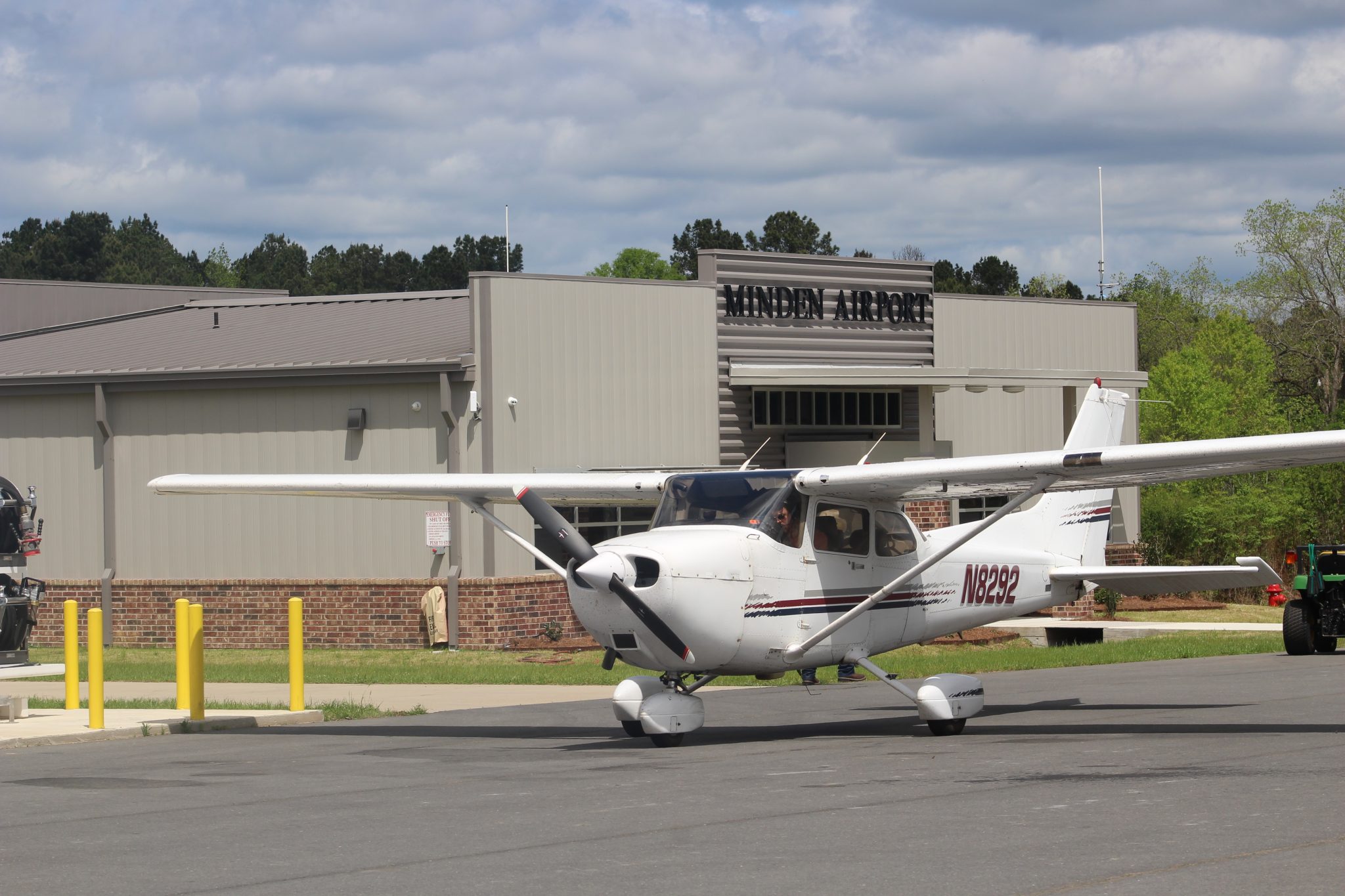 The first phase of obstruction removal at the Minden Airport is complete, and some much-needed renovations have been done along the way.
Airport Manager Steven Burdeaux said they are in the process of moving into the brand new airport terminal. The building has new office space, a conference room, pilot's lounge, flight-planning room, reception and lobby area.
"There are a lot more amenities than the old building," he said. "We went from about a 150 square foot building attached to one of our old hangars to doubling the size of our old building. We've greatly improved our facilities with new capabilities and new technology."
Pilots are now able to come into the terminal and look at the Automated Weather Observation System, which tells them wind speed, weather patterns and other useful information before they take flight again. Wi-fi capabilities are better, VOIP phone systems and other amenities, he said.
Burdeaux said they've also improved security in several different ways.
A new self-serve fueling station has been constructed, which holds 10,000 gallons of aviation fuel and 10,000 gallons of jet fuel.
"It allows them to get fuel 24-hours a day, and it allows us to give them a cheaper price because we don't have to charge full-service prices," he said.
The fueling station and the terminal were constructed next to the 30 new T-hangars that house planes opened in 2015. Burdeaux said 26 of those hangars are full.
In the next year or so, the city is working towards a runway rehabilitation, which will include the removal of the old hangars, terminal and fueling station. The parallel taxiway will be extended all the way to the northern end of the runway and extending it to the southern end.
"We've got a partial right now that ties into our new apron," he said.
On average, the Minden Airport sees about 300 to 400 operations per month.
Mayor Tommy Davis said the improvements to the airport are already assisting in economic development in that when companies are looking at Minden to locate, the airport is one of the first things they ask about.
"Having the airport here is a good part of economic development," he said. "If they have the capability to fly people in and out then they don't have to go to Shreveport. When Yellowjacket was moving into the South Webster Industrial District, they flew people in and out quite a bit. When Unimen was here, they flew in and out quite a bit."
The project was funded through grants from the Louisiana Department of Transportation and Development and the Federal Aviation Administration. This is Phase I of the project, the obstruction removal is Phase II, which will be to remove the old fueling station, terminal and hangars to make way for the parallel taxiway.
The total cost of the project is about $2 million.
"We're very proud of the new terminal," Davis said. "This is a progressive step for our airport. We get a lot of people that fly cross-country, and they will stop in Minden for fuel facilities and the length of our runway. It's a very positive thing for Minden."