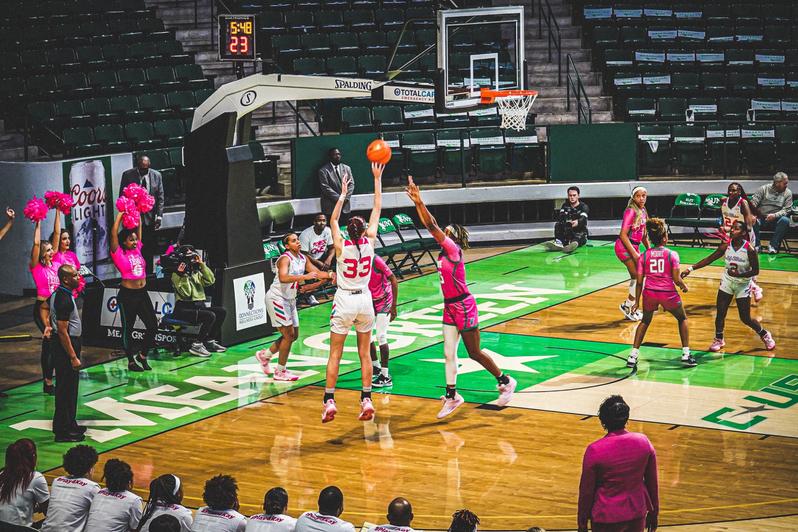 Louisiana Tech Athletic Communications
DENTON, Texas — Louisiana Techpicked up its third victory in a row with a 57-44 win over North Texas in Denton Thursday night thanks to a 21-8 third quarter and three Techsters in double figures. 
 
Keiunna Walker scored a game-high 15 points, Mackenzie Wurm scored a season-high 11 points, and Lotte Sant added 10, while Anna Larr Roberson nabbed double-digit rebounds with 11.
 
After a back-and-forth seven minutes to start, with LA Tech (15-10, 8-7 C-USA) up 9-8, Silvia Nativi's three as the shot clock expired fueled a 7-2 finish to the first stanza to give Tech a 16-10 edge after one. 
 
North Texas (9-16, 6-9 C-USA) hit a jumper to open the second quarter, but Tech put together a 7-0 run (23-12), which included a Walker and-one that moved her into the program's all-time top-10 in career scoring, moving past Tamicha Jackson.
Tech's offense would stall the remainder of the quarter, even uncharacteristically struggling from the free-throw line missing six attempts which allowed UNT to cut six off the lead, but three late free throws built the lead back to eight at the break (28-18). 
 
North Texas hit another first-possession jumper to start the third, but LA Tech exploded for a 17-0 spurt over the next six minutes, capped off by a transition three from Sant to build a 23-point lead with 3:36 left. Tech would carry a 21-point lead into the fourth (47-26).
 
The Mean Green would manage a 7-0 to cut the lead to 16, but Wurm would own the final period, scoring nine of her season-high 11 as Tech would empty their bench to finish off North Texas for the fourth game in a row.
 
LA Tech shot .373 from the floor and .417 from three, while UNT hit .339 from the field. Tech's defense has held opponents in back-to-back games without surrendering a three-point field goal. 
 
Tech grabbed a conference-high 43 rebounds and moved to 10-0 when outrebounding opponents. 

QUOTABLES
Head Coach Brooke Stoehr…
"It's always great when your defense has multiple quarters of single digits, and we were really good on the boards tonight. When we rebound, get out in transition, and find some easy opportunities, that fuels us on the defensive end. 
 
We didn't shoot it great, especially from the line for a team that is so good from there this season, but you always love a double-digit road win. 
 
Mackenzie Wurm was so good tonight playing back home in front of a lot of family and friends. Keiunna set the tone with her rebounding tonight and did a good job getting others involved. We need our guards to rebound, and we will need it again on Saturday at Charlotte."