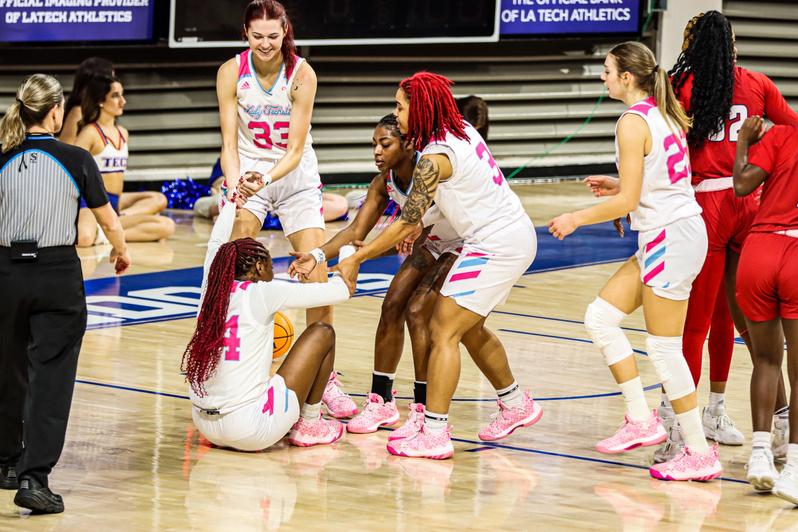 By Kyle Kavanaugh, Louisiana Tech Athletic Communications
RUSTON — Louisiana Tech picked up a wire-to-wire win over Florida Atlantic at home Saturday afternoon, 68-56, thanks to a 22-point fourth quarter and a perfect night from the free throw line going 20-20. 
 
Keiunna Walker scored a game-high 22 to go along with six rebounds and a season-high six assists, drew three charges, and hit all 10 of her free throws. Anna Larr Roberson added 16 points for the second straight game with five rebounds. 
 
LA Tech (13-10, 6-7 C-USA) put together another good start to the game with a 9-2 run and held FAU (12-11, 5-9 C-USA) without a field goal over the first four minutes. Tech added an 8-3 run thanks to six early points from Amaya Brannon off the bench to build a 19-9 lead after one. 
 
The Techsters did not let the break stop their momentum as they rattled off a 10-2 run to begin the second period to build their largest game lead at 18 points (29-11). The Owls quickly responded with an 11-2 run, and after a Gabbie Green three, added an 8-0 run to cut Tech's halftime lead to seven (36-29). 
 
In the third, FAU continued to chip away as Tech struggled to score, making it a one-point ball game before Tech got a stop and a bucket to finish the third stanza 46-43. 
 
After FAU scored early to cut the lead back to one, Tech pushed for a 7-0 run capped off by a Lotte Sant three that moved her into No. 7 all-time in career-made threes to give the Techsters some breathing room, 53-45, with 4:53 remaining.
FAU continued to battle, but another Sant three and six Walker free throws held the Owls off as Tech picked up the homestand sweep. 
 
LA Tech is now 9-0 when outrebounding opponents (32-30) and 10-0 when holding opponents under 60 points. 
 
Sant added nine points on three three-pointers and grabbed three rebounds, while Brannon chipped in eight with two steals.
QUOTABLES
Head Coach Brooke Stoehr…
"When we needed stops today we dug in and got them. We needed to see that toughness. We've lost some of those games this year when we have lost focus in those moments. I'm very proud of how we started and finished. It got a little tough in the middle, but they have some players that are very physical and talented and made it tough for us. I love how we responded to those challenges."