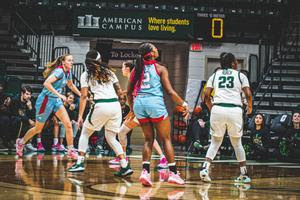 Louisiana Tech Athletic Communications
CHARLOTTE, N.C. — Louisiana Tech women's basketball team took a double-overtime thriller over the Charlotte 49ers in Charlotte, N.C., 83-79 to win their fourth straight, behind Keiunna Walker's 27-point, 14-rebound double-double. Walker also added five assists and two steals and drew four charges. Anna Larr Roberson added 21 points, while Lotte Sant chipped in 13 on four made threes. 
LA Tech (16-10, 9-7 C-USA) started the game on a 7-0 run while forcing four Charlotte (11-14, 7-9 C-USA) turnovers and an 0-6 start from the floor, but the 49ers responded with a 9-2 spurt with 1:40 left. A Sant four-point play, followed by a Roberson jumper as the shot clock expired in the final 10 seconds, gave Tech a 15-11 lead after one.
In the second, Roberson would score all 11 Techster points to give LA Tech a six-point lead at the break (26-20). Tech's defense would hold Charlotte scoreless for over six minutes in the period, but after the 49ers grabbed their first lead of the contest (20-19), Tech would end the final two minutes on a 7-0 run. 

After a back-and-forth first four minutes in the third, Charlotte put together another 9-2 run to tie the game at 36 with 4:25 left. Both teams would play even over the final minutes to stay knotted at 43 heading into the fourth quarter.
Both teams traded blows over the first eight minutes of the period and remained tied at 57-57 with 1:45 remaining when Salma Bates nailed a huge three to grab the lead, but Charlotte answered with an old fashion three-point play with 33 seconds. Tech would get one last try in the final seconds, but a jumper from Walker was off the back iron sending the game into overtime.
In the first extra period, Tech would take an early edge (65-60) and eventually build the lead to six, but the 49ers would cut the lead in half off an offensive rebound kick-out three with 49 seconds remaining and would tie the ballgame on two free throws with 4.7 seconds left. After another last-second attempt from Walker would go off the mark, the teams would head to a second extra period.
Sant would open the fifth stanza with a three, and Walker would add six free throws to extend the Tech lead to two possessions (79-74) with 1:30 left. The Tech forced a big turnover with 30 ticks left, followed by two free throws from Bates to give Tech an 81-74 edge. After a Charlotte three, Walker knocked down two more from the line to ice the game. 

Tech shot .391 from the floor, while Charlotte connected on .463, who got a 41-point effort from Dazia Lawrence. 
QUOTABLES
Head Coach Brooke Stoehr…
"I can't give our players enough credit. We had some challenging moments in the third quarter and had chances to end it in regulation, but we came out and big stop after a big stop when we really needed it. You have to tip your hat to Charlotte and Dazia Lawrence; she was incredible.
The things that stand out in this box score are not the points but Keiunna's 14 rebounds, and she drew 15 fouls and four charges. Also, Anna Larr was a big presence for us tonight. We didn't have her against them last time, and having her inside tonight made a big difference, especially in that third quarter.
Everyone was big tonight, though. Everyone made a big play. Sal hit a huge three and made two free throws. Gabbie hit a big shot and played great defense. Wurm was good inside again and had a big block down the stretch. Sil played good defense and took great care of the ball. Lotte was big from three tonight and hit the one to get us started in the second overtime.
I'm just so proud of our group getting these two on the road and now putting four together in a row heading into our last big week at home.