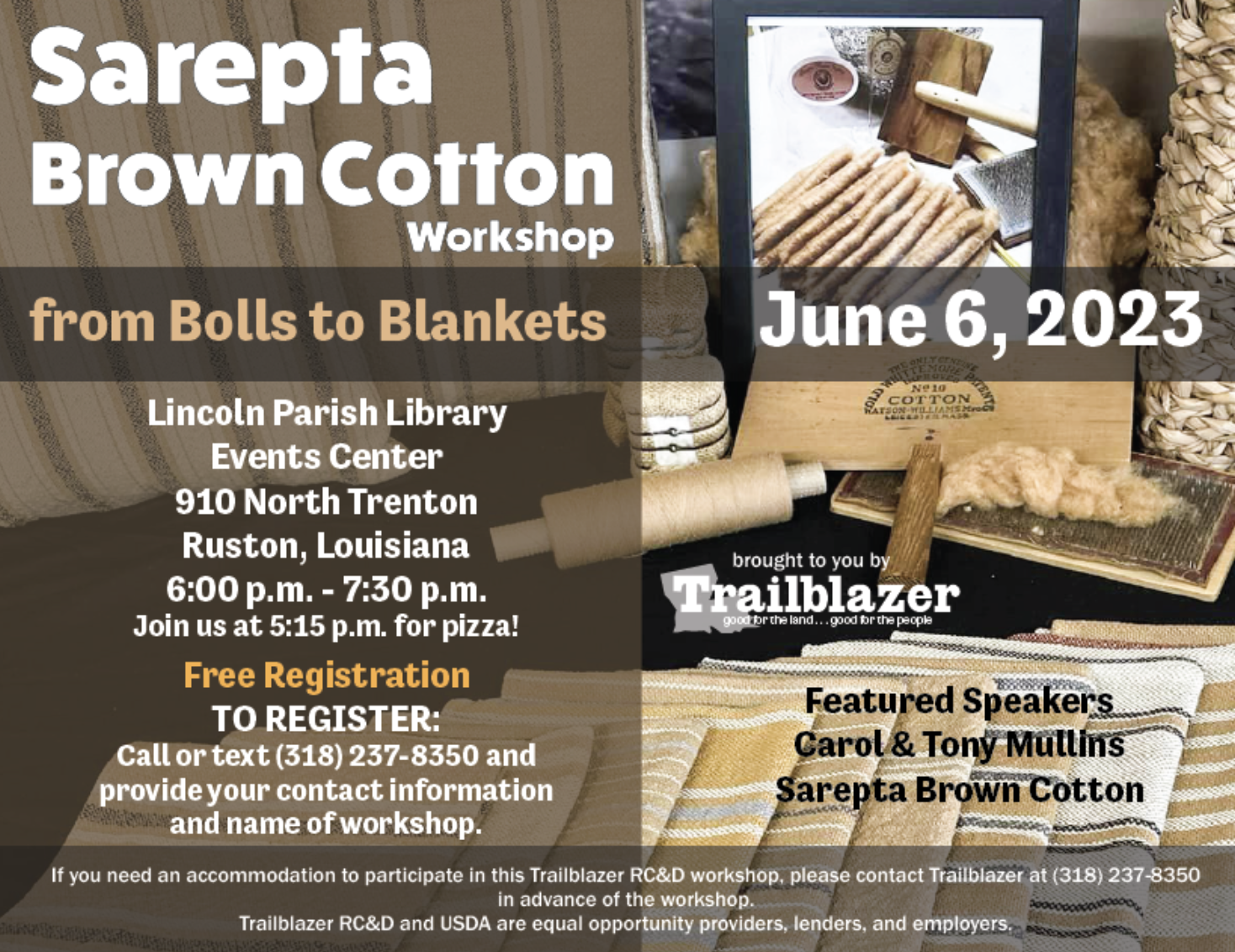 Free Workshop Spotlights Louisiana Agricultural Entrepreneur Success
Ruston, Louisiana, May 12, 2023 –A free workshop featuring Sarepta Brown Cotton will be offered on June 6, 2023, at the Lincoln Parish Library in Ruston, Louisiana. Sarepta Brown Cotton is a north Louisiana agricultural enterprise that has grown from a small farm with 307 cotton plants to a production company making and selling brown cotton products all over the world. Owners Tony and Carol Mullins will share their success story and offer advice to anyone interested in developing an agricultural business.
There is no charge to attend this workshop, but because food will be served, pre-registration is requested. To pre-register or for more information on the workshop, call or text (318) 237-8350 and provide your contact information and the name of the workshop at least three days prior to the event.
The Lincoln Parish Library is located at 910 North Trenton Street in Ruston, Louisiana. On June 6, 2023, on-site registration/sign-in will begin at the library with pizza at 5:15 p.m. The workshop presentation will begin at 6:00 p.m. and conclude at 7:30 p.m. Persons with disabilities who anticipate needing reasonable accommodations or who have questions about physical access may contact Trailblazer RC&D at (318) 255-3554 or ceo@trailblazer.org prior to the meeting or event.
This presentation is hosted by the USDA Natural Resources Conservation Service, and Trailblazer RC&D. Free registration for this presentation is made possible by the support of Drax; Mudd & Holland Consulting Foresters; Burnham Construction; the Lincoln Parish Library; the USDA Natural Resources Conservation Service; and Trailblazer RC&D. Contact Trailblazer RC&D regarding event sponsorship opportunities at (318) 237-8350.
Trailblazer RC&D is a nonprofit organization that provides leadership, coordination, partnership development, and technical assistance projects to encourage strong communities, sustainable agriculture, and a healthy environment.