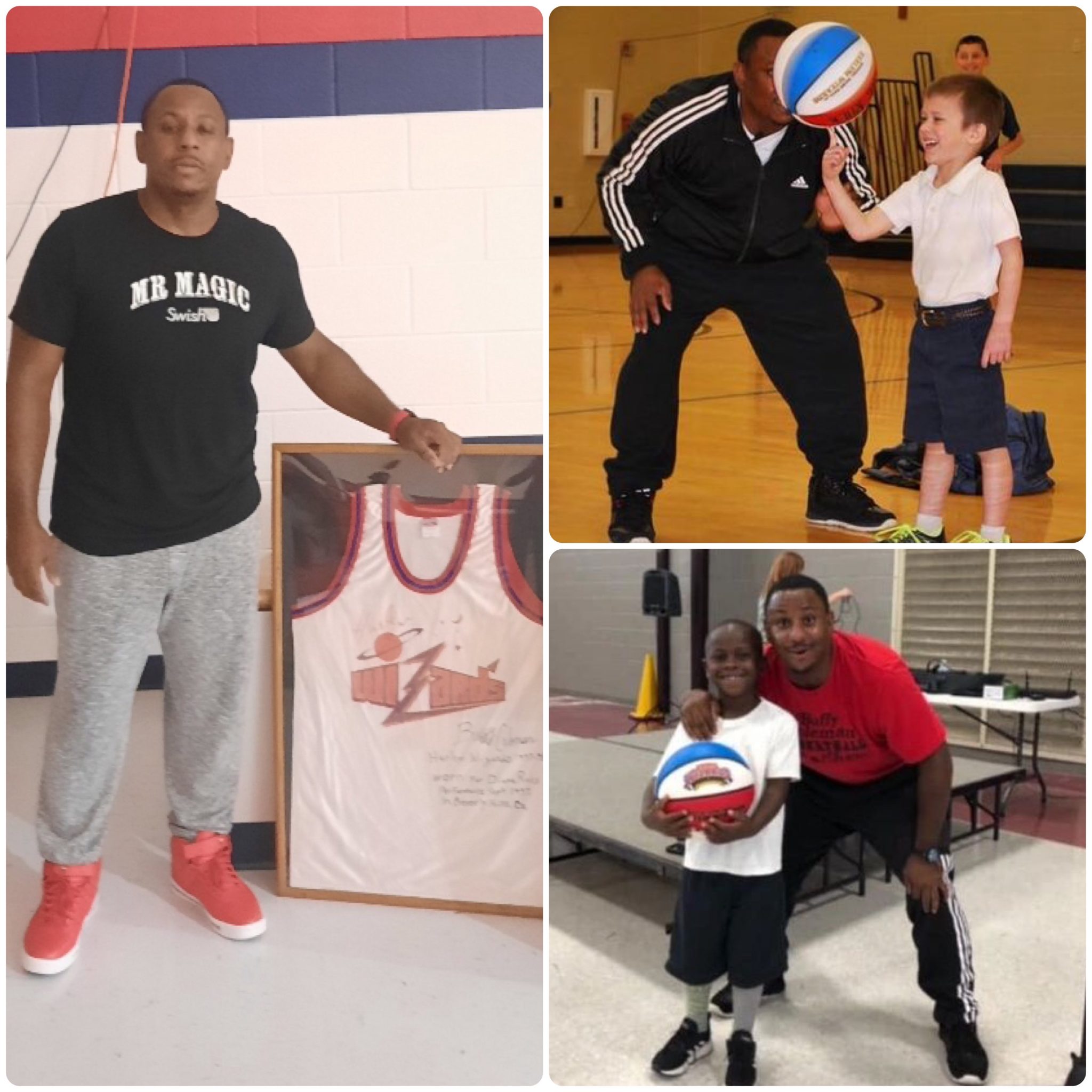 A local basketball star, "Buffy" Coleman, is having a documentary filmed here in Webster Parish at Central Elementary School, about his life story of growing up in a small village and leaving to do big things with a World Famous Basketball Team, as well as the triumphs and struggles that came along with that.
"I essentially am a world class ball handler. I grew up in Heflin, and in 1993 I was invited to the Globetrotters training camp straight from highschool. I sent the Globetrotters a video way back in '93 and they were impressed by it," said Coleman.
Also known as Mr. Magic Buffy Coleman, he was invited to join the Harlem Wizards a few years later, a basketball team focused more on entertainment than winning games.
"In 97 I actually got a chance to find a contract with the Harlem Wizards, so I moved from here to the New York area and traveled with them for a couple of years," said Coleman.
However, his time with the team would come to an abrupt end after suffering a knee injury during his second year with the Wizards.
"I've always had an entrepreneurial spirit since I was a kid. I was always very ambitious, so I decided after I healed that I was going to start my own business and become a motivational speaker," said Coleman.
"During the year of '98, that's when I kind of got started on the speaking circuit and started traveling around the country. Started of here in Louisiana, and then it kind of snowballed from there, Texas, Mississippi, Arkansas, Oklahoma, and from there it started snowballing all over the country and the world."
Motivational speaking was a way for Coleman to combine his love of basketball and desire to change people's lives for the better. As a motivational speaker, Coleman has visited over 5000 schools in the U.S. however, the transition from athlete to motivational speaker was not an easy one according to Coleman. The struggles that arose from this time will be a big focus of the documentary, detailing his ability to rise above the challenges presented to him.
The idea for the documentary came from the fact that he feels that his influence as a motivational speaker comes from his story, and the documentary is a way to tell that story even long after he's gone.
"What I think drives my message is my story. I think it's easy to share stories and anecdotes with people and schools, and community events. Just telling the story of coming from a small quaint town, going to a big city. Like going from the lake straight into the frying pan, and trying to adjust to the culture there in New York and traveling with this world famous team," said Coleman.
"I figured that right now, the story only lives as long as I can be a motivational speaker. But if we do a documentary, and we explain what my life story is about, it can live on forever, even when I'm not here."
The documentary itself will cover Coleman's life story, including the struggles he faced in between his time with the Wizards and becoming a motivational speaker. However, Coleman was light on details so as to not spoil the documentary.
"It covers going through a period of coming back to his hometown and the struggles he went through. Struggles and hard times, obstacles to get a second chance to pursue the basketball idea," said Coleman. "Using my gifts to gain control over my destiny. And in my life today, travelling around the country helping the youth."
For those wanting to keep track of Coleman and the documentary featuring him, this can be done by following him on Instagram, Facebook, and Youtube under the name "Mr. Magic Buffy Coleman."