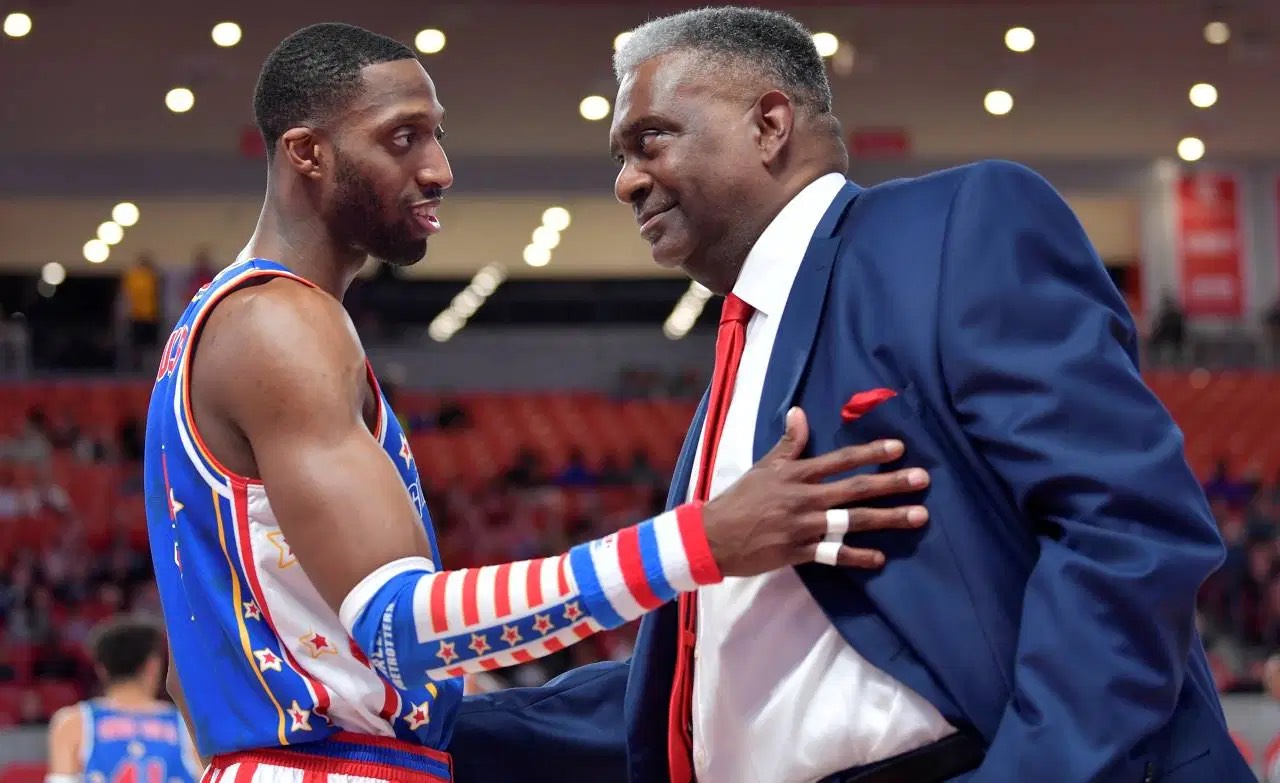 Editor's Note: The following was written by the Louisiana Sportswriters' Association in advance of Saturday's Hall of Fame induction ceremony.
NICO VAN THYN | Written for the LSWA
From the Harlem Globetrotters' web site …
Throughout his illustrious career, fans across the world adored "Sweet Lou" Dunbar's on-court comedy routines and shared his love of the game. Now he is passing that love and considerable knowledge on to a new generation of Globetrotters as a coach.
Some 50 years ago, Louis Dunbar was the "Magic Man" of Louisiana basketball.
He was an Earvin Johnson-type player — the big (6-foot-9) point guard who could play forward or even center when needed — years before we'd heard of "Magic." He could leap, shoot from distance, dunk easily and score inside, and he was a willing ballhandler and passer.
Dunbar was a high school superstar, the state's best player and top college recruit in his senior year at old Webster High in Minden, and a college All-American at the University of Houston.
He played for two legendary coaches: Ozias Johnson at Webster (his teams won nearly 950 times over three decades) and Guy Lewis at Houston (592 college victories, 27 consecutive winning seasons).
Dunbar's professional career had a surprising twist, but it has lasted more than 40 years.
He never played in the NBA, as many envisioned he would, but he became a 27-season star for the world's most famous basketball team.
One of the most revered players in Globetrotter history, "Sweet Lou" has traveled three times around the world, playing in front of more than 10 million people on six continents."
He's still with them in the entertainment/basketball business, for the past dozen years as a coach and director of player personnel.
A few pounds heavier than the graceful, lithe young man he was once, he's still dancing on the sidelines and making scenes with officials and players. In a bittersweet twist, he coached the 'Trotters in appearances a few miles from Minden in Bossier City, then in Lafayette and New Orleans, last March before the pandemic brought that tour, and nearly everything else, to a halt. The team is waiting to restart activities as Dunbar waits at home in the Houston area.
He has interacted fans of all types, royalty, presidents, prime ministers, and, in Rome, he stood alongside Pope John Paul II when the team named him an honorary Globetrotter on Nov. 29, 2000.
For two decades "Sweet Lou" played the showman, the "clown prince" — the garrulous, loud, joking center of attention, ballhandler extraordinaire (with his huge hands and wingspan), and chief protagonist of 'Trotters mischief.
It was the position made most famous by Goose Tatum and by Dunbar's mentor and role model, Meadowlark Lemon.
If you've seen him in person or on video or film, you know that Sweet Lou's laugh and sense of fun were as big as his on-court ability.
Add in an enormous hairdo in his college years and beyond — "the biggest 'fro in all of creation," he said years later — and he was at least a 7-footer.
What also stood out was that he was engaging, charismatic and talented.
(About his size: He much resembles his father, also named Louis, who was a cannot-miss-him, imposing 6-foot-10 deputy sheriff in Webster Parish.)
In 2007, "Sweet Lou" was honored as a Globetrotters' "Legend" at Houston's Toyota Center. In 2008, he was inducted into the University of Houston (athletics) Hall of Honor. This year (on Feb. 15), his Globetrotters No. 41 jersey was retired in a ceremony at UH's home basketball arena.
The honors are tied to Houston because that is the longtime home for him and his family.
"This is huge, man," he said of the No. 41 honor. "I spent four of the best years of my life on this campus. It is just a huge honor to be mentioned among [the Trotters'] greats …"
(The only other 'Trotters player who had worn No. 41 recently is "Sweet" Lou Dunbar II, his son, a shooting guard who was a prolific scorer at Oklahoma City University before a knee injury as a junior slowed his career. But he showed enough that he was a Globetrotters' rookie last season.)
Soon it will be back to the state of Sweet Lou's youth: He will be inducted into the Louisiana Sports Hall of Fame in Natchitoches to culminate the Induction Celebration June 24-26.
"It's home," said a man who made the world his home in his professional career. "My family, my oldest friends, they're in and around Minden. So this is a very special honor to share with them."
His fame began at Webster High, where he broke in as a freshman, a rarity for Coach Johnson.
"Louis has developed faster than any boy I've ever had," Johnson said in 1971. "He is a real team man. If we wanted him to score 40 points a game, all we'd have to do is get the ball to him more."
His senior-season scoring average was 28.2, and that year he swept state honors: a 34-1 record and the Class AA state title, "Outstanding Player" in the Top Twenty state tournament, "Outstanding" on the Class AA All-State and All-Prep (all classes) teams, "Mr. Basketball" in the state all-star game (with a record 33 points).
In a Class AA semifinal, he had 41 points and 19 rebounds. As Webster wrapped up the state championship, Dunbar had 26 points and 17 rebounds and, despite playing with four fouls, dominated the final quarter.
One player he topped for All-Prep honors was 7-foot center Robert Parish, his frequent high school and college opponent. They were friendly rivals, while Parish played in his hometown, Shreveport.
Parish went on to be a Naismith Basketball Hall of Famer, play in more NBA regular-season games than anyone, and be a four-time NBA champion center (three with the Celtics, one as a Bulls' reserve).
Their teams met seven times, with Dunbar and Parish — no surprise — each playing heroically.
The first three battles were in the 1969-70 season when Dunbar was a junior at Webster and Parish a sophomore at Union High (Shreveport). Their schools then were in Louisiana's all-black athletic association (LIALO).
Webster won two regular-season meetings; Union won a bidistrict state playoff and went to the state tournament. Webster finished with a 31-3 record.
They did not play the next season, although both led their teams to state title games. When schools integrated, Parish had moved to Woodlawn, in Class AAAA. Webster remained one of a few all-black schools open in North Louisiana, but now competing in the formerly all-white Louisiana High School Athletic Association.
In 1973 and '74, the super prospects met again — four times — as collegians when Parish, staying in Shreveport, chose Centenary.
Dunbar had many college offers, and picked Houston, whose main recruiter and assistant coach, Harvey Pate, practically posting up in Minden.
Louis thus became one of several high-profile UH players out of Louisiana, a few years after Elvin Hayes, Don Chaney and Theodis Lee of the 1967 and '68 NCAA Final Four teams, then Poo Welch, and, on the two early 1980s Phi Slamma Jama national runners-up, Benny Anders.
Freshmen were not eligible for NCAA Division I varsity play in Dunbar's first year — the rules changed the next season — and he set the UH freshman-team record with 27.5 points a game.
In three varsity seasons (wearing jersey No. 22 in white, No. 23 in red), he averaged 20-plus each year — 20.9, 21.7, 24.3 — and totaled 1,765 points in 79 games (22.3 average). He was often the point guard/forward on offense and the point man in Houston's 1-3-1 zone defense.
Guy Lewis marveled at Dunbar's versatility.
"I think we have found his natural position — the backcourt," he told a Shreveport reporter in 1973. "He has the talent to play outside and is able to exploit that talent. I don't mean he can't play without the ball. He can and he does. Even if he doesn't have the ball, some exciting things happen.
"… I've never had a guy that size that could do so many things with the ball."
But team success in those years was fleeting. The Cougars' records were 23-4, 17-9 and 16-10, and they played in the much-smaller NCAA Tournament only in his sophomore season (as an independent, one of 25 teams in the 1973 field).
Ranked No. 7 nationally, Houston's first-round opponent — with the same record (23-3) — was No. 14 University of Southwestern Louisiana.
These were the Ragin' Cajuns with super shooting guard Dwight "Bo" Lamar, the notorious USL team and program eventually given an NCAA death-penalty.
And USL's 102-89 victory made Houston a one-and-done (a result later reversed by forfeit).
Dunbar and Lamar traded heroics that season.
In a regular-season game, Dunbar capped his 26-point effort with a 20-foot jumper with 8 seconds remaining to give Houston an 82-80 victory at home.
Lamar, ill and limited in that game, scored only 13 points. In the NCAA game, while Dunbar scored 27, Lamar (15-of-34 from the field) bombed in 35 points; he averaged 33.8 ppg in his college career.
Dunbar and Houston topped Parish and Centenary three times in four matchups, but barely (a couple of missed Parish free throws at game's end, a memorable finish at Centenary's Gold Dome, saved a one-point victory for Houston).
Larry Little, then the Centenary coach, spoke of his team's challenge vs. Dunbar. "We've never played against a 6-9 guard," he said. "But it's no gimmick that he [Lewis] has Dunbar stuck out there. He can handle the job. And the fact that he plays the point in their zone [defense] is a tribute to his quickness."
Dunbar and Parish reunited in 2003 at Parish's Basketball Hall of Fame induction in Springfield, Mass. Dunbar attended because the Hall class that year included Meadowlark Lemon. Also in that class: Louisiana Tech women's coach Leon Barmore.
Dunbar made all the area all-star teams in 1973-75 and was a third-team All-American selection in '75. The Philadelphia 76ers then made him a fourth-round NBA Draft pick (59th overall).
But Lou never reported to camp; he felt the team never made him a solid contract offer. So he headed to Switzerland to play pro ball for two years (helping his team to one national title).
He returned to Houston and was working at a jewelry store when he got another NBA shot — a Los Angeles summer-league tryout with the Rockets.
Again, it did not take. But a Globetrotters' scout saw what he liked, made an offer … and it was showtime.
"I just don't think the NBA was ready for that [the big point guard]," Dunbar said, looking back in a 1992 Shreveport Times story by John James Marshall before a 'Trotters appearance in Shreveport. "People my size were supposed to play inside. I was a fluke. Now if I had come along a little later …"
In that story, Marshall wrote: The one thing that Dunbar has always had is the personality. That smile. That chatter. "It was probably meant for me," he says [of his 'Trotters' role]. "Performing has always come natural."
"He's absolutely the greatest kid," Guy Lewis said in 1973. "He keeps our team loose. I'm sure he's the most popular guy on our team. He's one of the great guys to coach I've had and not just because of his ability."
Sweet Lou, before the Globetrotters' No. 41 jersey-retirement ceremony in Houston, said he was proud that "my family gets a chance to see it here, and I hope I don't cry."
But he did. Just as he remembers crying after Webster High's only loss in his senior season.
Consider this — he hasn't had to cry after a Globetrotters' game. In case you have not heard or noticed, the 'Trotters never lose.
And they never fail to leave fans entertained.
"I just want people to remember that when they came to see Lou Dunbar play the game," he said in that 1992 homecoming, "they left there with a smile on their face."