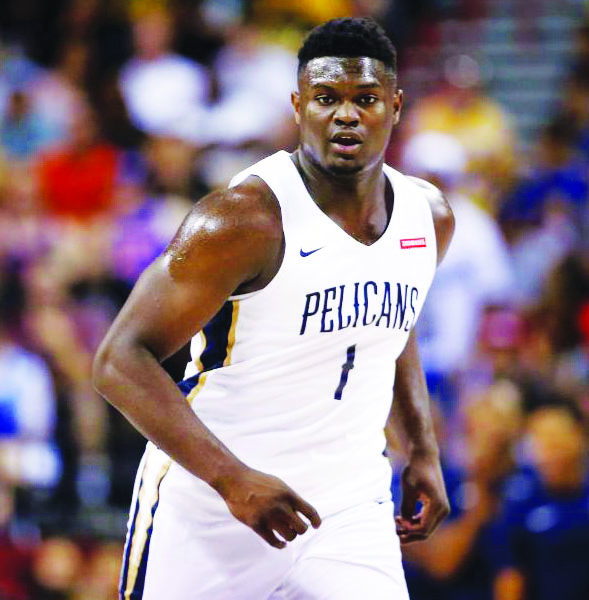 The Pelicans are officially the hottest team in the NBA.
New Orleans destroyed the also up-and-coming Atlanta Hawks 133-109 in the Pelican's preseason debut on Monday night in Atlanta.
You wouldn't have known it was a preseason game by the atmosphere. It was more like a playoff game, as the anticipation, crowd size and game speed were all brisk and superb.
The new cornerstone of New Orleans' franchise, Zion Williamson, showed his worth early and often in the win.
Williamson threw down three thunderous dunks before it was all said and done, and showcased his athleticism, playmaking and skill (if not his three-point shot, so much) in one of the most impressive debuts since LeBron James.
Williamson finished with 16 points and seven rebounds in 28 minutes.
No, this game doesn't count and will not be kept for records. What matters is how much fun it was to watch the Pellies fly.
Zion, flanked by Jrue Holiday (21 points in 18 minutes), Brandon Ingram, Lonzo Ball, JJ Redick and a load of other athletes promised to be exciting.
Seeing it in action finally was beyond expectations.
I should pump the brakes on my expectations, but this Pelicans team is the team to watch this season.
In a year when the Lakers will battle with the Clippers for California supremecy, the Pelicans are still more interesting.
While Russ Westbrook and James Harden wrestle for the ball in Houston, the Pelicans will be playing with house money. Nobody cares if New Orleans wins it all this season. There's no pressure, outside of keeping Zion from suffering a devastating injury in a meaningless game.
They are grooming Zion.
They're building around him from the jump, using the blueprint they had for Anthony Davis and doing the exact opposite in order to play the long game this time.
It's the hottest ticket in town.