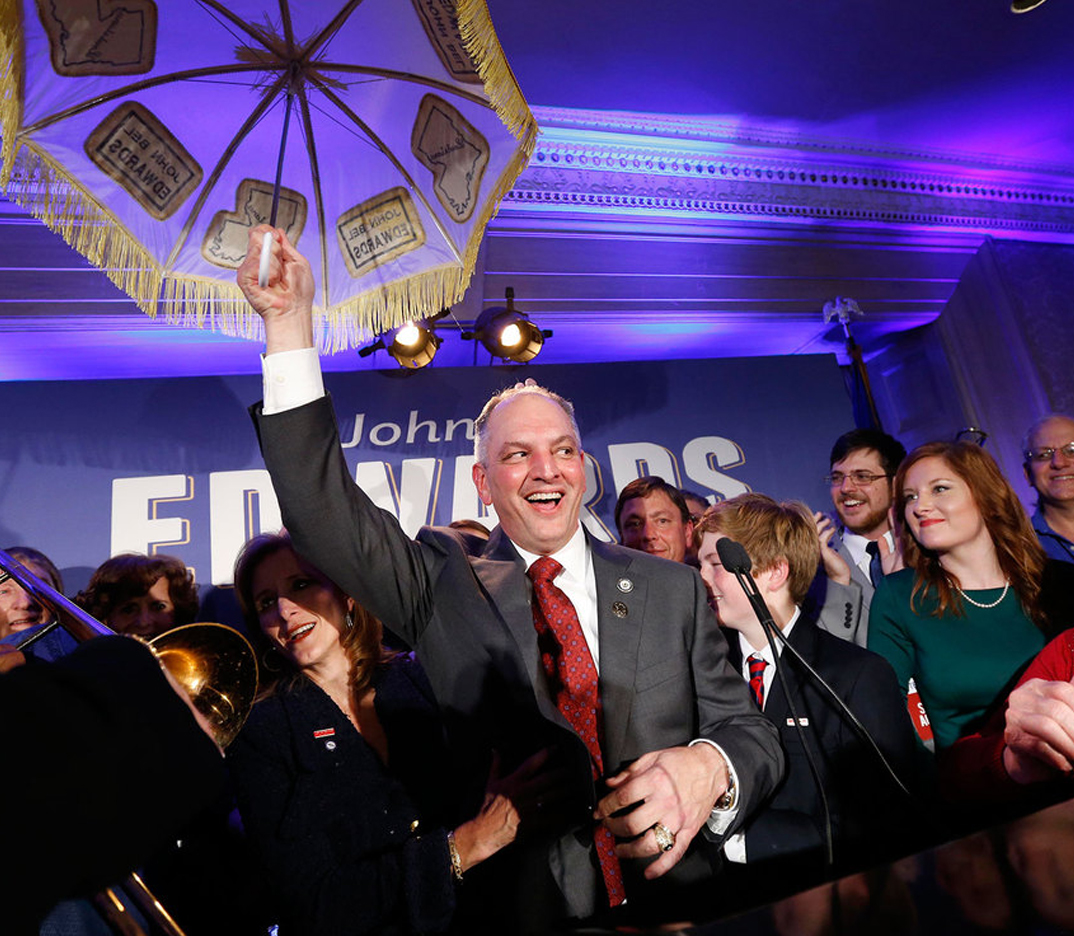 NEW ORLEANS — The Democratic Party's reclaiming of the Louisiana governor's mansion for the first time in eight years is the top state news story of 2015.
Democrat John Bel Edwards, a little known state lawmaker, beat Republican U.S. Sen. David Vitter, who at one time was the race's front-runner. With his 12-percentage point loss, the Republican Party took another hit when Vitter announced he wouldn't seek re-election to the Senate in 2016.
Vitter, whose character was pummeled in the race, also was hampered by high disapproval ratings for his fellow Republican, outgoing Gov. Bobby Jindal, who was blamed for the state's massive budget problems amid a failed run for the presidency.
Here is a look at the other top news stories of 2015 as selected by The Associated Press:
Lafayette Theater Shooting
Alabama gunman John Houser opened fire with a semi-automatic handgun July 23 about 20 minutes into a showing of the film "Trainwreck" at the Grand 16 Theater in Lafayette.
Two women, 33-year-old Jillian Johnson and 21-year-old Mayci Breaux, were shot to death. Nine others were wounded before Houser fatally shot himself as authorities entered the auditorium.
The completely renovated theater reopened about four months after the shooting.
Boy Killed
Two deputy city marshals in Marksville face second-degree murder charges in the fatal shooting of a 6-year-old autistic boy, who was killed Nov. 3 while he was strapped into the front seat of his father's vehicle. Police say Derrick Stafford and Norris Greenhouse Jr. fired at least 18 rounds at a car driven by Chris Few. The shooting severely wounded Few and killed his son, Jeremy Mardis.
Law Enforcement Deaths
Louisiana has had more job-related police fatalities in 2015 than any other state but Texas, with nine on-duty deaths, according to the National Law Enforcement Officers Memorial Fund.
Among those were Senior Trooper Steven Vincent, New Orleans Police Officer Daryle Holloway, Shreveport Police Officer Thomas LaValley and Sunset Police Officer Henry Nelson.
Vincent, a 13-year Louisiana State Police veteran, died a day after he was shot Aug. 23 in Calcasieu Parish by a stranded motorist. Prosecutors are seeking the death penalty against the alleged shooter, Kevin Daigle, who's also accused of killing his roommate, Blake Brewer, prior to Vincent's slaying.
LaValley was shot multiple times and killed Aug. 5 while answering a call about a suspicious person at a Shreveport home. Grover Cannon faces a first-degree murder charge in the case.
A domestic violence call Aug. 26 led to Nelson's death. Harrison Lee Riley Jr. is accused of stabbing his wife and two women trying to protect her, before fatally shooting Nelson, his cousin, who responded to the call.
Holloway was killed June 20 while transporting an assault suspect, Travis Boys, to jail. Boys escaped the police cruiser after Holloway was shot. He was at large for 24 hours. He was charged with first-degree murder and has pleaded not guilty.
Music, Culinary Legend Deaths
R&B singer Percy Sledge, whose debut single "When a Man Loves a Woman" was a No. 1 hit in 1966, died April 14 of liver failure. He was 74. Sledge said the song was inspired by a girlfriend who left him for a modeling career after he was laid off from a construction job in 1965. However, he gave the songwriting credits to bassist Calvin Lewis and organist Andrew Wright, two of his bandmates in the Esquires, who helped him with it. Sledge's hit became a standard that sustained his long touring career in the U.S., Europe and South Africa and led to his induction into the Rock and Roll Hall of Fame in 2005.
Music fans lost another legend, musician and composer Allen Toussaint, who died Nov. 10 after suffering a heart attack following a concert in Madrid, Spain. He was 77. Toussaint was a songwriter, producer, pianist and performer whose decades-long career helped make such hits as "Working in the Coal Mine," "Lady Marmalade," "Southern Nights," and "Fortune Teller." In recent years Toussaint appeared on the HBO series "Treme." He is a member of the Rock and Roll Hall of Fame and the Louisiana Music Hall of Fame. In 2013 he was awarded the National Humanities Medal by President Barack Obama.
Celebrity chef Paul Prudhomme, whose blackened redfish, jambalaya, gumbo and etouffee helped bring Cajun cuisine into the mainstream, became one of the first American restaurant chefs to achieve worldwide fame. Prudhomme's bearded face and oversized frame became familiar on television talk shows in the 1980s, where he encouraged Americans to spice up their meals. He published bestselling cookbooks and created a business that sold his spicy seasoning mixtures around the country. He died Oct. 8 at age 75.
Louisiana lost another notable chef, Willie Mae Seaton of Willie Mae's Scotch House. Seaton was recognized nationally for her classic American food and whose neighborhood restaurant helped put fried chicken on the culinary map. She earned a James Beard America's Classic Award in May 2005. Writer, journalist and food historian Lolis Eric Elie said Seaton represents the passing of an era: the era of the neighborhood corner restaurant that serves really good food. Seaton died Sept. 19. She was 99.
Fugitive Heir
A real estate heir facing a murder charge in California faces a weapons charge in New Orleans. That charge is keeping 77-year-old Robert Durst jailed in Louisiana even though he has waived extradition to California, where he's charged in the death of his friend and onetime spokeswoman Susan Berman. Defense attorney Richard DeGuerin has said Durst did not kill Berman and doesn't know who did.
New Orleans Confederate Monuments
Should New Orleans remove its monuments linked to Confederate history? An answer to that question remains at issue as the City Council prepares to decide whether to take down statues of Confederate commander Robert E. Lee, Gen. P.G.T. Beauregard and Confederate President Jefferson Davis as well as an obelisk dedicated to the Crescent City White League, white supremacists who sought to topple the biracial government after the Civil War.
The debate rages on as allegiance to Confederate symbols erodes in the South and blacks across the nation demand an end to racism and police brutality.
Darren Sharper
New Orleans Saints fans watched in dismay as former defensive back Darren Sharper, who was part of the Saints' Super Bowl team, this year pleaded guilty or no contest to criminal charges in four states, all arising from accusations that he drugged and raped women. Two co-defendants, Erik Nunez and Brandon Licciardi, have entered not guilty pleas arising from the case. Sharper is expected to cooperate in the cases against Nunez and Licciardi as part of a complex multi-jurisdiction plea deal. He awaits formal sentencing but is expected to spend about nine years in prison, although he could be sentenced to as many as 20.
Hurricanes Katrina And Rita: 10 Years Later
It's been 10 years since Hurricane Katrina hit the Mississippi Gulf Coast and since Hurricane Rita roared ashore near the Texas/Louisiana border. Katrina struck southeast Louisiana and Mississippi on Aug. 29, 2005, killing more than 1,800 people. When the levees broke, 80 percent of New Orleans flooded. Rita struck a month later and spread devastation across what portion of Louisiana's coastline Katrina spared, with damage reaching 150 miles east of where the storm came ashore. At least 11 deaths in Texas and Louisiana were blamed on Rita, which caused more than $11 billion in damage. Affected residents continue to rebuild in areas hit by both storms.
Gulf Oil Spill Settlement
A record settlement of more than $20 billion was filed this year between the federal government and five Gulf Coast states involved in litigation tied to the 2010 Deepwater Horizon disaster in the Gulf of Mexico. Louisiana is set to receive about $6.8 billion, the largest piece among the states. That includes $5 billion to be spent repairing the spill's damage to natural resources, money that will largely go to coastal restoration and repairing wetlands and damaged wildlife habitats. Another $1 billion will be used to cover the state's economic losses from the spill. The state also will receive $787 million of BP's Clean Water Act penalties, which also is expected to be used to repair natural resources. The settlement also calls for Louisiana to receive $20 million to cover its litigation costs, and another $38.25 million will go for expenses tied to the Natural Resource Damage Assessment process. That involves state and federal agencies working with BP to determine the cost of repairing damage to the environment.