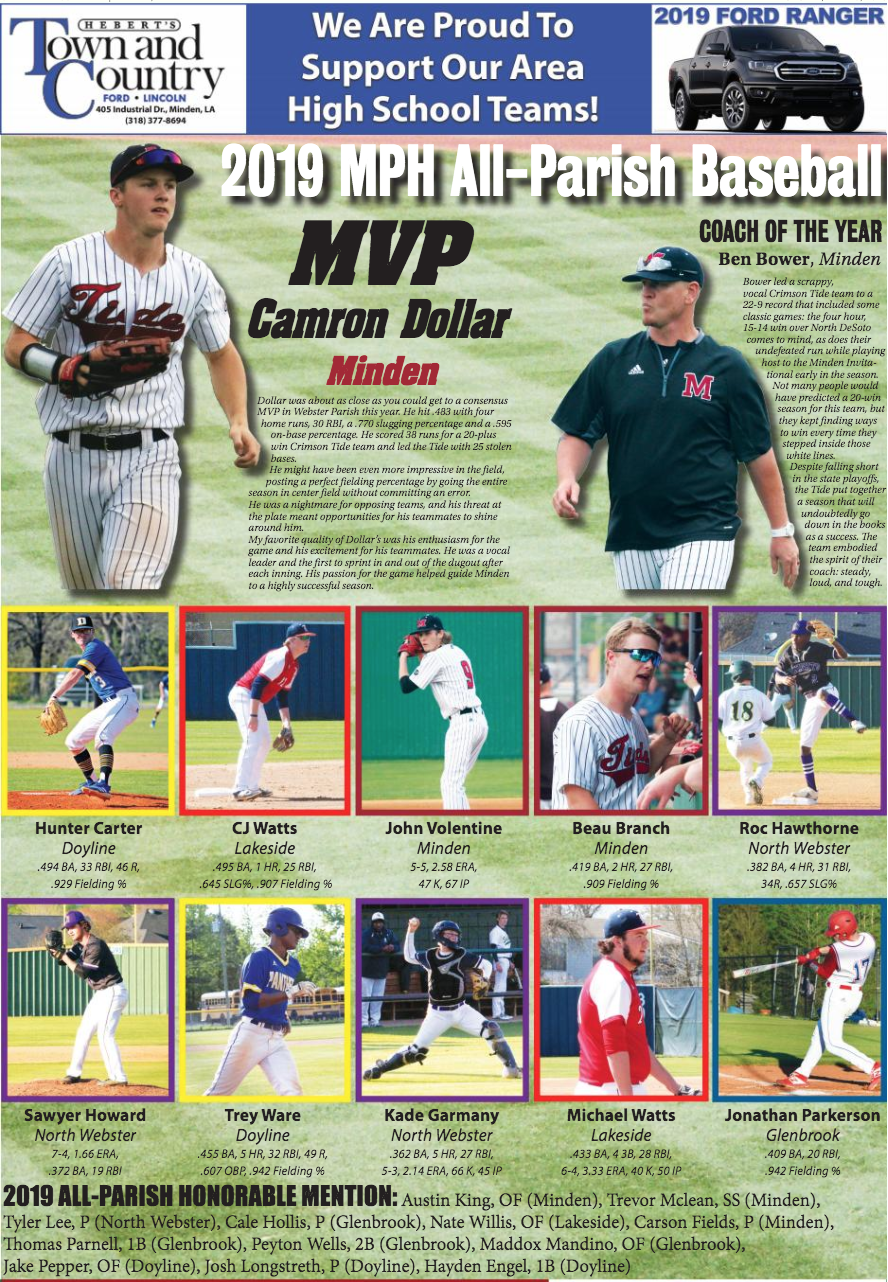 MVP – Camron Dollar, Minden High School
Dollar was about as close as you could get to a consensus MVP in Webster Parish this year. He hit .483 with four home runs, 30 RBI, a .770 slugging percentage and a .595 on-base percentage. He scored 38 runs for a 20-plus win Crimson Tide team and led the Tide with 25 stolen bases. He might have been even more impressive in the field, posting a perfect fielding percentage by going the entire season in center field without committing an error. He was a nightmare for opposing teams, and his threat at the plate meant opportunities for his teammates to shine around him. My favorite quality of Dollar's was his enthusiasm for the game and his excitement for his teammates. He was a vocal leader and the first to sprint in and out of the dugout after each inning. His passion for the game helped guide Minden to a highly successful season.
Coach of the Year – Ben Bower Minden High School
Bower led a scrappy, vocal Crimson Tide team to a 22-9 record that included some classic games: the four-hour, 15-14 win over North DeSoto comes to mind, as does their undefeated run while playing host to the Minden Invitational early in the season. Not many people would have predicted a 20-win season for this team, but they kept finding ways to win every time they stepped inside those white lines. Despite falling short in the state playoffs, the Tide put together a season that will undoubtedly go down in the books as a success. The team embodied the spirit of their coach: steady, loud and tough.
2019 All-Parish First Team:
Hunter Carter, Doyline (.494 BA, 33 RBI, 46 R, .929 Fielding %)
CJ Watts, Lakeside (.495 BA, 1 HR, 25 RBI, .645 SLG%, .929 Fielding%)
John Volentine, Minden (5-5, 2.58 ERA, 47 K, 67 IP)
Beau Branch, Minden (.419 BA, 2 HR, 27 RBI, .909 Fielding %)
Roc Hawthorne, North Webster (.382 BA, 4 HR, 31 RBI, 34 R, .657 SLG %)
Sawyer Howard, North Webster (7-4, 1.66 ERA; .372 BA, 19 RBI)
Trey Ware, Doyline (.455 BA, 5 HR, 32 RBI, 49 R, .607 OBP)
Kade Garmany, North Webster (.362 BA, 5 HR, 27 RBI; 5-3, 2.14 ERA, 66 K, 45 IP)
Michael Watts, Lakeside (.433 BA, 4 3B, 28 RBI; 6-4, 3.33 ERA, 40 K, 50 IP)
Jonathan Parkerson, Glenbrook (.409 BA, 20 RBI, .942 Fielding %)
HONORABLE MENTION: Austin King, OF (Minden), Trevor Mclean, SS (Minden), Tyler Lee, P (North Webster), Cale Hollis, P (Glenbrook), Nate Willis, OF (Lakeside), Carson Fields, P (Minden), Thomas Parnell, 1B (Glenbrook), Peyton Wells, 2B (Glenbrook), Maddox Mandino, OF (Glenbrook), Jake Pepper, OF (Doyline), Josh Longstreth, P (Doyline), Hayden Engel, 1B (Doyline)