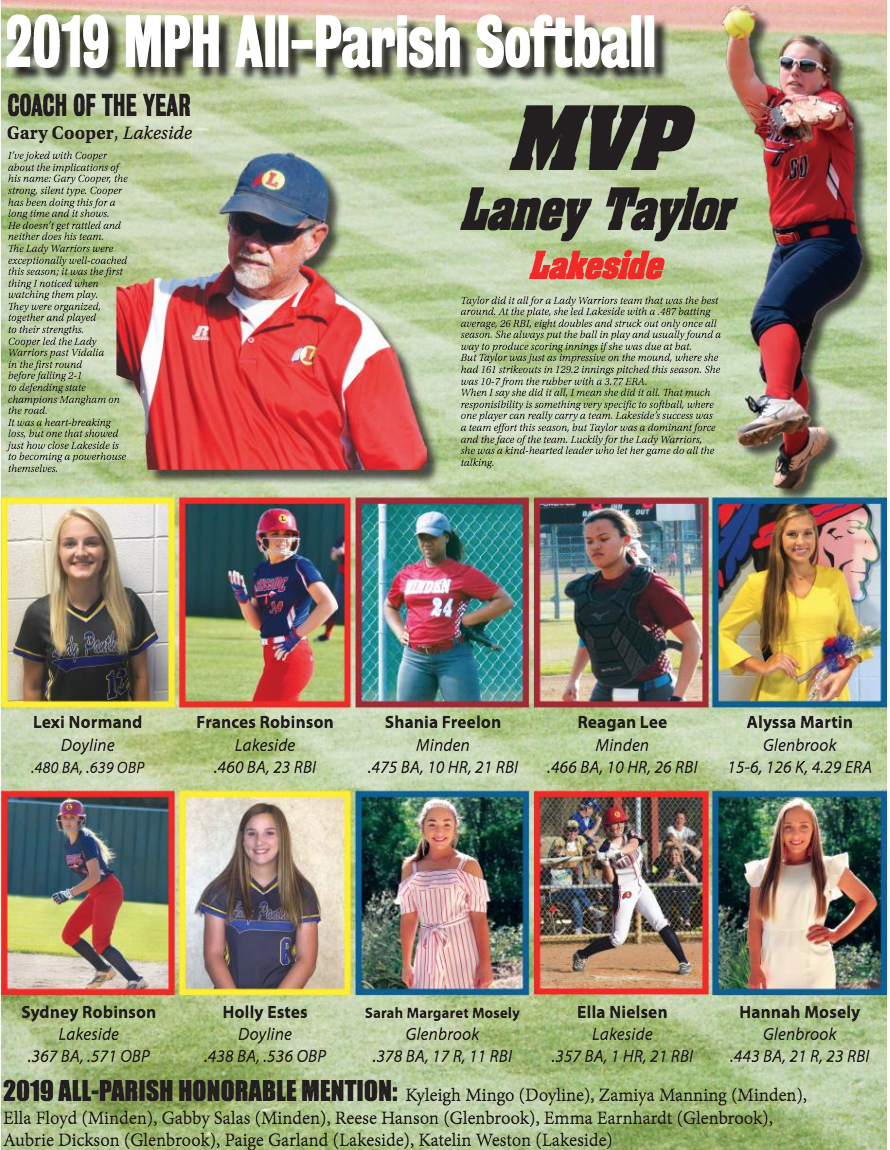 MVP – Laney Taylor , Lakeside High School
Taylor did it all for a Lady Warriors team that was the best around. At the plate, she led Lakeside with a .487 batting average, 26 RBI, eight doubles and struck out only once all season. She always put the ball in play and usually found a way to produce scoring innings if she was due at bat. But Taylor was just as impressive on the mound, where she had 161 strikeouts in 129.2 innings pitched this season. She was 10-7 from the rubber with a 3.77 ERA. When I say she did it all, I mean she did it all. That much responsibility is something very specific to softball, where one player can really carry a team. Lakeside's success was a team effort this season, but Taylor was a dominant force and the face of the team. Luckily for the Lady Warriors, she was a kind-hearted leader who let her game do all the talking.
Coach of the Year – Gary Cooper Lakeside High School
I've joked with Cooper about the implications of his name: Gary Cooper, the strong, silent type. Cooper has been doing this for a long time, and it shows. He doesn't get rattled and neither does his team. The Lady Warriors were exceptionally well-coached this season; it was the first thing I noticed when watching them play. They were organized, together and played to their strengths. Cooper led the Lady Warriors past Vidalia in the first round before falling 2-1 to defending state champions Mangham on the road. It was a heart-breaking loss, but one that showed just how close Lakeside is to becoming a powerhouse themselves.
2019 All-Parish First Team:
Lexi Normand, Doyline (.480 BA, .639 OBP)
Frances Robinson, Lakeside (.460 BA, 23 RBI)
Shania Freelon, Minden (.475 BA, 10 HR, 21 RBI)
Reagan Lee, Minden (.466 BA, 10 HR, 26 RBI)
Alyssa Martin, Glenbrook (15-6, 126 K, 4.29 ERA)
Sydney Robinson, Lakeside (.367 BA, .571 OBP)
Holly Estes, Doyline (.438 BA, .536 OBP)
Sarah Margaret Mosely, Glenbrook (.378 BA, 17 R, 11 RBI)
Ella Nielsen, Lakeside (.357 BA, 1 HR, 21 RBI)
Hannah Mosely, Glenbrook (.443 BA, 21 R, 23 RBI)
HONORABLE MENTION: Kyleigh Mingo (Doyline), Zamiya Manning (Minden), Ella Floyd (Minden), Gabby Salas (Minden), Reese Hanson (Glenbrook), Emma Earnhardt (Glenbrook), Aubrie Dickson (Glenbrook), Paige Garland (Lakeside), Katelin Weston (Lakeside)