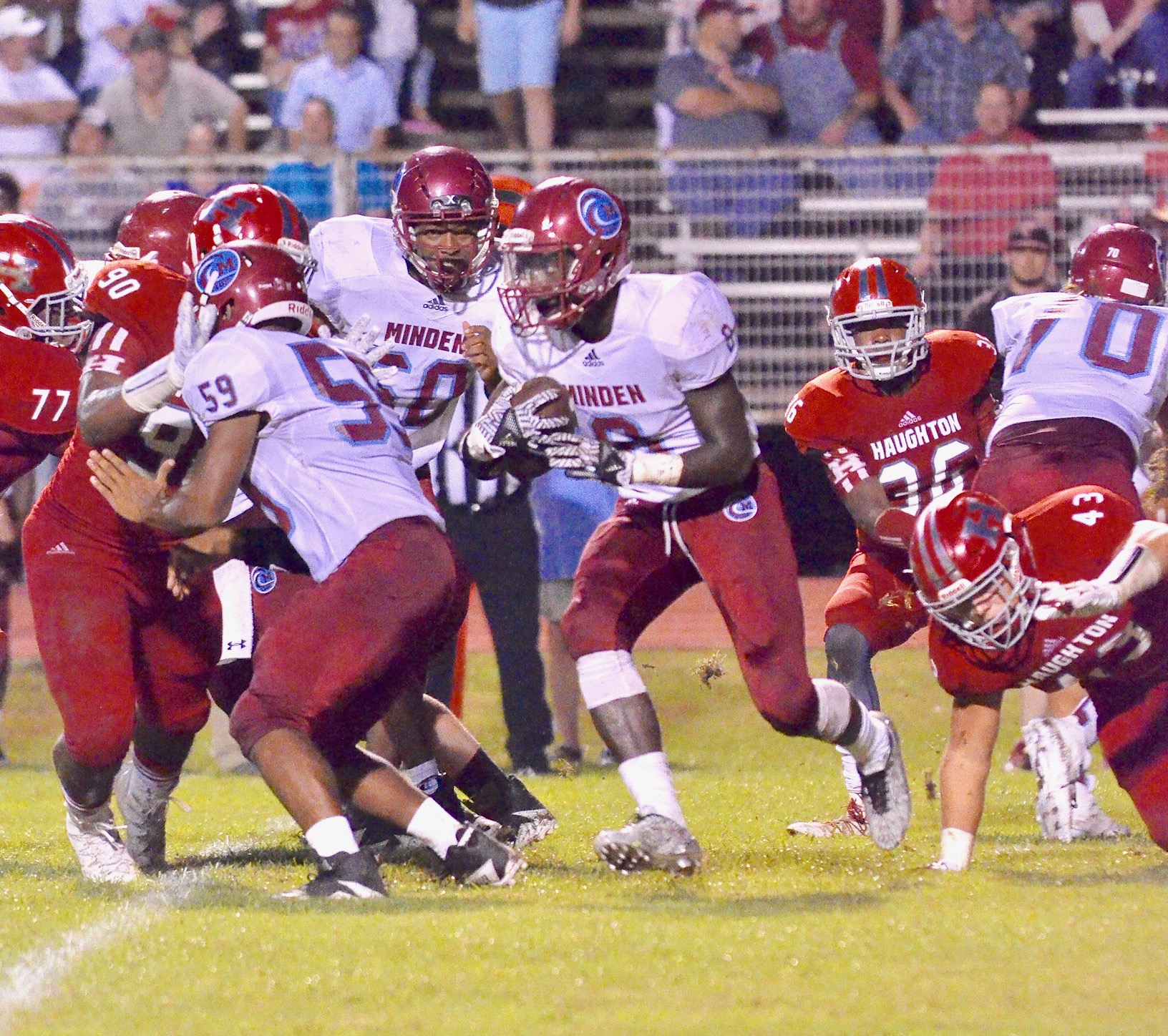 The formula has been the same for nearly four decades.
Fire off the ball low and hard, hit the hole full speed, pay critical attention to detail and outlast the man across from you.
That's what Haynesville has done so many times in their program's football history, and exactly what they will attempt to do Friday at Red Franklin-Memorial Stadium against the Minden Crimson Tide defense.
The Golden Tornado have used their wing-T to the tune of 17 state championships, the last coming in 2014. The Golden Tornado have finished their season with championship game losses the past two seasons and this year's team is strong once again as North Webster found out last Friday night in a 19-7 loss.
"It's another good Haynesville team," Minden head coach Spencer Heard said Thursday. "Nothing really changes in regard to that. They have a running back (Kavacion Webster) with some speed. They like to get the ball in his hands in open space; we have to try and contain him. but the strength of their team is that defense line. The defense is strong all across the board."
The Tornado have a pair of college prospects in defensive end/linebacker Jalan Harris and defensive tackle Joseph Evans.
The Tors held explosive all-parish running back TJ Hawthorne to 123 yards and one score last week, modest numbers by his standards. Minden must devise an effective strategy in their own running game to relieve some pressure from quarterback Seth Tyler and keep the Tide defense fresh. That could be easier said than done with Minden sporting three new starters on the O-Line against what could be the best front seven they see this season.
Minden was 1-of-10 on third down last week against Haughton and had nearly 6-less minutes of possession; the Tide managed only 117 yards of offense for the game.
"We have to be able to move the ball," Heard said. "Our defense has to get off the field and we need to take care of the ball. We can't give them good field position like we did last week."
Senior right tackle Jonathan Rhodes said the Tide didn't do a good enough job of talking to one another in the team's loss to Haughton, but he believes those issues have been worked out this week at practice.
"It was a communication issue," Rhodes said. "For a lot of us, it was our first time playing with that much crowd noise and the band, but we worked it out and I think we're going to do a lot better this week."
The Tide and Tors will kick off at 7:30 p.m. in Haynesville.