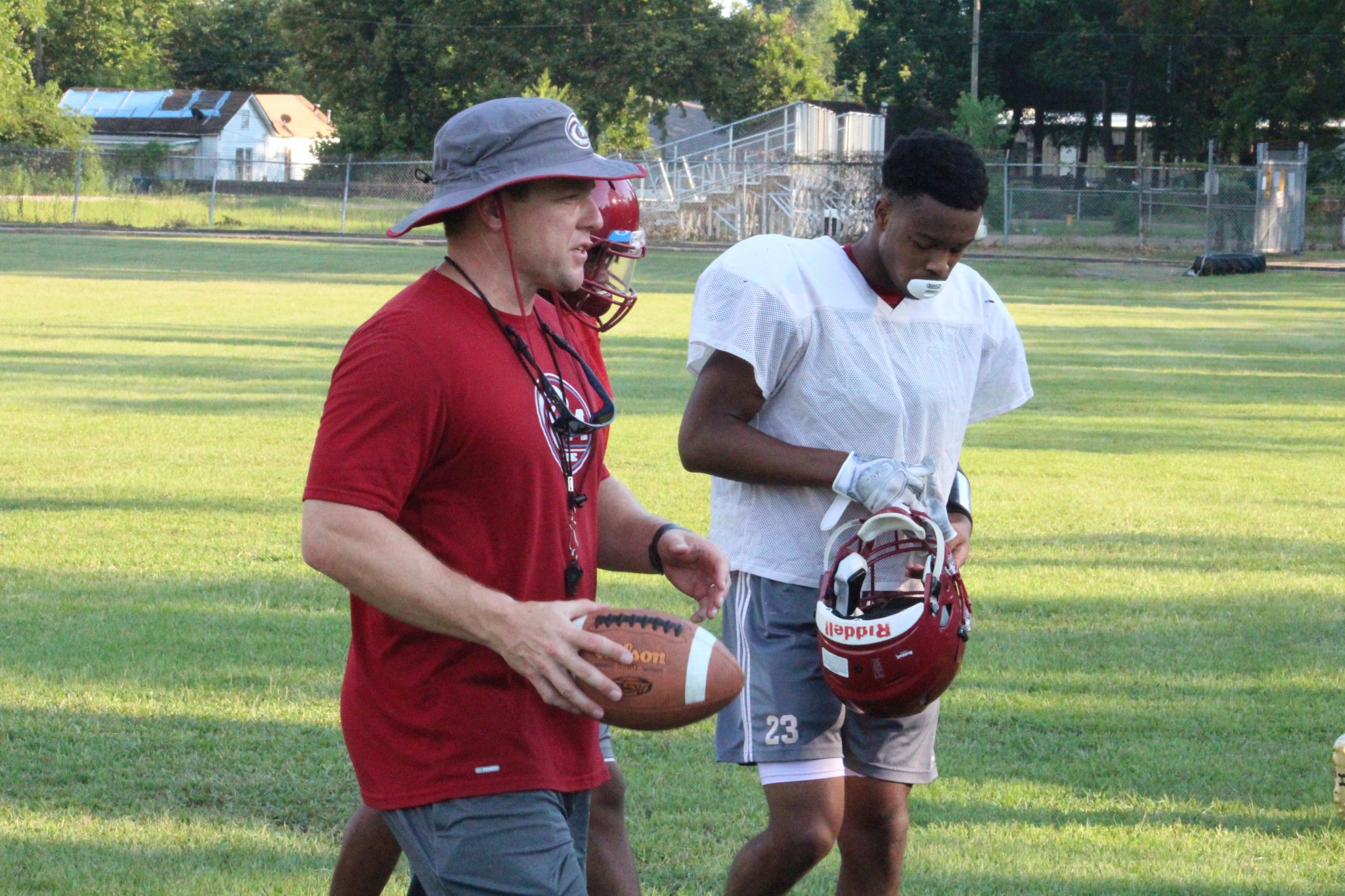 On a dreary Tuesday, Minden head coach Spencer Heard is flying around the practice field.
The 2015 Louisiana Class 4A Coach of the Year could pass for a free safety the way he covers ground and coaches simultaneously. He chastises players who aren't executing or giving worthy effort; up-downs for punishment.
After Minden's 42-7 loss at Haughton in week one, Heard made a decision. It was time to crank up the intensity in practice.
"With a lot of guys who are inexperienced, we've tried to up the temp and intensity," Heard said. "We're giving them more game-like scenarios, going through situations and talking about down and distance; As coaches, we've been trying to bring the energy ourselves and let that bleed over onto the team and practice field. It's been fun."
Heard has gone so far as participating as a member of the team in practice, filling in as a safety and quarterback, among other positions.
"Just kind of flying around," Heard said. "Trying to see what they're seeing so I can put them in the right spots. I'm looking at the linebackers in particular on defense, trying to see if they're seeing their keys."
Week one of heightened intensity paid massive dividends, as Minden went to Haynesville and defeated the Golden Tornado 21-20 in an early candidate for 'Game of the Year.'
The Tide got a pair of touchdowns from speedster Decoriun Brim and Seth Tyler found Patrick Heard for the go ahead touchdown in the fourth quarter. In the final seconds, Minden still had to block a potential game-winning field goal to hang on to the slimmest of leads.
The carry-over effect has been noticeable in this week's preparation for North Webster (0-2). "We've had some good days, got some great work in," Heard said. "Guys are flying around and we're still seeing that good energy. The win last week has definitely had a positive effect on the guys."
Minden won't have to shake-up the game plan too much, as North Webster runs a similar style offense to Haynesville.
"The defense is a little different, as far as the structure," Heard said. "Offensively, it's the same thing as last week. For us, I just want us to focus on holding onto the ball, blocking and tackling. We're not trying to re-invent the wheel."
Minden didn't move the ball well against North Webster in the Pineland Jamboree, however Seth Tyler and the rest of Minden's inexperienced offensive personnel have grown tremendously while playing on the big stage in the last two weeks.
The Tide's head coach has no qualms about being able to put up points Friday at Baucum-Farrar Stadium.
"The chemistry with the O-Line as far as the protection and fitting on their run blocks, just all of it," Heard said. "Guys catching the ball and knowing where they're supposed to be on the route. Even with guys who have played a lot it usually takes some time for it to all fit together."
Minden will have to contend with North Webster's dangerous backfield, led by All-Parish running back TJ Hawthorne. Hawthorne has 225 yards and 2 touchdowns through two tough contests for the Knights, and the senior will be jacked up to face the Tide on his home turf.
When teams key on Hawthorne, John Ware will go to fullback Kyler Harbour and elusive junior Jaylen Thomas. Sam Modisette and Jon Hardy spearhead a good group of linebackers on defense, while Lucas Williams anchors the D-Line.
The Crimson Tide own a 2-0 series lead on the newborn rivalry. The Knights will be playing desperate football, looking to avoid an 0-3 start to the season and the series.
Minden and North Webster square off in Springhill Friday at 7 p.m.