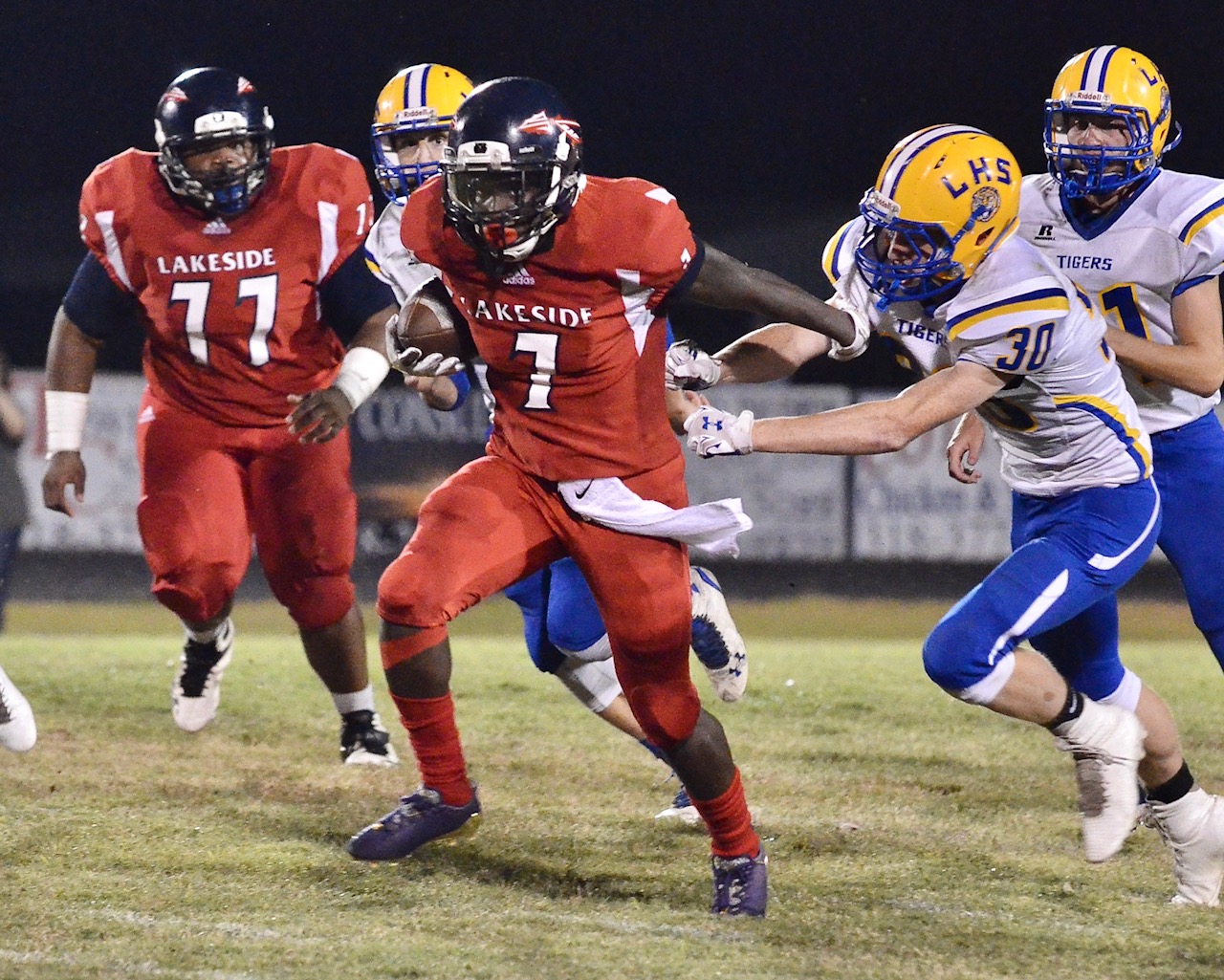 SIBLEY – Lakeside running back Buffate Coleman did his best Derrius Guice impression in Friday's 55-16 win over LaSalle in
front of a packed house on homecoming night.
The senior shredded the Tiger defense for 283 yards and 5 touchdowns, all in the first half, as the Warriors shook off last week's embarrassing defeat to earn their sixth win.
Jordan Preuett completed 10-of-12 passes for 174 yards and two scores, Chase Mitchell caught four passes for 112 yards and
reeled in a touchdown and the Warrior defense was dominant, much to the delight of Lakeside head coach Jason McClendon.
"You want to put on a good show for the home folks," McClendon said. "We had quite a bit of alumni in attendance who
came out and supported us who probably haven't been to a game in quite awhile. I was glad we entertained them. It's always good to win on homecoming; it makes the weekend and the dance all that much sweeter."
The Warrior defense forced a turnover on downs from inside their own 20-yard line on the game's opening possession. Preuett and the offense took over and needed only 4 plays to find paydirt courtesy of Coleman's first touchdown, a 77-yard scamper going left on a toss sweep.
Lakeside's defense forced a quick 3-and-out on LaSalle's next possession, as the Tigers' punter bobbled the snap and took
a big lick from Logan McIver who recovered the ball in LaSalle territory.
Preuett found Mitchell with a precision pass down to the LaSalle 2-yard line where Lakeside turned to Coleman for his second score of the night.
Coleman tacked on his third score of the half with 10:21 remaining in the second quarter and added his fourth just minutes later following a Trey Sanders interception.
By the time Coleman waltzed into the end zone for his fifth touchdown of the night with four minutes to play in the first
half, Lakeside led 36-0.
The second half was all Warriors as well, with Gavin Jones returning the half's opening kick 75 yards for a score and
Preuett finding Branthony Brown for a 25-yard touchdown through the air.
"We talked all week about starting fast," McClendon said. "For whatever reason, we've been a second-half team or
had sluggish starts this season. We wanted to be the aggressor this week, and for the most part, we did that. Our offensive line has been doing a good job and Buffate Coleman has an elite understanding of what we're trying to do in
our run game. He had his coming out party last night."
The win assured Lakeside of a winning season, something that seemed impossible only two months ago to those
outside the program.
McClendon is on a shortl ist of people who saw this coming. "We're still a work in progress," McClendon said. "We're still trying to teach kids the right things to do on a bunch of different levels, but it's nice to have some proof in the
pudding, if you will. Nothing validates all the things we've been trying to teach these young men like wins. I'm happy for the players, especially the seniors, who chose to be a part of this experience and get to end their careers at this school on a winning note."
Lakeside has one more home game in the regular season, this Friday against D'Arbonne Woods Charter School, before concluding the regular season on the road against Mansfield.