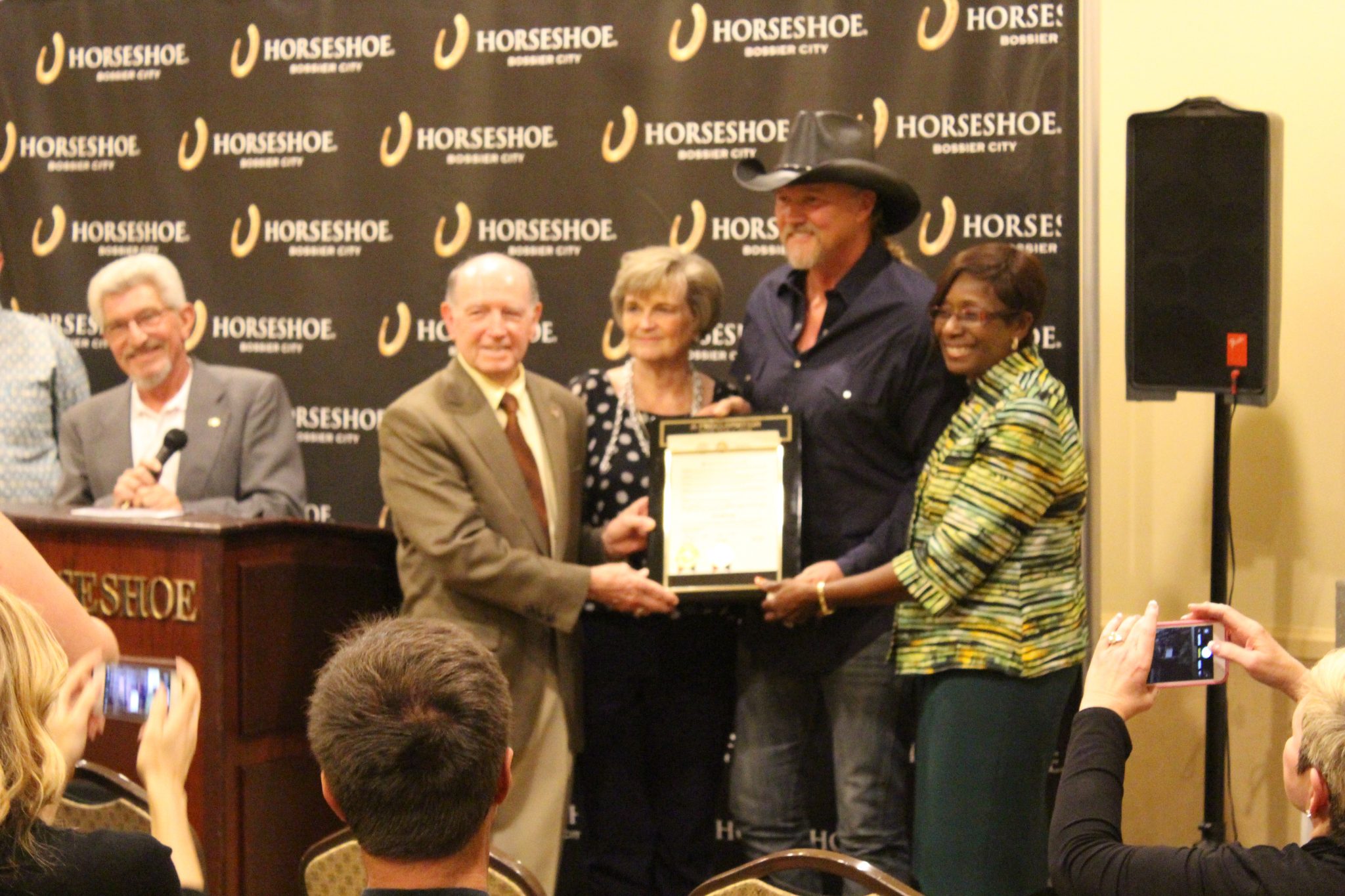 Trace Adkins inducted into NWLA Walk of Stars
Friday was Trace Adkins Day in northwest Louisiana.
The country music superstar and Sarepta native was inducted into the Northwest Louisiana Walk of Stars Friday.
Adkins was in town for the induction ceremony to cast his hand and boot prints in concrete that will be on display in Shreveport's Red River District.
"My hobby got horribly out of control, and here I am. But, I get to do something that I love to do every night. It's a blessing and I have so much fun doing it. I've always been proud of where I was from – this part of the country," Adkins said after receiving his award.
Adkins' childhood friend, Danny Reeve, recalled a time when the music star and actor was more reserved.
"I remember Tracy grabbing his guitar and playing, but back then he was real bashful. He wouldn't sing for nothing," he said. "Boy how time has flown since then. I am proud to have grown up with you."
Adkins first time on stage was for a talent show in Shreveport at the age of 12 with Reeve and a couple of friends. The group sang House of the Rising Sun and Adkins joked about how the young boys didn't know the meaning of the song and his mother let them sing it.
"Shame on you mayor," Adkins said to a laughing crowd while looking at his mother, Sarepta Mayor Peggy Adkins.
While in high school, Adkins was a member of the gospel group, New Commitments. Singing bass in the group was what Reeve said he believed help launch Adkins' singing career.
Adkins rose to fame following a career in the oilfield in the 1990s with his first single, "There's a Girl in Texas." Since then, he has had numerous number one hits. He has also made numerous television and movie appearances.
"This is such a huge honor," Adkins said. "I am humbled by this and don't deserve this, but I am so grateful and so thankful."
Bossier City Mayor Lo Walker, Shreveport Mayor Ollie Tyler and Peggy Adkins jointly read a proclamation at the ceremony declaring it Trace Adkins Day.
The Northwest Louisiana Walk of Stars is a nonprofit organization that recognizes individuals from the area that have brought national acclaim to northwest Louisiana.