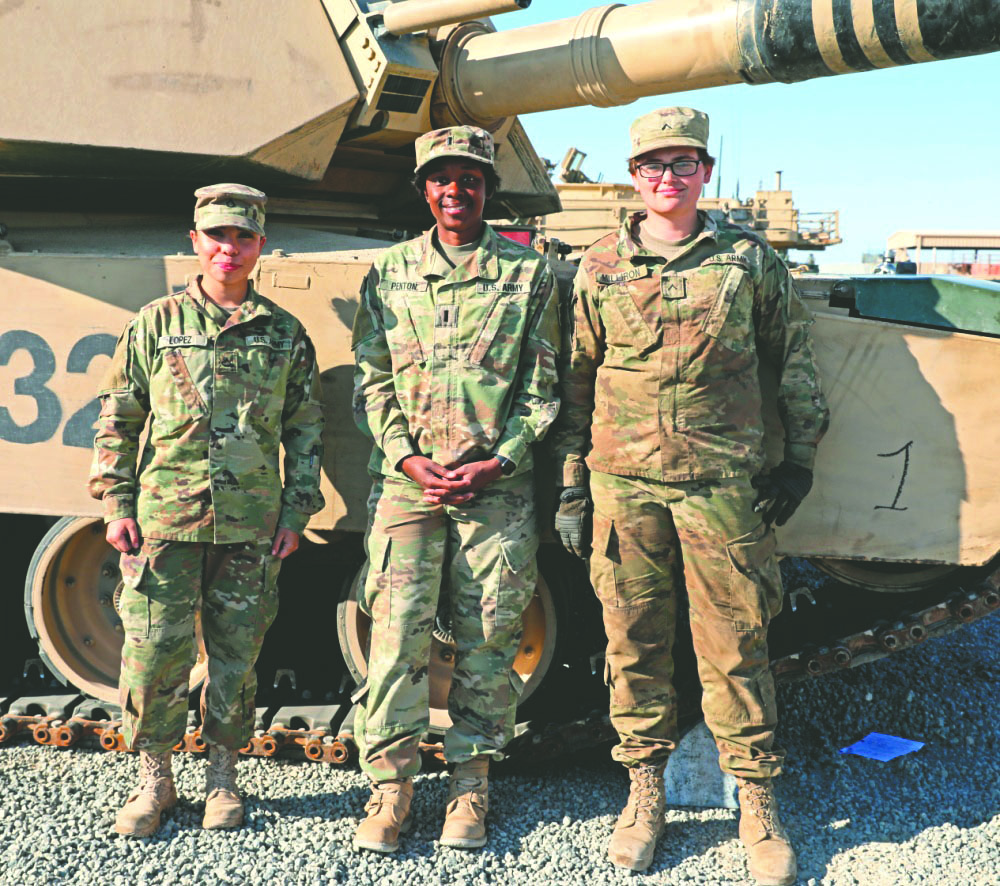 Minden resident recognized during
Woman's History Month in the military
Sgt. Liane Hatch
Special to the Minden Press-Herald
If you ask any given Soldier on Camp Buehring, Kuwait, about their goals during deployment, they might tell you they're trying to save money, or working on college courses. Maybe they're focused on fitness goals, or studying for the promotion board.
But if you ask 1st Lt. Ebony Penton, platoon leader in Battle Co, 1st Battalion, 66th Armor Regiment, 3rd Armored Brigade Combat Team, she'll start talking about her Soldiers. How to develop them. How to train them. How to make sure they're taken care of. How to help them succeed in the Army and beyond.
It is that level of care and attention that defines Penton's leadership says Cpl. Mitchell Depuydt, an Armor Crewman in Penton's platoon.
Penton, originally from Minden, Louisiana, first arrived to 1-66 in February 2018, straight out of the Armor Basic Officer Leader's Course at Fort Benning, Ga. Initially, she was assigned to Fort Hood, Texas – one of only two duty stations at the time that took female infantry and armor officers – but the week of her clearing and graduation, her orders changed, and she and her classmate, Lt. Charlotte Levine, became "firsts" – the first women assigned as armor officers at Fort Carson, Colorado.
"I got to Carson in February 2018, and by March the company pulled me in and made me a platoon leader, and from there we went straight into a gunnery," Penton said. "From the beginning everyone was really hands on with me – I came in only knowing what I had learned at ABOLC, and going into gunnery we would sit and do drills all the time to make sure I was prepared and that I had all the information I needed," she said.
"I don't know if it was in the back of anyone's mind that 'Oh, we have a female [armor officer] now,' but right away I saw that everyone wanted me to be successful, and I was able to qualify on my first gunnery. It was intense, there was a lot of screaming and excitement, but we qualified. My whole platoon qualified."
That experience, Penton said, set the stage for what she would describe as a successful year of training leading up to the unit's deployment to Kuwait.
And while she came to 1-66 new to armor, Penton was not at all new to the Army.
"I originally joined the Army in 2008, to pay off my student loans," she said. Penton spent eight years as an Automated Logistics Specialist before being put on orders for recruiting in Rochester, New York. It was during that time that she put in a packet for Officer Candidate School, and upon graduation in 2017, was selected for armor.
"I think her prior service as an enlisted Soldier adds a lot to her leadership," said Spc. Rodney Marsh, an armor crewman in Penton's platoon. "She relates a lot more to the Soldiers than some of the Platoon Leaders who don't have that previous experience."
Penton said that coming into her role as a PL, she wasn't focused on succeeding as a woman – she was just focused on succeeding.
"I was more or less just worried about being successful, not even really about what that meant as a woman," Penton said. "I had my enlisted life where all I had to do was execute, and I have to plan and oversee the execution and I have to answer for what happened, did we do everything correctly? Were we successful? Where did we fail? There's so many answers that I have to have now and I have to own up to whatever happens."
"At the end of the day, we're all Soldiers, period," she said. "My company, my battalion, nobody has ever made me feel like anything less. They don't care that I'm a woman, they care that I'm a Soldier, and anything I need from my company or my battalion, I receive it. Gender doesn't come into play at all, and it doesn't need to.
As the Army continues to integrate women into combat roles, Penton says what she's doing isn't necessarily anything special.
"I don't think of myself as being on the forefront of anything," she said. "I'm happy to be here and I'm happy to be successful, but a lot of women have already been to combat. Maybe not always on the front lines, but we've been here as long as we've been allowed to serve in the Army."
And while she doesn't see herself as being one of the forerunners, she expressed tremendous admiration for the women who went before her.
"From the Women's Army Core to the first few to go to Ranger School, and to those first women entering combat MOS roles – I probably wouldn't have had this opportunity without them."
And as she lives out this unique opportunity, Penton said that she's received nothing but support from her leadership, her NCOs, and her Soldiers in the year she' been at the helm.
"Being thrown immediately into this position, it was a lot of anxiety for me," Penton said. "But I overcame it because everyone came alongside me, like 'hey, let's do this, let's work together,' and we've been successful for an entire year of training leading up to now. I attribute 100 percent of my success to the support I've received."
And that support doesn't just come from the top – though Penton says she's tough on her Soldiers, her care for them and dedication to the platoon shines through.
"She's done exceptionally well as Platoon Leader" Depuydt said. As a private first class, Depuydt was Penton's first gunner when she initially arrived at the unit, and said that as they both entered those new roles, they were able to learn and grow at the same time.
"The platoon responds really well to her leadership and we can tell how much she really cares about us," he said. "She's just one of us, you know? We don't see 'female,' we just see that she really does perform, and that she cares about us as Soldiers and about our performance as a platoon."
Moving forward, Penton is unsure what she wants her military career to look like.
"Being a PL is awesome because you're right here, you're in it with the Soldiers, but as I think and look at moving up the chain, you know, you get away from that, you get swept up in meetings and briefings," she said. "I want to be on the ground, I want to be turning wrenches, so I don't know yet if I see a military career past company command."
Regardless of where her career ultimately takes her, Penton was emphatic that stepping out of her comfort zone was a good choice for her.
"When I was enlisted, never did I ever think I would be an armor officer," she said. "But it's been awesome. I would tell anyone that's on the fence right now to jump out there and challenge yourself."
"I know it's scary because you hear the stories and you see the negativity some people have, and there are so many people who are stagnant in their Army careers who want to tell you that you can't do it. Bypass them. Find the answers to the questions you seek, and find out and do it for yourself. There's support for you. Find it and go for it."