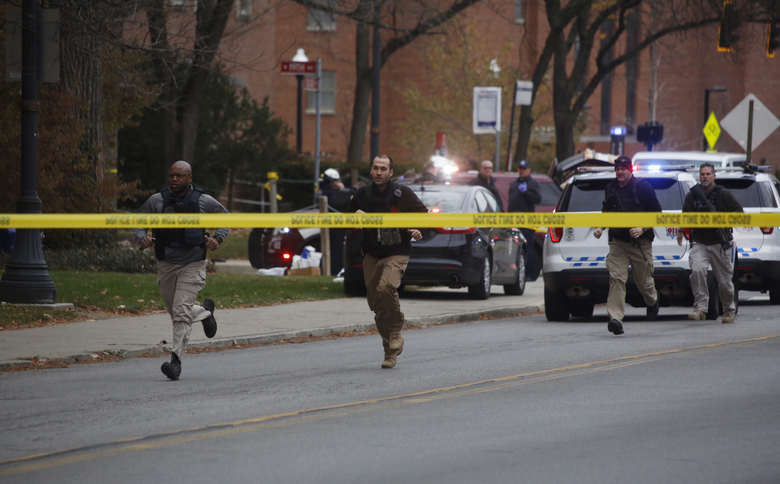 COLUMBUS, Ohio — Eight people were sent to hospitals Monday morning with non-life-threatening injuries after an attack on the Ohio State University campus, fire and hospital officials said after the school sent a series of tweets telling students to shelter in place and to "Run Hide Fight."
Some of the victims had been stabbed and others were hit by a vehicle, said Ben Johnson, a university spokesman. Some of the other injuries were being evaluated, he said.
"Our top priority remains the safety and security of our campus community," he said.
The eight patients were split among OSU Wexner Medical Center, OhioHealth Grant Medical Center and OhioHealth Riverside Methodist Hospital.
Cassidie Baker, an Ohio State senior, said she saw police or paramedics helping one person on the ground outside Watts Hall.
"No one really knows what is happening, other than there's an active shooter," she said.
Ohio State said about an hour and a half after sending out a series of tweets about an active shooter on campus that a shelter-in-place warning had been lifted and the scene was secure. The university tweeted that all classes would be canceled for the rest of the day.
Around 10 a.m., the university's emergency management department tweeted "Buckeye Alert: Active Shooter on campus. Run Hide Fight. Watts Hall. 19th and College." Watts Hall is a materials science and engineering building.
"Run, hide, fight" is standard protocol for active shooter situations. It means: Run, evacuate if possible; hide, get silently out of view; or fight, as a last resort, take action to disrupt or incapacitate the shooter if your life is in imminent danger.
The university followed up with another tweet: "Continue to shelter in place in north campus area. Follow directions of Police on scene." The university asked for anyone with information to call police.
Many police vehicles were at the scene. Police also blocked off roads around the perimeter of the campus, clogging area traffic.
With nearly 60,000 students at its main Columbus campus, Ohio State is one of the nation's largest universities.