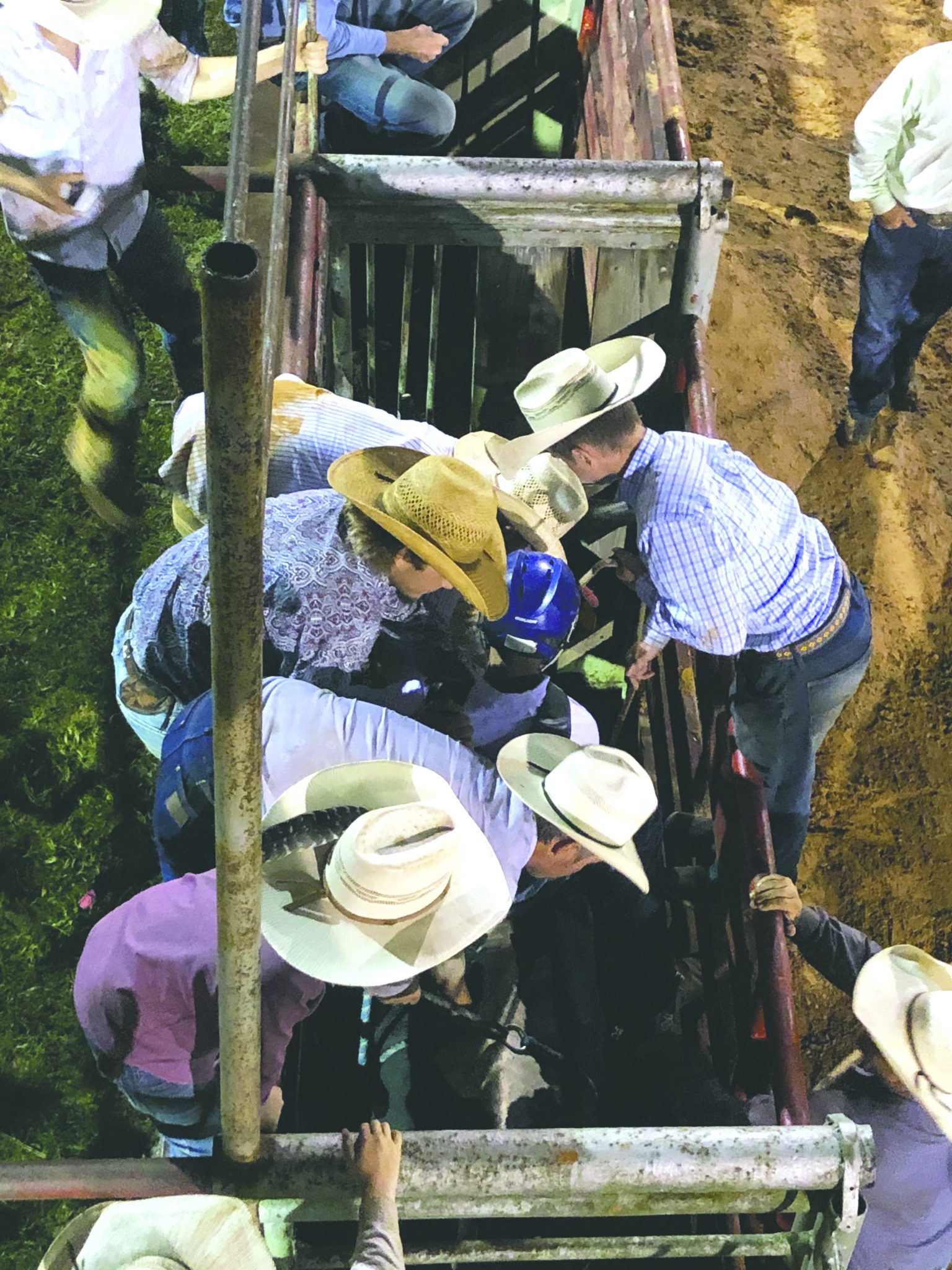 Rain shower doesn't dampen fun at rodeo
The Minden LRCA Rodeo took place Saturday night were both cowboys and cowgirls competed in a variety of competitions including Barrel Racing, Steer Wrestling, and of course Bull Riding.
The event kicked off with an event for the kids called Mutton Bustin' where they try to see how long they can ride on a sheep. Unfortunately near the end of the Mutton Bustin' a brief yet heavy shower poured down on the rodeo, leaving the arena muddy and those in attendance soaked. Luckily it was quick to pass and the rodeo moved forward as scheduled.
The announcers for the event were Chance Gantt and Jim Poole and both had some thoughts to share about the rodeo itself. "We loved it. We love to come out here and Minden really gets behind this rodeo. The Minden Riding Club and Carroway Auto, they do a fantastic job getting behind this. The people of Minden are great people so we are just delighted to come back here. It's been a few years since we've been able to be here to have a rodeo so we were really delighted to get the opportunity to come back," said Chance Gantt.
"In our mind, the main thing is the courteous sponsors that we have, and we thank them along with the oil businesses and oil service companies that also helped out with the rodeo," said Jim Poole.
The sponsors for the event were Carroway Auto, Whitco Oilfield Supply, PLS Equipment Rental, Alpha Energy Services, Jason Parker for Sheriff, Red Rock Rentals, Little Don' Smith for Sheriff, and Byrd Ventures.
The winners in each category in the rodeo are listed as follows. Michael Womack and Dustin Haymon tied for first place in Saddle Bronc Riding, Hunter Ramsey won first place in Bareback Riding, Lindsey McLeod won first place in Barrel Racing, Cody James won first place in Tie-Down Roping, Lari Dee Guy won the first place in Breakaway roping, Hudson Speed won first place in Steer Wrestling, Justin Johnson and Will Woodfin won first place in Team Roping, Tiffany Scott won first place in Hometown Barrel Racing, and Jaron Hughes won first place in Bull Riding.
After the Bull Riding portion of the evening had taken place, the winner of that category, Jaron Hughes, took some time to share what draws him to the sport of Bull Riding. Hughes said, "My Dad did it his whole life, so it kinda got me into it when I was 16, and so here I am now almost 20."
Hughes is a competitor that travels all over the country to compete in rodeos, and his motivations for doing so are straightforward. "Yeah, it's fun. Every weekend I try and go somewhere, but in the end, I just like winning a lot of money," said Hughes.
Near the end of the event, announcer Jim Poole had some thoughts to share about the rodeo. "Even though we had a little shower we had a good crowd and I think everybody had a good time, I know I did. It's a pleasure to be in Minden. Hadn't been here in years and years, but it's good to be back," he said.