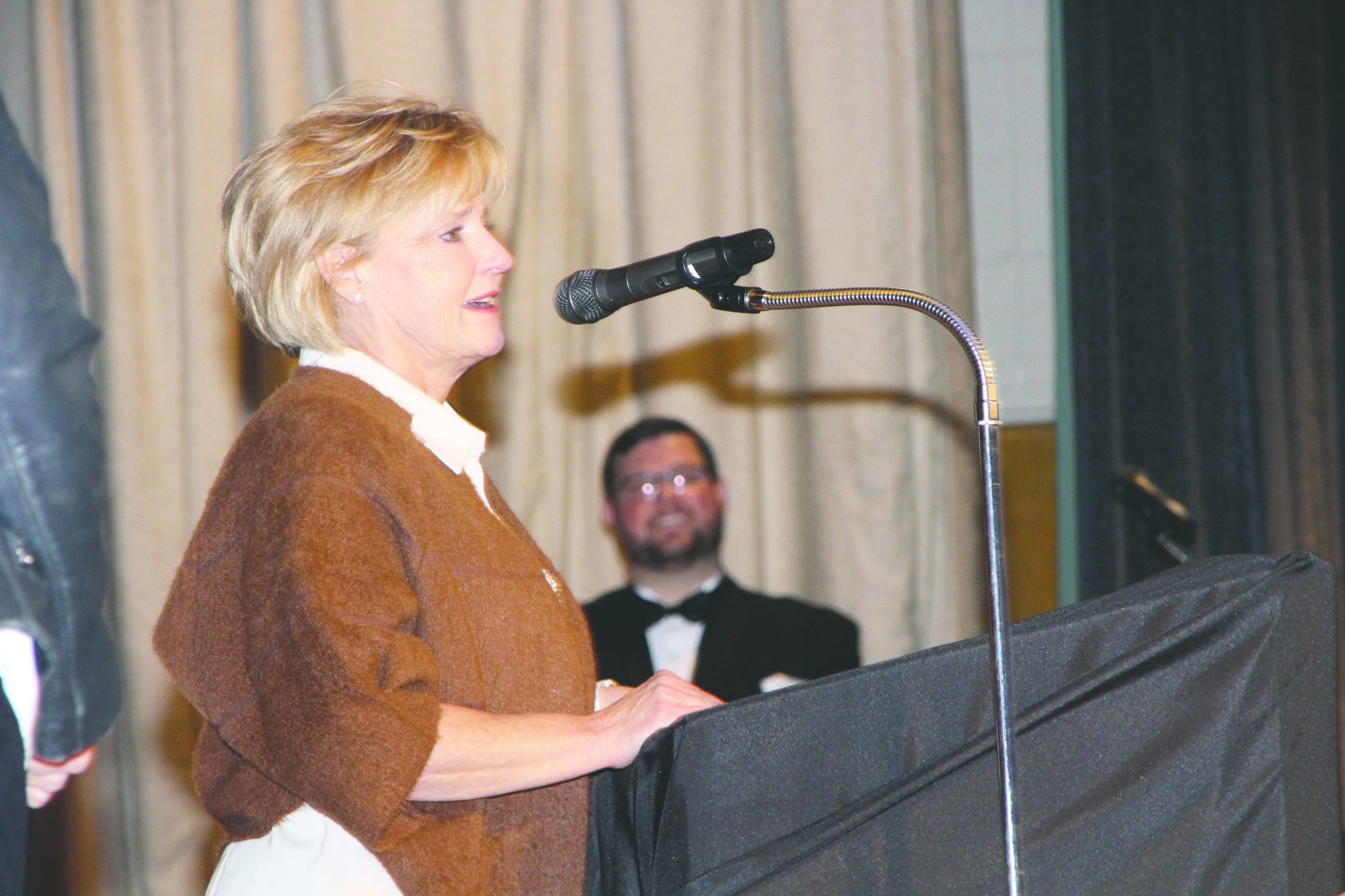 Brown, Madden named Woman, Man of the Year at Chamber Gala
The Greater Minden Chamber hosted "A Grand Affair" Tuesday night at the Minden Civic Center for their 77th Annual Awards Gala.
The night was filled with the music of Shreveport Second Line Brass Band. The Ceilings were draped with black and gold fabric and a chandelier with a "Great Gatsby" theme to the event. Many guests dressed in 1920's attire.
Among the winners were KASO-KBEF for Small Business of the Year, Coca-Cola Bottling Company of Minden as Business of the Year, Hugh Wood for Business Person of the Year, CASA as Community Partner of the Year, Melissa Marvin Brown as Woman of the Year and Jerry Madden as Man of the Year. A special Lifetime Achievement Award was given to Colonel Carl Thompson.
"I thank God for the opportunity to serve this nation. We live in a wonderful nation, the greatest Christian nation on this earth. We also live in a wonderful community here in Webster Parish. When I say Webster Parish, it's Minden and Springhill, North Webster and South Webster. It's all part of the same community," Thompson said in his gratitude filled speech.
CASA was honored for the work they do in the community for children in foster care.
"Let me just say on a personal note, I have seen them in action on a close basis and cannot say enough about the services they provide for these children. It's a true calling," host and Webster Parish Schools superintendent Johnny Rowland said of the organization.
The Young Women's Service Club presented the Woman of the Year award after a heartfelt speech by Laura Hollingsworth about the work of Melissa Marvin Brown with the St. Jude Auction and numerous other charitable community causes in Minden.
"This lady is that person who very quietly immerses herself into the needs of our community, always giving generously of her time talent and resources. Yet, she shies away from public recognition for her work. She wants no attention drawn to herself personally, in fact, she runs from it," Hollingsworth described of Brown.
The Lions Club of Minden presented the Man of the Year award to Jerry Madden. Madden helps oversee Eagle's Park at Turner's pond and helps perform eye screenings for children. He has also taught numerous boating safety and water safety classes to children and even the Shreveport Police Department Marine Division. He serves on several boards and has led music at several churches throughout Webster and Bienville Parish. Supporters of Madden even came from Clarksville, Tennessee to see him receive the award.
"The one thing that I was told years ago is that each and every one of you here has a gift. Each and every one of you has something that you can share unselfishly with somebody you don't even know. I was told by a person, when it comes time to leave this earth, be remembered for all the good that you did – not forgotten for all the good you could have done," Madden said.
The night ended with parting words from the Chamber Chairman, Trey Waller and co-hosts Rowland and Jake Chapman then the Shreveport Second Line Band led guests out with New Orleans style music.