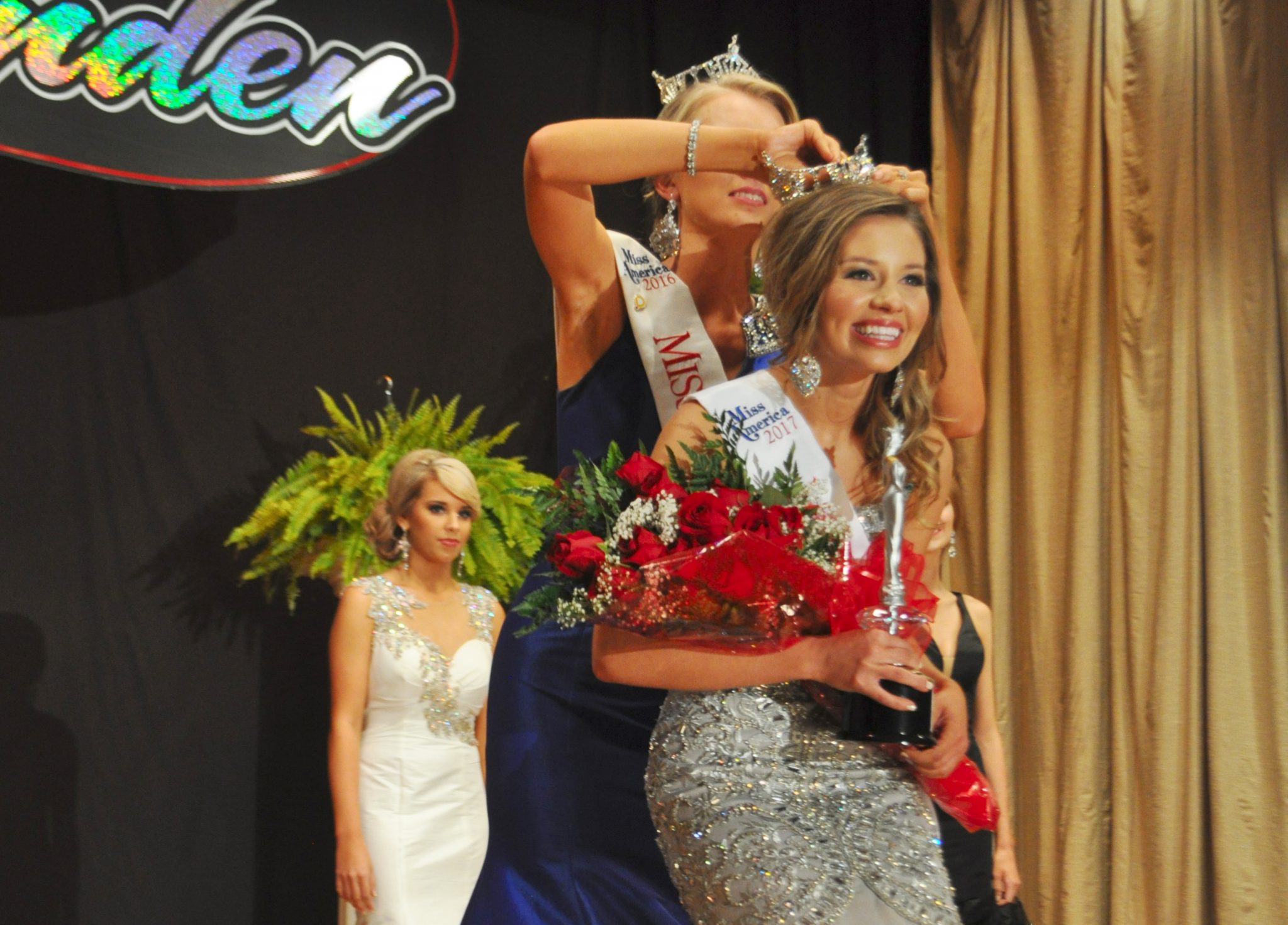 Abigail Reynolds was crowned Miss Minden 2017 Saturday.
Reynolds said she is excited to be able to serve her community in the coming year.
"It's been an amazing experience, and I'm so humbled to be chosen as Miss Minden 2017," she said. "This has been the best experience of my life, and I'm just so thankful to my family, God and Minden for this opportunity."
She looks forward to implementing her platform: Authentically Beautiful – Self Confidence Over Social Standards.
"I plan to travel to area schools to emphasize peer encouragement among students and allow them to understand that their authenticity is what makes them beautiful," she said. "I really want to hit schools hard and make sure that I represent my platform and Minden well."
Reynolds is the 18-year-old daughter of Dustin and Jennifer Reynolds and is a student at Tulane University in New Orleans. Reynolds won two awards Saturday including the swimsuit/fitness award and the Hannah McFarland Evening Gown award.
The first runner-up was Eleanor Gilbert, the 20-year-old daughter of Andy and Faith Gilbert. She took home two awards as well: Miss Congeniality and the Talent award.
Other contestants included Jordan Lary, the 18-year-old daughter of Gil and Paula Lary, and Abby Baker, the 21-year-old daughter of Bruce and Jody Baker.
The first Miss Minden Outstanding Teen pageant was held in conjunction with the Miss Minden pageant. Madeline Bethea was crowned Miss Minden Outstanding Teen 2017. She said she looks forward to this opportunity to represent Minden and promote her platform: Stuffed with Love.
"I'm very thankful for this opportunity to represent my city, and I'm very excited to be the first Miss Minden Outstanding Teen," she said.
Bethea, who also took home the fitness award, will compete in the Miss Louisiana Outstanding Teen in April.
Her platform, Stuffed with Love, is one that is near and dear to her heart. She began the program when she was a small child.
"I want to go to schools and get children involved in their community," she said. "No matter how small the gift is, if it's made out of love, it makes a difference in someone's life. I want them to know that."
Other contestants included Kenzie Ellington, who took home the Talent Award for her rendition of "Anyway" by Martina McBride. Ellington is the 16-year-old daughter of Kerry and Samantha Ellington. Anna Claire Lemoine was named Miss Congeniality. She is the 12-year-old daughter of Brian and Lela Lemoine.
Past winners of the Miss Minden contest were recognized on stage Saturday. Introducing themselves were Trudy Brooks Bishop, Miss Minden 1955, Cindy Ritchie Walker, Miss Minden 1972, Joanna Byars Marks, Miss Minden 1983, Ashleighh Albritton Watkins, Miss Minden 1996, Jennifer Culpepper Lee, Miss Minden 2000, Jamie Wilson Rivet, Miss Minden 2003, Elizabeth Marie Wise, Miss Minden 2013, Paige McCoy Salas, Miss Minden 2014, and Baylee Howell, Miss Minden 2015.
New winners were crowned throughout the day as the Young Women's Service Club hosted other age groups.
Baby Miss Minden is Addilyn Brown. She was also named Miss Photogenic. Toddler Miss Minden is Nella Snider. Petite Miss Minden is Isabella Guin. Little Miss Minden is Abigail Clark. Pre-Teen Miss Minden is Laci-Beth Hough. Junior Miss Minden is Rayne West. Teen Miss Minden is Baylee Hough.
The People's Choice awards went to Piper Mandino and Olivia Blackwelder.