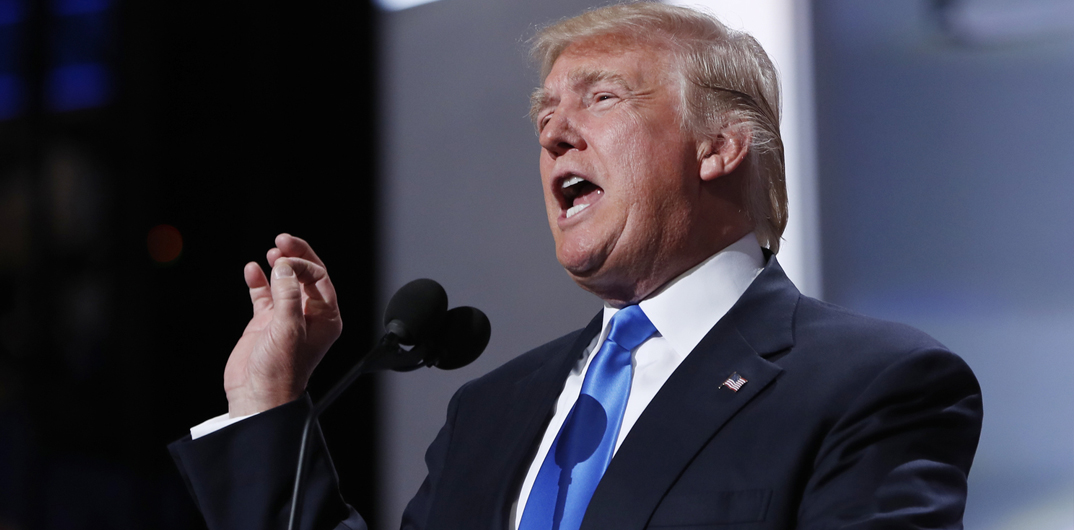 CLEVELAND — Barring a last-minute jolt to the proceedings, Donald Trump is hours away from attaining the 2016 presidential nomination despite efforts to stop him that spilled messily into the opening of the Republican National Convention. As his wife, Melania, put it from the stage, "It would not be a Trump contest without excitement and drama."
She generated a lot of buzz with her well-received speech and, later, a controversy over some of her remarks. Two passages of her address matched nearly word-for-word the speech that Michelle Obama delivered in 2008 at the Democratic National Convention.
A senior Trump adviser, Paul Manafort, dismissed the criticism as "just absurd," and insisted that she used "words that are common words." The campaign said the speech was written by a "team of writers" who included fragments that reflected Mrs. Trump's thinking.
For a time Monday, the Cleveland arena resembled the convention-floor battles of old as aggrieved anti-Trump Republicans protested the adoption by voice vote of rules aimed at quashing an already flailing effort to deny him the prize. Instead of a manicured message of unity, viewers saw the fractured face of a party still coming to grips with the polarizing man of the moment.
But to borrow the parlance of Trump the businessman, the deal will almost certainly be sealed Tuesday night.
That's when the roll call of states is set to unfold, delivering the delegates to make him the standard-bearer after a rollicking primary season that saw him vanquish 16 rivals. Typically in both parties, the roll call is heavy with ceremonial flourishes, good cheer and puffery about the virtues of each state. This time, it's also another opportunity for discord to be heard.
On Monday, chaos gave way to a series of hard-edged, prime-time speeches in which Republicans called Democratic candidate Hillary Clinton a liar, criticized the Black Lives Matter movement and insisted that Trump cares more about Americans than "illegals."
With a rock star entrance, Trump changed the tone and introduced his wife, Melania. She traced her own life story, coming to America from Slovenia, and painted a softer, more rounded portrait of her husband than the hard-nosed, insult-throwing candidate GOP voters have seen at every turn. She praised his "simple goodness" and his loyalty to and love of family — while noting the "drama" that comes with Trump in politics.
"If you want someone to fight for you and your country, I can assure you, he is the guy," Mrs. Trump told delegates.
Her speech contained a striking resemblance to Michelle Obama's when she said her parents "impressed on me the values that you work hard for what you want in life, that your word is your bond and you do what you say and keep your promise, that you treat people with respect." Mrs. Obama, in her 2008 speech, talked being raised learning about "values, like, you work hard for what you want in life, that your word is your bond, that you do what you say you're going to do, that you treat people with dignity and respect."
Similarly, Mrs. Trump said, "we want our children in this nation to know that the only limit to your achievements is the strength of your dreams and your willingness to work for them." Mrs. Obama said in 2008, "we want our children — and all children in this nation — to know that the only limit to the height of your achievements is the reach of your dreams and your willingness to work hard for them."
The White House declined to comment Tuesday morning, but was expected to answer questions about the similarities in the remarks later in the day.
Mrs. Trump's speech was part of a four-day campaign to show the softer side of the tough-talking showman. On Tuesday night, two of Trump's children will pick up where she left off. Tiffany Trump, Trump's 22-year-old daughter from his marriage to Marla Maples, and Donald Trump Jr., his eldest son and an executive vice president at The Trump Organization, will take the podium.
Former GOP presidents, the home-state governor and other top Republicans have skipped Trump's convention, but Tuesday's bill highlights some establishment support.
House Speaker Paul Ryan, Senate Majority Leader Mitch McConnell, New Jersey Gov. Chris Christie planned to address the convention along with Sen. Steve Daines, who had planned to go fly-fishing in Montana.
Themes of the four-day event are all rooted in Trump's Make America Great Again slogan: safe again, work again, first again and one again, in turn.
Safety was first on tap, and a succession of speakers cast Trump as the leader for perilous times and Hillary Clinton as the embodiment of a system that has left America vulnerable — or worse.