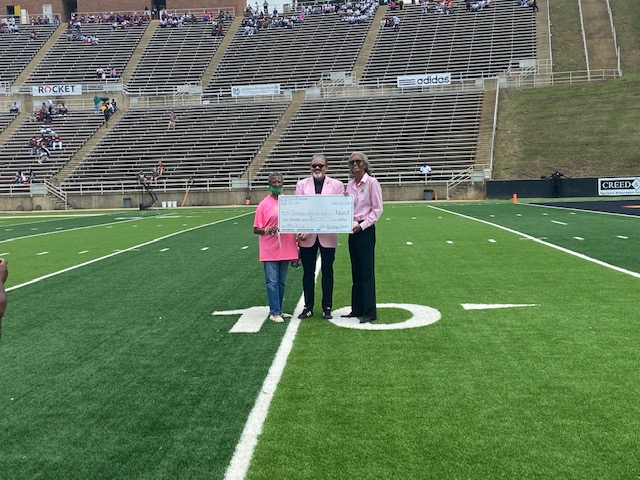 On October 02, 2021, in a pre-game ceremony, the Iota Rho Omega Chapter of Alpha Kappa Alpha Sorority, Incorporated presented a check for $5000 to Grambling State University.   The chapter President, Patricia McMurray and chapter member,  Mrs. Mildred Brown-Ware were on hand to give the check to President of Grambling State, Mr. Rick Guillot, Esq. 
For the past four years the International Sorority of Alpha Kappa Alpha Sorority, Incorporated has committed to donating to every Historically Black College & University (HBCU) in the nation with their "HBCU-For Life" Program from $12,500 to $100,000.  To finance this program/initiative the international sorority has raised $1 million dollars in a day for the past three years, always in September.  On September 20, 2021, the last year for the program, they raised over $2.1 million dollars. 
In order to do their part, the Iota Rho Omega Chapter committed to presenting $5000 to each of the four-year HBCU's in Louisiana.  The previous universities to receive this donation were Xavier University of New Orleans and Dillard University. The chapter will present their final check in 2022 to Southern University of Baton Rouge.  The President of the chapter is Patricia A. McMurray and the Chairperson of the HBCU-For Life Committee is Ms. Adrienne Moore.