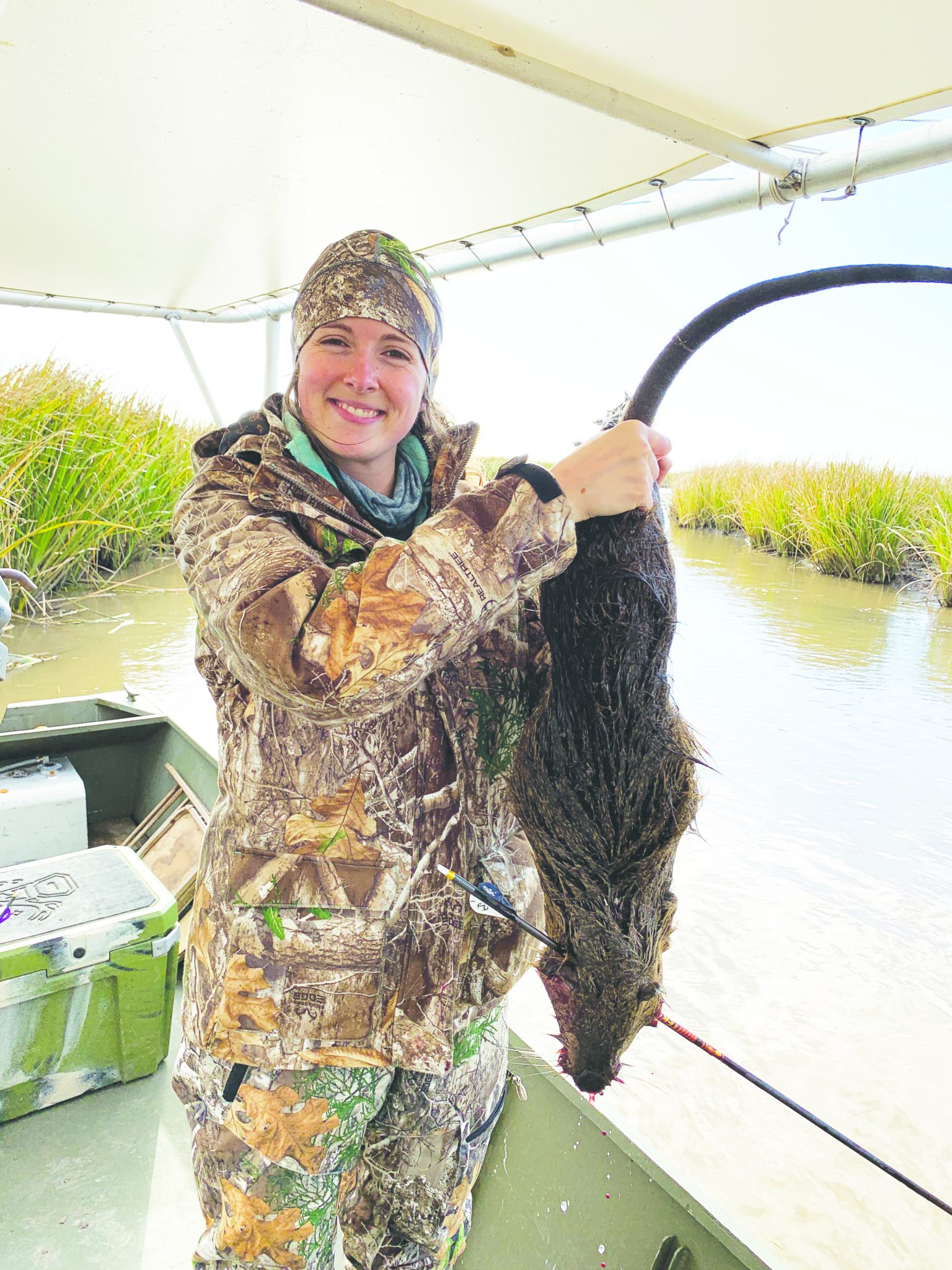 By Glynn Harris, Special to the Minden Press-Herald
Major League fishing is anMaking sure she's up to date with the latest fashions? Shopping for lady things like purses and shoes? Some might, and Anna Ribbeck could have interest in these things but if she really wants to be involved in "what's happening," she'll be pulling on her camo, grabbing her bow and heading for the marsh to sling arrows at nutria.
Ribbeck lives in Baton Rouge and works for the Ag Center as Social Media Strategist and attends graduate school studying invasive aquatic plants such as Giant Salvinia and water hyacinths.
"I was introduced to archery in college some four years ago and I fell in love with the sport of slinging arrows," Ribbeck said. "Since then I have gotten into bow hunting and have taken two deer already, a doe and a buck."
There is another critter that has captivated her attention more than hunting deer. She loves to shoot nutria, those invasive rodents that eat native vegetation and their destructive habits are contributing to Louisiana's coastal erosion. Nutria down in the marsh make one think of feral pigs up this way. Both are putting dents in native habitat, food sources and creating havoc wherever they are found.
"I started hunting nutria last year when one of the stars of the Swamp People television show invited me to participate in a nutria rodeo. I asked him if I could use my bow, he asked me if I could hit them with a bow and I told him 'shoot yeah I can',"she said.
Accompanied by her boyfriend, Ribbeck participated in her first nutria rodeo when 62 teams from around the country participated in attempting to see how many of the ugly critters could be eliminated.
"We went back this year to the rodeo, which is held down in Venice, and I decided to leave my bow at home and take my .22 rifle because we wanted to win. In two days of hunting, our team took 220 nutria while a total of some 1900 were taken off the landscape by all teams," Ribbeck continued.
So what happens to all the nutria that are taken? Are they just unceremoniously tossed aside for the buzzards to clean up?
"No, we eat them," she said. "Nutria are vegetarians and the meat is quite good. A nutria gumbo is just plain delicious."
In addition to spending her time in the woods after deer or in the marsh working on nutria, Ribbeck has another mission in which she is heavily involved.
"I want to educate the public, especially women, on archery. I do a lot of You Tube videos on social media under the name of Anna the Archer and I visit bow shops to teach women about archery. I also participate in competitive archery and that has not only been lots of fun but getting to hang out with others in the sport has been a big help in developing my skills and my love for the sport," she said.
Ribbeck, aka Anna the Archer, will be in north Louisiana in March to host an archery program in Homer at the Claiborne Parish Library at 2 p.m. March 26 with program beginning at 2:00 pm. If you are a bow hunter, competitive shooter or would just like to meet this archery enthusiast you need to make plans to be there.
She may even share her recipe for nutria gumbo.