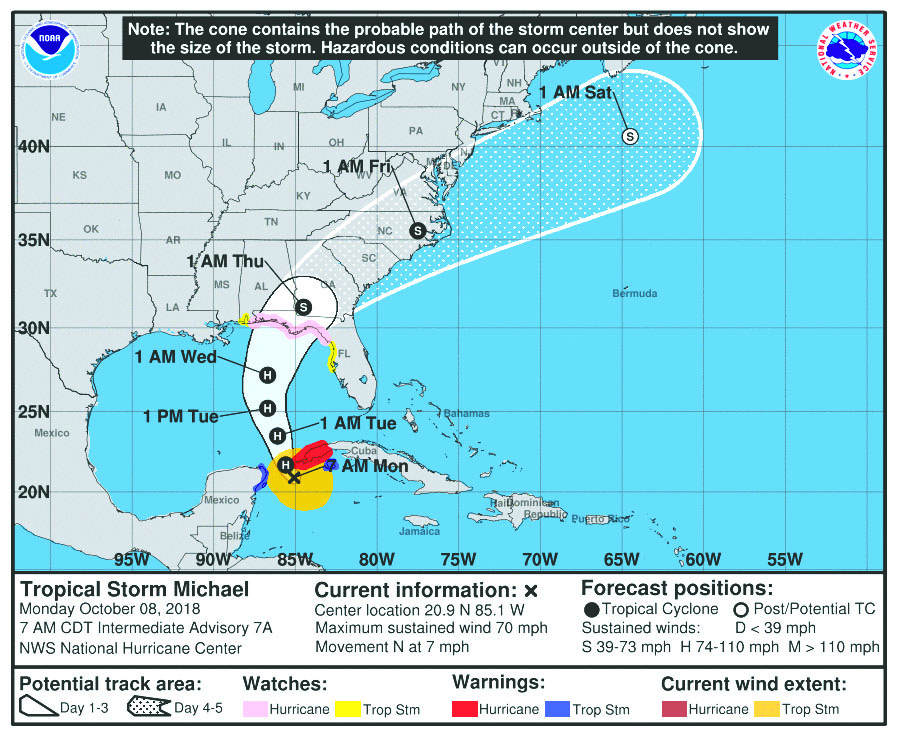 Michael expected to become a hurricane today
Still far off, Michael a growing menace to Florida Panhandle
By MIKE SCHNEIDER, Associated Press
ORLANDO, Fla. (AP) — A tropical storm that rapidly formed off Mexico's Yucatan Peninsula has gained new strength and could become a dangerous Category 2 hurricane with an expected midweek strike on the Gulf Coast in the Florida Panhandle, forecasts say.
Florida Gov. Rick Scott issued an order for a state of emergency for 26 counties to rush preparations in the Florida Panhandle and the Big Bend area, freeing up resources and activating 500 members of the Florida National Guard ahead of Tropical Storm Michael.
"This storm will be life-threatening and extremely dangerous," Scott said Sunday after receiving a briefing at the State Emergency Operations Center. He warned that storm surge could affect areas of Florida not in the storm's direct path.
Michael emerged Sunday as a tropical storm with winds of up to 50 mph (85 kph). By Monday morning, the storm's maximum sustained winds were near 70 mph (110 kph). Michael was expected to become a hurricane later in the day.
It's expected to move over the Yucatan Channel and then cross the Gulf of Mexico, nearing the Florida Panhandle coast by Wednesday.
As of 8 a.m. EDT Monday, the storm was centered about 120 miles (190 kilometers) east-northeast of Cozumel, Mexico, and moving to the north at about 7 mph (11 kph). Tropical storm winds extended out 175 miles (280 kilometers) from the storm's center.