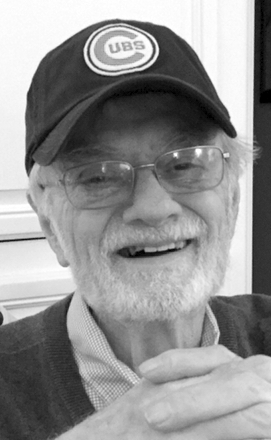 James H. "Jim" Metzelaars was born on December 19, 1937 in Chicago, Illinois and died on October 5, 2018 in Bossier City, Louisiana. Visitation will be held at St. Paul's Catholic Church in Minden, Louisiana from 10:00 to 11:00 a.m. on Monday, October 8, followed immediately by funeral mass with Rev. Fr. Sebastian Kallarackal presiding. A graveside service for the family will be held at Hill Crest Memorial Park in Haughton, Louisiana.
Jim spent his younger years in Chicago and moved to Constantine, Michigan following his 8th grade year. Following graduation from high school, he enlisted in the United States Navy and became a corpsman because of his desire to help others. Following his discharge from the Navy in 1960, he continued his medical career by attending nursing school, where he met his future wife of 55 years, Pat.
He moved his family—by then including two daughters—to Shreveport, Louisiana in 1970. He continued his life of service as a nurse anesthetist and as a part-time missionary. He and his wife founded "A Labor of Love" to do medical volunteer work in Haiti and worked closely with Mother Theresa's Nuns in Port-au-Prince. Their organization was instrumental in building a clinic and a school, expanding the Haitian power grid to a small town, and expanding a hospital. Trips to Haiti to volunteer and minister became an annual event and eventually expanded to include a trip to volunteer in Honduras near El Salvador during the latter's long-running civil war and formal volunteer efforts in the local area with the United Christian Assistance Program.
Jim was preceded in death by his parents, James Henry and Hilda Metzelaars, and by his brother, Maurey.
He is survived by his wife, Pat Metzelaars; daughters, Leslie Metzelaars McEachern and fiancé Leroy Dickerson and Christie Metzelaars Ruple and husband Todd; brother, Richard Metzelaars and wife Paula; grandchildren, Britney McEachern Hawbaker and husband J.D., Aaron McEachern and wife Kaitlyn, Jordan Ruple Newell and husband Trent, and Peyton Ruple and fiancé Jared Brown; great-grandchildren, Ryleigh Hawbaker, Emery McEachern, and William Newell; and many nieces, nephews, and friends.
Pallbearers will be Aaron McEachern, Leroy Dickerson, Todd Ruple, Joe Morgan, Marc Bordelon, and Mike Metzelaars.
The family would like to thank Pilgrim Manor, The Bloom, and Maxine Frasier and her amazing staff. Thank you for treating Daddy as family.
Condolences may be shared at www.hillcrestmemorialfh.com. The family requests that memorials be sent to United Christian Assistance Program (UCAP): P.O. Box 314, Minden, LA 71058.