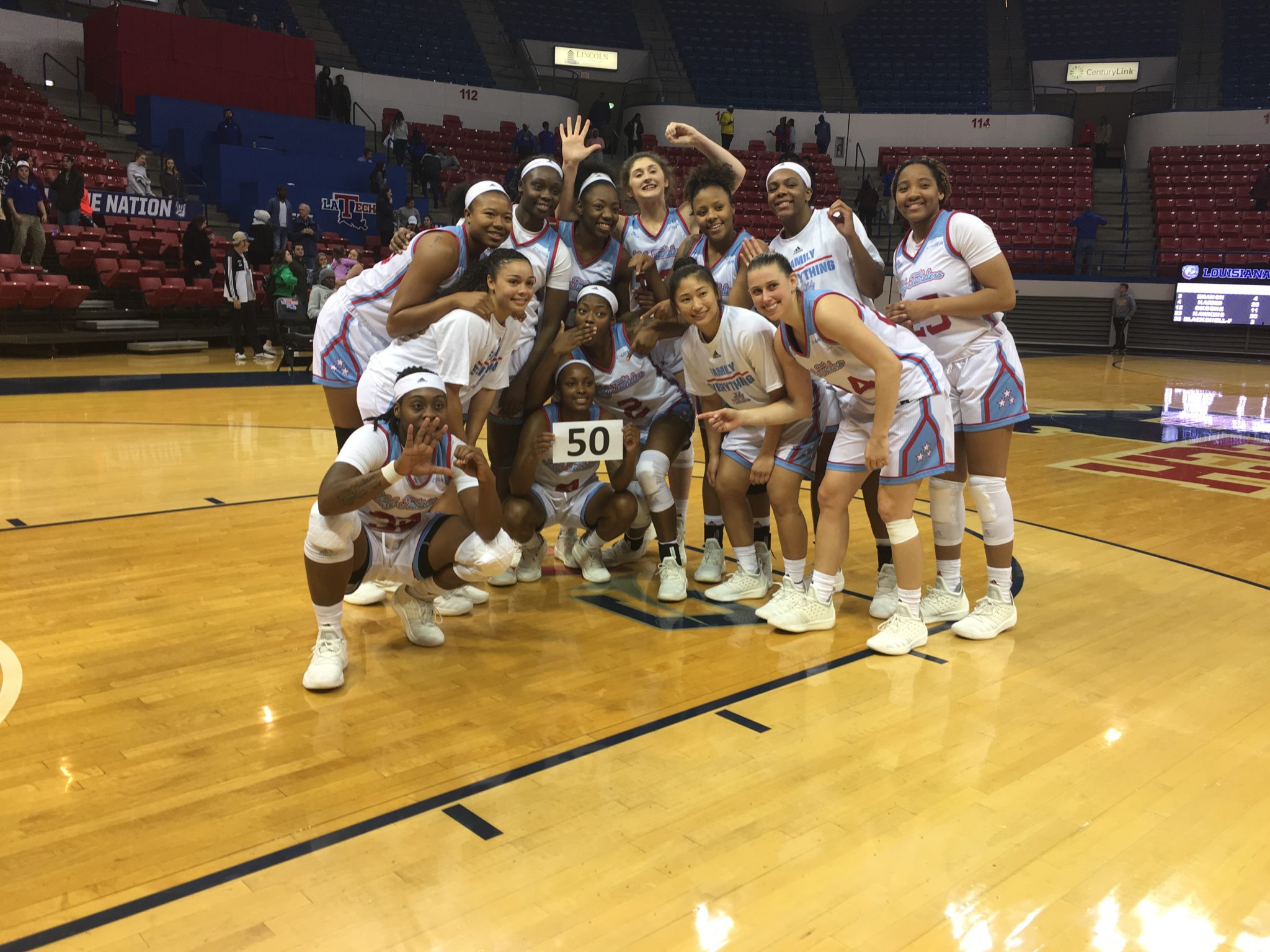 RUSTON – Kierra Anthony never scored more than 40 points in high school during her prep career at New Iberia.
                She has now.
                The Louisiana Tech senior guard broke a 28-year-old program single game record Wednesday night, scorching the nets for 50 points and leading the Lady Techsters to a 100-88 overtime win over Houston.
"It was unbelievable," said Tech head coach Brooke Stoehr. "We felt that if we could just get her looks, she was going to get drives to the basket. I thought she finished incredibly well. She had so much poise throughout the game.
"She had to guard their leading scorer throughout, and she did it on both ends. I thought she did a great job on Harris in the second half, limiting her and forcing her into some tough shots. I saw Shelia Ethridge light it up here in the TAC when I was a little kid and this was up there. Just really proud of her."
                Anthony tallied only six points in a first half that saw Tech enter the locker room trailing 46-36, but erupted for 44 in the second half and overtime. She hit 17-of-29 field goals, 2-of-4 three-pointers and a perfect 14-of-14 free throws in breaking Ethridge's old record of 47 points set in a win over Texas-Pan American during the 1990-91 season.
                "I had 40 in high school, but never got to 50," said Anthony postgame. "They kept saying get the ball to me and for me to attack. Go to the rim and finish.
"I thought they would (try to double team me), but it's hard when I'm going to Taylor's side. You can't help off of Taylor because that is our best three-point shooter. They were guarding her close which gave me an open lane."
Anthony scored 14 points in the third quarter, but Tech (2-1) still found itself trailing 70-59 with 10 minutes of regulation remaining. She then erupted for 17 in the fourth quarter and her three-pointer with 2:30 to play in the quarter tied the game at 78-78. It marked the first time Tech had been tied or leading in the game since the Lady Techsters were tied 15-15 with 2:22 to play in the opening quarter.
After Houston (1-2) retook the lead on a layup by Serithia Hawkins, Anthony hit a pair of free throws with 1:23 to play to tie the game again at 80-80. She just missed winning it in regulation as her short corner putback off a Taylor Stahly missed three-pointer rolled out.
In overtime, Anthony scored 13 of Tech's 20 points, including the first eight, while Stahly connected on a big three-pointer as the Techsters built a double digit lead and pulled away for the win.
"We don't have an easy road ahead of us," said Stoehr, whose team doesn't play another home game until Dec. 12. "We can't get ahead of ourselves and look at this upcoming road trip as this huge daunting task. This group has to find an identity and we have to grow as a team. We showed so much fight and determination there in the fourth, and I'm just really proud of the fight they showed. We had some seniors step up huge – obviously Kierra, and then Stahly hit a huge three in overtime that stretched the lead to seven."
The first half wasn't pretty. Tech committed 12 turnovers, most live ball turnovers that Houston converted in 20 points. The Cougars shot a blistering 73 percent from the field (19-26) in the opening 20 minutes in building a 46-36 halftime lead. The Cougars used an 11-0 run in the first quarter and a 12-0 run in the second quarter to build the double digit advantage.
"I was disappointed in our defense early, but those numbers were skewed because of all our early turnovers," said Stoehr. "We'll get better defensively. We are by no means a good defensive team right now, but we did find a way to win tonight. We found some toughness within and I'm just really proud of our effort tonight."
                Anthony said Stoehr's message at halftime was simple.
"We have to have head, hearts and guts and that will determine who we are," said Anthony. "I think everyone figured that out."
Tech committed just seven turnovers after halftime and finished with just 19 against a Houston team that forced Georgia Tech into 41 in its previous game.
"Having Kierra Lang back was huge," said Stoehr. "I didn't really want to play her 26 minutes, but her team feeds off of her. She's just solid and steady and does a tremendous job of leading this group and getting us into offense. I'm tremendously proud of her. She had a gutsy performance as well tonight."
Another key to the Techster rally was the play of senior Zhanae Whitney on the defensive end. After struggling with some turnovers in the first half, Whitney came up huge, pulling down 10 rebounds and forcing some tough shots in the paint by the Cougars.
"We felt like if we could limit their rebounds and keep them off the glass, and then take care of the basketball," Stoehr said. "At halftime, we had given up 45 and 20 of those were off turnovers. Zhanae Whitney was huge off the bench from a defensive rebounding perspective and came in and cleaned up the glass for us."
Anthony's effort was only the 12th 40-plus point performance in program history and the first since Keila Shelton netted 45 in a win over UTSA on Feb. 7, 2013.
With the win, Tech improved to 24-18 all-time in overtime games, 5-6 in Ruston.
"This win is a big win," said Anthony. "It gets us back in the win column. Now it's time to get on the road and see who we are."
The Lady Techsters return to action Sunday when they travel to face Memphis at 2 p.m.