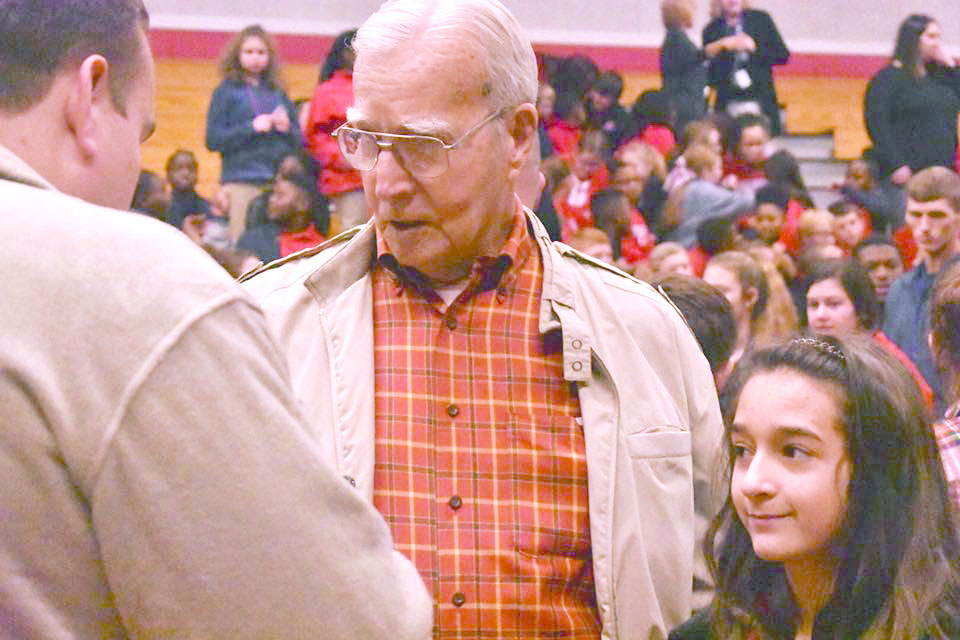 Josh Beavers
Special to the Minden Press-Herald
A leader spoke of heroes.
A soldier spoke of commitment.
And a thankful audience stood silently at salute as the soft sounds of Taps was played.
The setting was the Lakeside Jr. Sr. High gymnasium and the scene was the school's annual salute to our Armed Forces for Veterans Day, which was held Monday morning.
Local veterans along with their sons, daughters, grandchildren, were recognized during the event. Lakeside students with an Armed Service member in attendance sat with them in a place of honor during the event. This is the second year Lakeside has held the Veterans Day ceremony, and school administration plans to continue the tradition.
Randall McGraw was one of the veterans on hand to be honored. A veteran with the Air Force, McGraw has two granddaughters who attend Lakeside – sixth grader Madison McGraw and senior Kamryn Barnhill.
He said he almost did not attend because of the rain. However, he was pleased the wet weather did not keep him away. "This was such an uplifting service," he said. "The stories we heard and the men and women with us here today – I feel honored to be among them. It's wonderful that Lakeside holds this event."
The event was organized by Rachel White, Lakeside's junior high social studies teacher. "We need to show our students how important it is to honor our veterans and the sacrifice they made for us," White said of why she brought the event to Lakeside. "It also helps the students to gain a greater understanding of what the military does."
Lakeside is home to five faculty and staff members who are veterans. They include Jeff Stewart, Barry Allen, Euell B. Quarles, Christine Lee, and Eric Smith. "This is a great opportunity to show them and members of our community that Lakeside will remember and honor their service to our country," White continued.
It wasn't just White who undertook production of the event as students decorated, prepared the venue, and participated in the program. Lakeside students, led by Hayden Finley, Makenzie Swilley, Londan McIver, Julie Ortega, Ondray Miles, Liana Gould, and Markayla Jones, gave a history lesson of Veterans Day as well as the roles each branch of the Armed Forces plays in the protection of the nation.
Dr. Wayne McMahen, who serves as Webster Parish state representative in Baton Rouge, spoke to the audience about the sacrifice veterans have made in defense of the American way of life.
"There is probably not a person here today that has not had a family member serve," he said in the ceremony's opening remarks. "We rarely think of what we can do for them. But we each have an obligation to our veterans. It is important to vote and be aware of legislation that will help support our vets."
McMahen said it was disheartening to think there is such a large percentage of American veterans who are homeless. This is a point that was echoed by Congressman Mike Johnson during prerecorded remarks presented during the ceremony.
Jeff Stewart, who is a teacher and coach at Lakeside, addressed the audience and enumerated the common characteristics he believes are inherent in a veteran's heart. They include a deep sense of sacrifice, commitment to their country, and a call to serve. After 25 years in the Air Force, Stewart became a teacher because he had a calling he "just couldn't shake." That sense of service is what drives a veteran he said. "After their time in the service many veterans go into the medical field or law enforcement. They are firefighters and teachers. They have a need to give."
In closing remarks, Lakeside Principal Denny Finley addressed the assembled veterans saying, "I hope students realize what you did so we can have what we have today." He then turned his attention to the student body: "If you do not take away anything else from today, take away the knowledge of what men and women before you have done so you can have what you have."