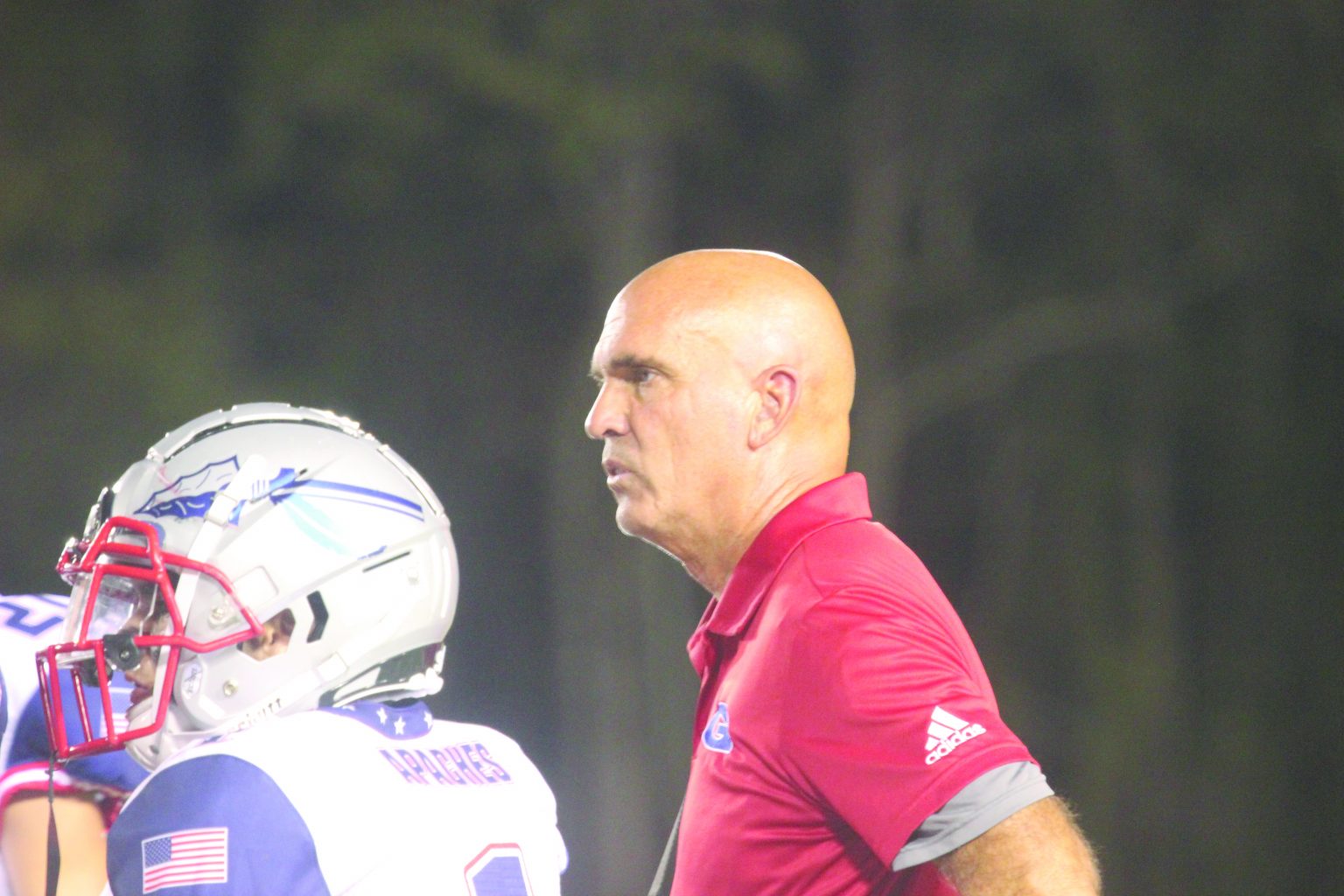 MONROE — The state's longest win streak versus a team undefeated at home after naming the field in honor of its current head coach.
Something had to give.
And in a hard-fought game of give and take between undefeated Glenbrook against top-seeded Ouachita Christian at the Eagle's Nest, OCS escaped with a 28-27 win Friday night to move on to the Division IV Select School Semifinals.
Escaped as in "dodging and taking down a bullet" fired by the Apaches, who went for the two-point conversion and the probable win as opposed to playing for overtime after scoring the game's final touchdown with 1:07 remaining.
And as the smoke cleared in this north Louisiana shootout, the Apaches' win streak had been stopped at 17 while OCS remained undefeated on Steven Fitzhugh Field after playing 29 games there.
OCS led 14-0 at halftime. But the score could have easily been tied.
The Eagles led 7-0 at the end of the first quarter and stretched that advantage to 14-0 when Zach White burst through the Glenbrook defense on an eight-yard scoring scamper with 8:31 remaining in the first half.
But the Apaches had two drives that could have led to potential second quarter scores — before a pair of fumbles turned the ball back over to the Eagles at the OCS 12-yard line (at the 7:07 mark of the second quarter) after getting down to the OCS 5) and the Ouachita Christian 3-yard line with seconds in the first half.
Glenbrook's offense rolled again in the third quarter, but this time without turning the ball over.
Turner McCleland hauled in a six-yard touchdown pass from Ty Feaster to cut the OCS advantage to seven points with 6:54 left in the third quarter before the Apaches went for and recovered a onsides kick to take right back over at the OCS 47.
That led to a 44-reception by McCleland helping to set up a two-yard plunge to paydirt by Maddox Mandino late in the third quarter to cut the OCS to 21-14.
Then lightning struck for the Eagles in the form of quarterback Landon Graves' legs.
Following a third red-zone fumble — this one at the Eagles' six-yard line, OCS quarterback Landon Graves exploded on a quarterback draw on the following play for a 94-yard scoring scamper to extend Glenbrook's deficit to 14 points with 7:00 remaining.
The Apaches quickly countered, with Feaster hitting Chase Sentell for a 58-yard touchdown pass with 5:50 remaining to cut the Eagles' lead to 28-21.
After stopping an OCS drive, Glenbrook got another shot on offense as the Apaches took over on their own 36 with 2:46 remaining.
A 33-yard pass to Sentell, a five-yarder to Rhett Johnson and a 10-yarder to Mandino set up the Apaches' touchdown with 1:07 remaining as Feaster fired a 14-yard scoring strike on a slant to McCleland, who had to fight his way through attempted tacklers to get into the end zone.
That's when Glenbrook tried the two-point conversion run for the hopeful win, only to see it fall inches short.
The Apaches finished with 408 yards of offense while holding OCS to 276. 
Feaster, a senior, led that offense with a 27-of-43 passing performance for 381 yards with three touchdowns and one interception.
McCleland hauled in a team-high eight receptions for 101 yards for Glenbrook while Sentell added six catches for a team-best 117 yards and his score.
Glenbrook ends its historic first season as a fully-recognized member of the Louisiana High School Athletic Association at 12-1.