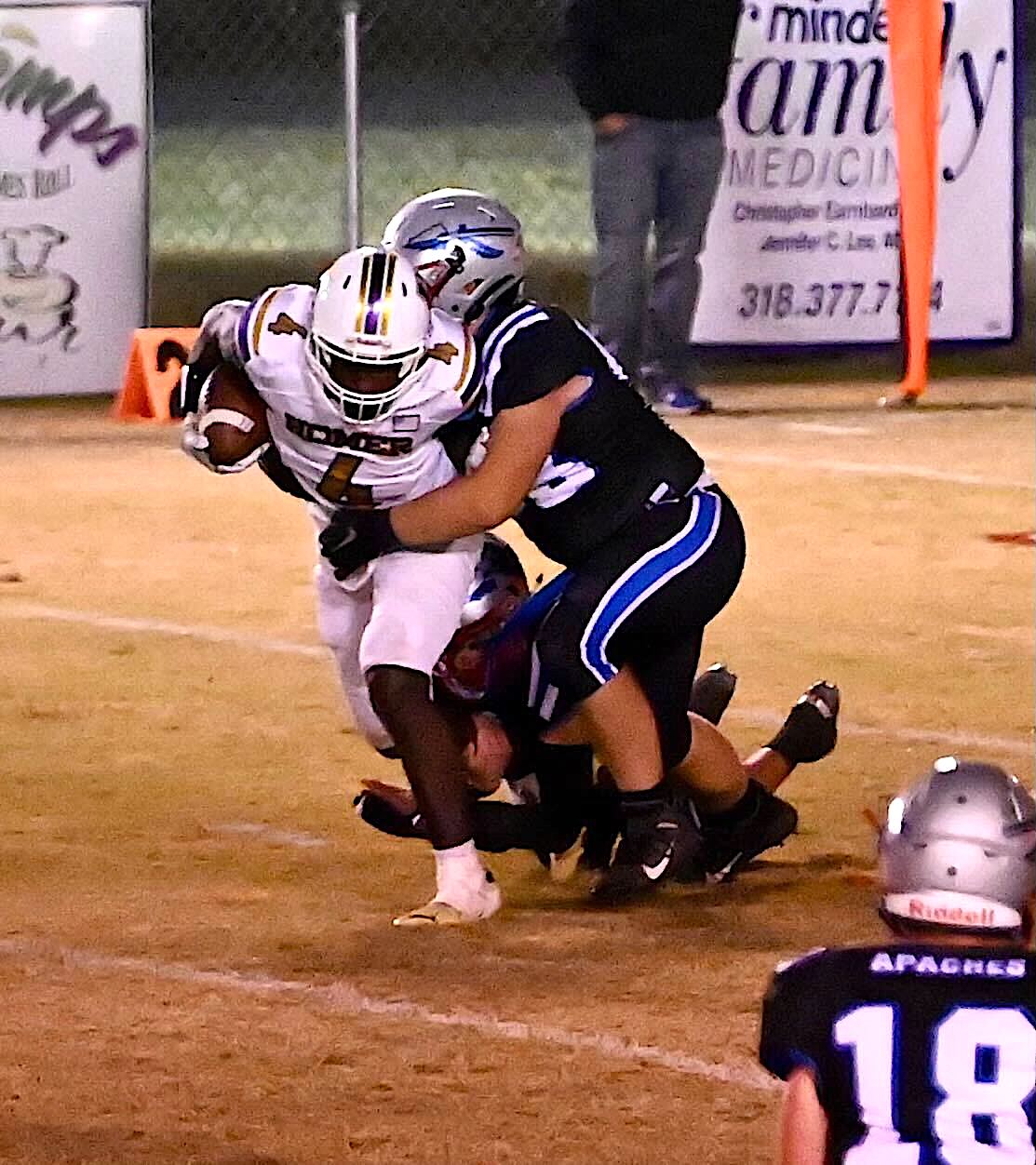 The undefeated Glenbrook Apaches had become accustomed to building early big leads and cruising to wins during the regular season.
That didn't happen Friday night for the sixth-seeded Apaches, who played host to Catholic-Pointe Coupee in second-round action of the Louisiana High School Athletic Association Division IV Select School playoffs.
This time the Apaches (11-0) had to play the role of a heavyweight boxer, slowly chopping at Catholic-PC with body shots and sharp jabs to wear down the Hornets en route to a 42-21 over the Hornets.
In fact, the Hornets scored first with a six-yard touchdown run at the 1:52 mark of the opening stanza and sent the game into halftime tied at 14-14 after Hayden Elliot hit paydirt for a second time on a four-yard run with 1:08 remaining before intermission.
But Glenbrook moved on top 21-14 only 1:19 into the second half on a 32-yard scoring strike from Ty Feaster to Turner McCleland, and the Apaches outscored the Hornets 21-7 in the final stanza to secure the win.
Glenbrook head coach David Feaster said he couldn't have imagined it working out much better.
"Second round of the playoffs against a 10-1 team … we knew it would be tough," Feaster said. "We're just happy that by the time we got to the fourth quarter, it wasn't that tough."
Glenbrook built large early leads in multiple games this season, allowing them to empty their benches in the second halves of their games and give younger, inexperienced Apaches much-needed, and Feaster said that paid off against Catholic-PC.
"For a school with only 60 boys it's been amazing how we've been able to play more boys than some of these programs with kids that have been playing a long time," Feaster said. "But (Catholic-PC) did play a lot of players who went both ways and I think they did eventually start wearing down.
"But then I think we made some adjustments on both offense and defense that we had some success with and helped us move out ahead. And once that happened — their style is not to come from behind. Their style is to pound the ball in there and chew up the clock, and that didn't work well for them after we got up by 14, so that's how we got away from them in the second half."
Senior tailback DJ Carter had a big night for the Apaches, averaging 15.5 runs per carry, including a 12-yard scoring scamper.
Carter finished with 186 yards on only 12 carries, which was just the kind of numbers Feaster wanted to see.
"He played a lot of tailback for us as an eighth-grader and has started from the ninth grade on up," Feaster said about Carter. "I was looking at our season stats during the week, and it kind of went the way I wanted. DJ only had about 400 yards rushing heading into this game and the rest of our running backs less than that.
"So we spread the ball around. The idea is, we wanted DJ and the rest of the guys to be really fresh by the time we got to this point of the season. Even though he could have run the ball a whole lot more during the year and have gained a whole lot more yards, he might have had ankle sprains or thigh bruises — the kinds of nagging injuries he's sometimes had to battle in past seasons. Not to mention just tired legs. So the fact we were able to spread the ball the season and still end up where we are was a great thing because tonight we needed him to go and he did."
In fact, Feaster was prepared to use Carter more but was pleased he didn't have to with Ouachita Christian looming next week in the third round of the playoffs..
"The way things went tonight still kept everybody fresh," Feaster said. "Turner McCleland had a couple of great catches. Cason Clemons had some nice catches, too. We were able to throw some deep stuff and some shorter stuff and had success with both.
"So it's a great thing when we can spread it around to a lot of different guys and we don't have to wear down our main ballcarrier and only give him 12 carries and still win like we did. That's where we want to be."
Chase Sentell added 32 yards on three carries for the Apaches, who also got a 23-yard run from Otis Kent along with a five-yarder from McCleland, who finished with a team-best six catches for 97 yards, including a 28-yard touchdown reception that put his team on top 14-7 early in the second quarter along with that first score of the second half.
Cason Clemons added three receptions for 83 yards, including a 55-yard scoring strike from Ty Feaster to tie the game at 7-7 with 1:11 remaining in the first quarter.
Landry Powell and Rhett Johnson had two catches each for the Apaches, with Powell chalking up 16 yards and Johnson totaling 13 yards, with 12 of those coming on a 12-yard touchdown reception to put Glenbrook on top 28-14 with 10:38 remaining.
"I'm proud of the way we played and I think it puts us in good position heading into next week," Feaster said. "It won't get any easier against a team like OCS, but we're playing good football and we'll be ready to give them a fight. We still have a lot left we want to accomplish."