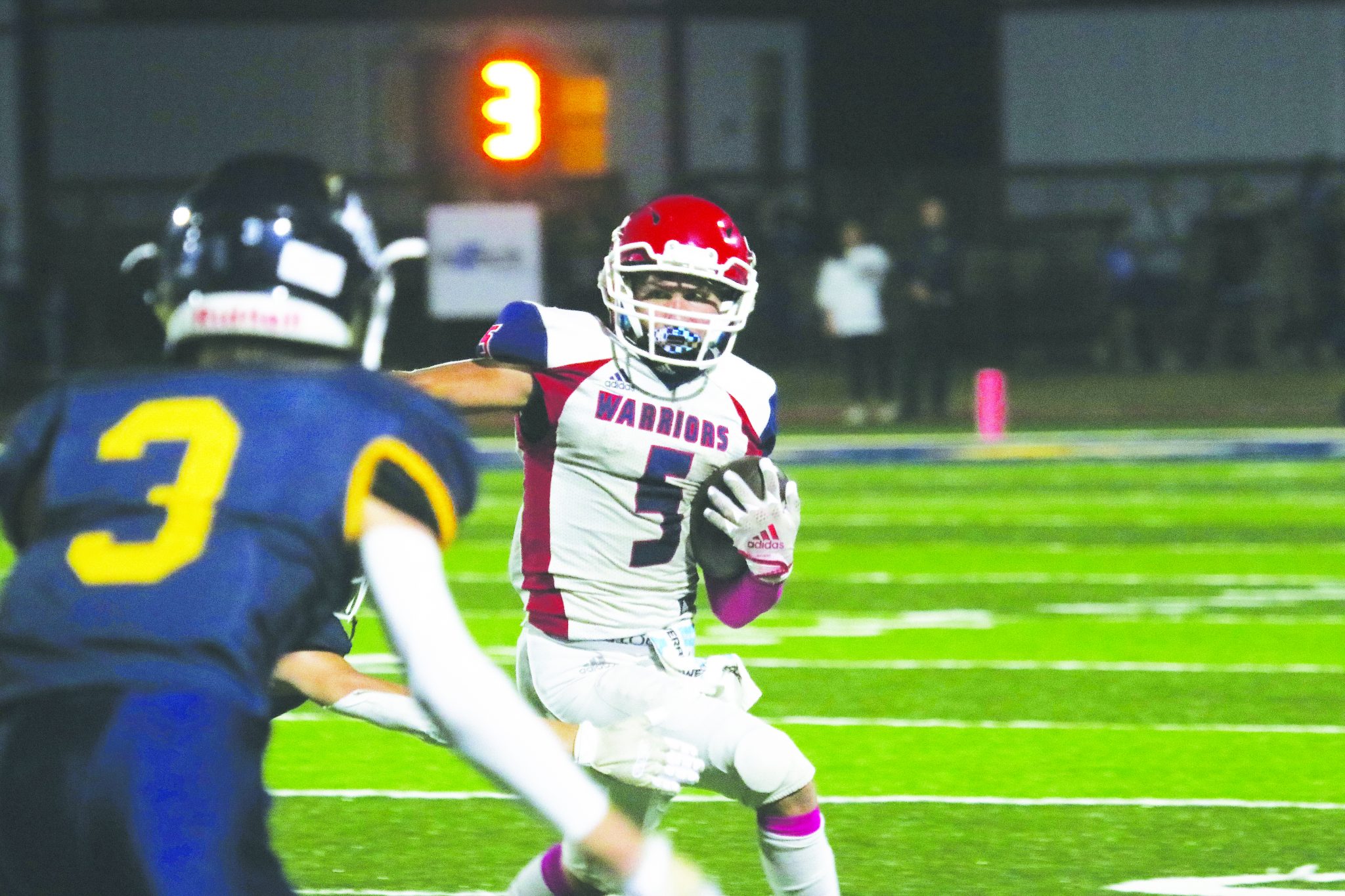 FARMERVILLE — Lakeside started strong Friday night at D'Arbonne Woods before a late first-half touchdown and a second-half turnover spree by the Warriors sparked the Timberwolves to a 45-22 District 1-2A win.
The Warriors (4-2) led 16-7 at the end of the first quarter before D'Arbonne Wood's touchdown at the 11:18 mark of the second quarter cut the Lakeside lead at 16-14.
D'Arbonne Woods' touchdown with 1:59 remaining in the second quarter gave the Timberwolves a 22-16 halftime advantage.
An interception by the Timberwolves led to a touchdown and two-point conversion that put D'Arbonne Woods up 30-16 at the 4:56 mark of the third quarter.
The Timberwolves' pushed their lead to 38-16 with 11:53 remaining before Lakeside countered with a 64-yard scoring strike from quarterback Cooper Chase to Josh Sebald at the 10:41 mark of the final stanza but D'Arbonne Wood's lead to 38-22.
D'Arbonne Woods'' final touchdown came on an eight-yard run with 4:11 remaining and was set up by an interception.
Minden 33, Bossier 6
The Crimson Tide surged to o a 20-0 halftime advantage and never looked back to earn their second win of the season
Daylen Robinson led Minden with 160 yards and three touchdowns rushing while quarterback Jakobe Jackson threw for 170 yards and another score.
Bossier's only score came on a 14-play, 95-yard drive set up by a Minden red-zone fumble
It was the Tide's first district win, bringing their record to 1-2 in the league and 2-4 overall. Bossier remained winless in 1-4A at 0-2 and fell to 1-6 for the year.
Minden totaled 412 yards of total offense while holding the Bearkats to only 150 total yards, with 95 of that coming on its final drive.
The Crimson Tide forced three Bossier turnovers on a fumble recovery and two interceptions.
Next up for the Crimson Tide (2-4, 1-2 in District 1-4A) is a road game at Northwood on Friday.
Glenbrook 67,  Magnolia SOE 44
It was another strong start and early finish for Glenbrook's starters as they raced past the Magnolia School of Excellence.
Glenbrook picked up its first touchdown and two-point conversion only 1:40 in the contest.
The Apaches led 48-12 at the end of the first quarter and 55-20 at halftime.
Glenbrook looks to move to 7-0 on the season on Friday as the Apaches play at Ringgold.
Union Parish 55, North Webster 17
The winless Knights hung around for a quarter before the Farmers pulled away for a 41-14 halftime advantage en route to the 38-point win.
North Webster's score cam on a touchdown pass from Collin McKenzie to Cooper Sanders, a scoring scamper by Braedon Robertson and a field goal by Christian Whitlock.
Next up for North Webster (0-6) is a District 1-4A road game at Monroe's Carroll High School on Friday.
WEEK 7 GEAUXPREP.COM'S PLAYOFF POWER RATINGS
Minden Division II Nonselect          28th (2-4)
N. Webster Division III Nonselect  41st (0-6) 
Lakeside Division III Nonselect      24th (4-2)
Glenbrook Division IV Select     Second (6-0)