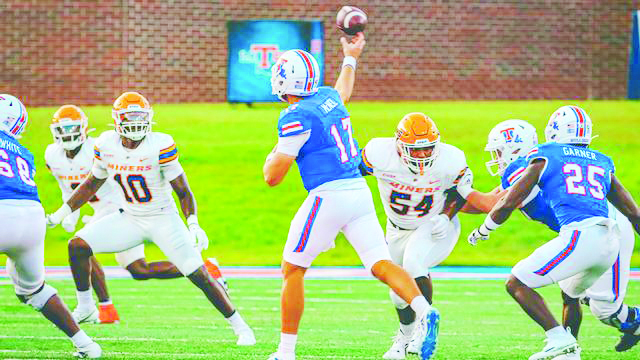 RUSTON — Louisiana Tech started its "new" season off with a victory on Saturday night as the Bulldogs claimed their Conference USA opener by way of a 41-31 win over the UTEP Miners inside Joe Aillet Stadium.
It was all LA Tech (2-3, 1-0 C-USA) in the first half, building a 30-10 advantage midway through the game. However, UTEP (3-4, 1-1 C-USA) chipped away with a pair of touchdowns to make it a one-possession game at 30-24.
"We had a focus about us and I am proud of our response from last week," said Tech coach Sonny Cumbie. "We made a conscience effort this week to take care of the football. Our offense was able to make plays.
"Our wide receivers showed up big tonight. We got knocked around a little bit in the third quarter. We gave up some plays over the middle and gave up some third-and-longs, but we tightened up. We were able to have a lead that forced UTEP to go for it in some situations. We made stops when we needed them and got takeaways."
The Bulldog offense had lost all of its rhythm in the second half, going 3-and-out on their first three offensive drives. It was close to being four straight with about nine minutes left in the game as they were facing a 3rd-and-2 on their own 21-yard line.
Arguably the play of the game happened on the next possession as Parker McNeil and Tre Harris hooked up for a 64-yard reception. Then on the very next play, McNeil found Smoke Harris all alone in the end zone for a 15-yard score to put the game out of reach.
LA Tech was cruising early, scoring on four of its first five drives of the game. Tahj Magee was the recipient of an 8-yard touchdown reception to open the contest. That was followed by a 38-yard touchdown by Tre Harris to put the 'Dogs on top, 14-0, just five minutes into the contest.
Smoke Harris caught his first receiving TD of the afternoon with two seconds left in the first quarter to make it 20-3. In the second quarter, UTEP got a 5-yard rushing score from Deion Hankins while LA Tech got a 44-yard pick six by Myles Brooks and a 28-yard field goal from Jacob Barnes to make a 30-10 lead.
The Bulldog defense continued to keep the Miners at bay, recovering a fumble in the end zone and then stopping the visitors on back-to-back 4th-down plays. However, UTEP punched through a pair of touchdowns in the span of three minutes to make it 30-24 with 10:18 still to go.
Then came the 4-play, 87-yard touchdown drive for the Bulldogs, which included the long reception to Tre Harris, to push the lead out to 38-24 after a converted 2-point conversion.
No. 8 Tennessee 40, LSU 13
BATON ROUGE (AP) — As dynamic quarterback Hendon Hooker and his Tennessee teammates left the field in a mostly empty Tiger Stadium, nearly all the fans who remained were wearing orange and belting out the lyrics to "Rocky Top."
Hooker passed for two touchdowns, Jabari Small ran for 127 yards and two scores, and No. 8 Tennessee punished No. 25 LSU for its mistakes and risk-taking in a resounding 40-13 victory on Saturday.
A morning kickoff lured fans to Death Valley earlier than usual — and many were gone by the end of the third quarter, when Tennessee led 37-7.
The Volunteers (5-0, 2-0 Southeastern Conference) matched their best start to a season since 2016 with balance on offense, sound defense that corralled dual-threat LSU QB Jayden Daniels, and opportunistic special teams play.
"We have found a way to be the best team on the field the last five weeks," Tennessee coach Josh Heupel said. "Our players have worked hard and more importantly expect to play very well. They expect to win."