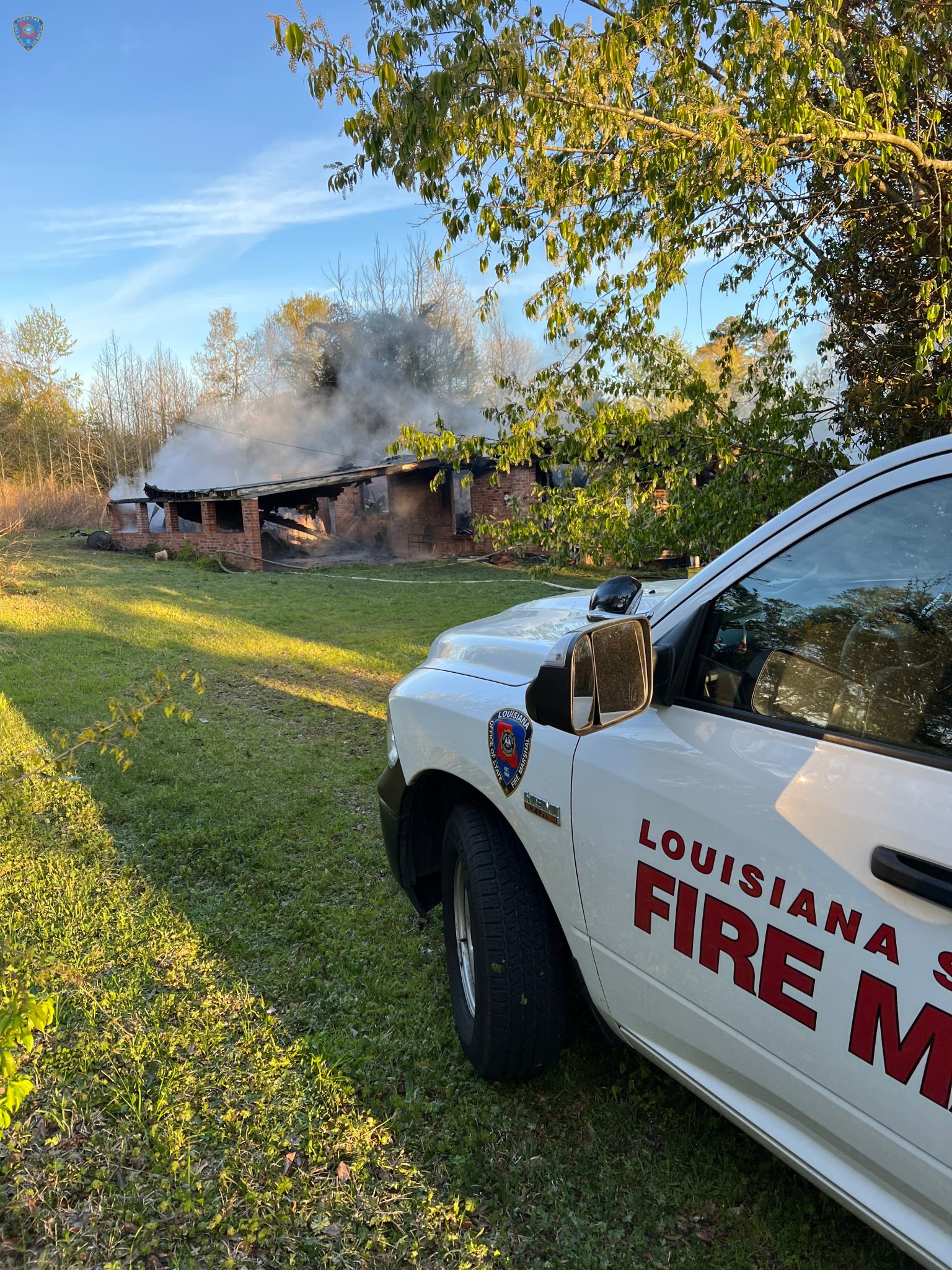 CLAIBORNE PARISH- State Fire Marshal (SFM) deputies are continuing their investigation into a house fire in Athens that claimed the life of a female resident.
Around 4:45 a.m. on Monday, March 20, Claiborne Parish Fire District #5 responded to a report of a house fire located in the 1800 block of Cook Road. When firefighters arrived, they located one woman outside reporting a second one still inside. Unfortunately, the woman's body was later located in the home's kitchen.
While official identification and cause of death are pending with the Claiborne Parish Coroner's Office, the victim is believed to be the 78-year-old homeowner.
At this time, deputies have determined the fire began in the living room. Deputies have been unable to rule out an overload of faulty wiring as well as unsafe heating practices as possible contributing factors to the cause of this fire.
Deputies learned there were two women in the home at the time of the fire and several space heaters were being utilized for warmth. Due to known electrical issues in the home, the victim had been frequently checking on the area where the space heaters were plugged in. During one of those check-ups overnight, the victim discovered a fire had started. She then alerted the other woman who escaped the house immediately, but the 78-year-old never made it out.
When it comes to electrical safety, the SFM recommends avoiding the continued use of appliances or areas of a home with concerning electrical activities until a licensed electrician can review and repair any issues found. Also, avoid long-term use of extension cords and be aware of the wattage limitations of those cords and power strips to avoid overloading them which can cause overheating and become a fire hazard.
And while our state is transitioning into spring temperatures, we have still been experiencing cold snaps. The SFM wants to remind Louisianans about some top safe home heating tips:
• Place space heaters 3-5 feet from combustible objects like blankets and curtains
• Plug all heating appliances directly into wall outlets, not power strips or extension cords
• Do not use stoves or ovens to heat homes
• Don't overfill fireplaces/wood-burning stoves
• Do not leave candles/open flames (or space heaters) left unattended
• Have working smoke alarms in your home!
Lastly, this home did not have working smoke alarms. Smoke alarms save lives and our Operation Save-A-Life partners with local fire departments to install FREE smoke alarms for families that need them most. To learn more about Operation Save-A-Life, or to register for a free smoke alarm, visit lasfm.org or contact your local fire department to request a free smoke alarm installation.