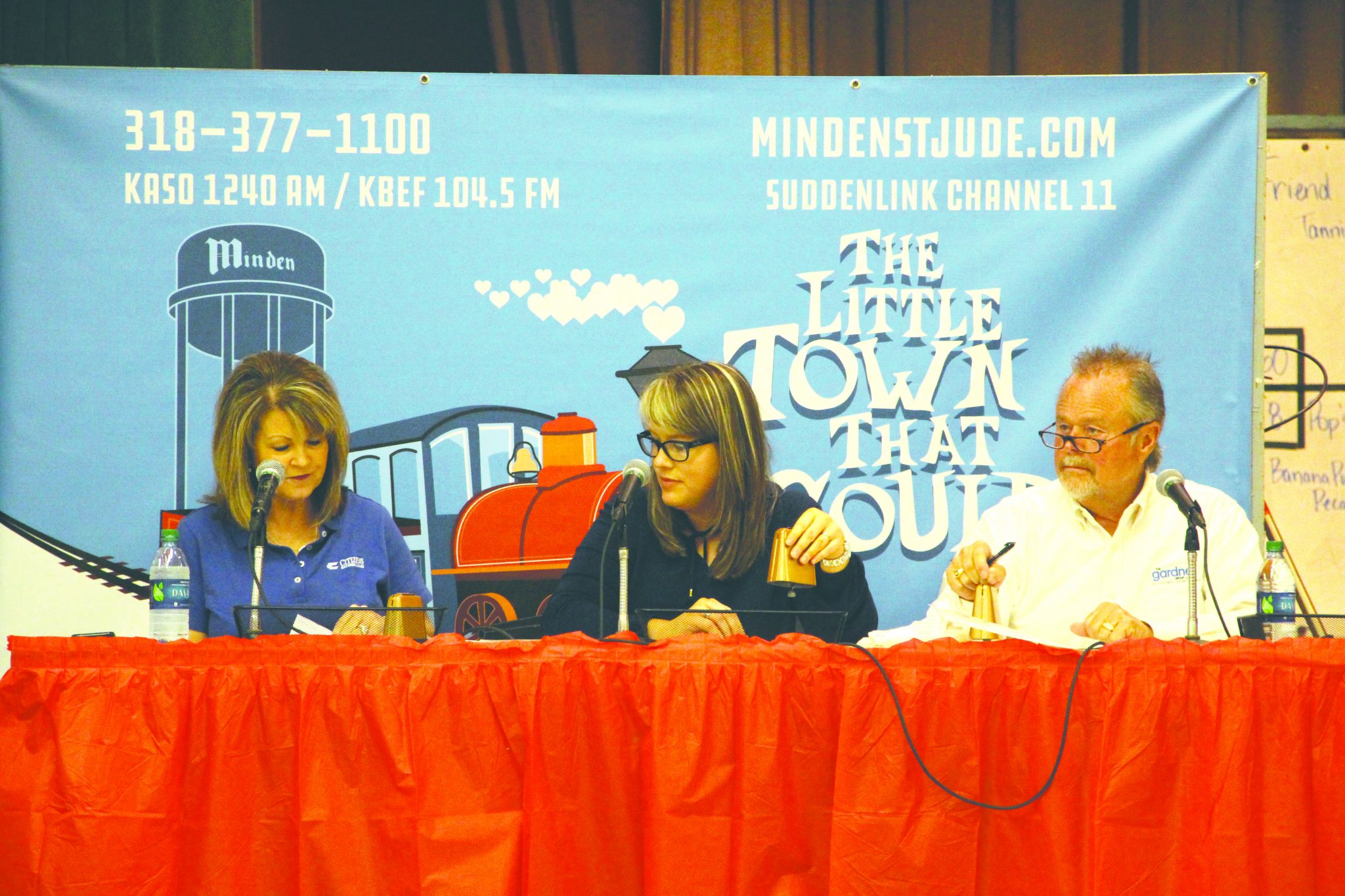 Minden St. Jude Auction sees successful first day
The 42nd annual Minden St. Jude Auction saw a productive start in its first day of action yesterday. Minden's most famous event ran from 9 a.m. to 10 p.m. and engaged with hundreds of community members to raise money for the children's research hospital.
This year's theme is "The Little Town that Could," a theme adopted from the popular children's book depicting a self-motivated steam engine. The Auction may not be a train, but it certainly rolled along as the festivities got underway.
Local emcees took two-hour shifts to facilitate the auction of dozens of items. Televised on local Suddenlink and two radio stations, the Auction received bids from all over Louisiana and beyond.
One such emcee was Stephanie Barnette, president of the Greater Minden Chamber. Barnette has a special reason to contribute to raising money for cancer research.
"Personally it means everything, because without St. Jude, I wouldn't be here today to help continue raising money," Barnette said. "When I was five years old, I was diagnosed with a Wilm's tumor in my right kidney. A local doctor here in town sent us to St. Jude, and they saved my life."
During her block on the air Thursday, Barnette said she hopes one day the St. Jude Auction will be unnecessary because childhood cancer is no more. Until then, she enjoys the festivities to no end.
"This is the most exciting time of the year for me," she said. "I love seeing how much our local schools raise for St. Jude.
We're going to be helping out with the race Saturday, since the Chamber is sponsoring water stations for that. All the events are always so fun."
Facilitators were kept busy announcing $100 entries in the Grand Prize raffle. One lucky winner will take home either a 2018 GMC Yukon or $50,000. Entries poured in constantly throughout the day.
Two homemade meals were also served Thursday, with jambalaya sold for $8 a meal for lunch and a pork chop dinner sold for $10 for dinner. Despite being a Thursday, the community turned out in force to participate in the jambalaya lunch, which raised a total of $1,638 for St. Jude. The jambalaya was provided by Randy Stevenson and Matt Wimberly, while the pork chops were made by Hugh Wood.