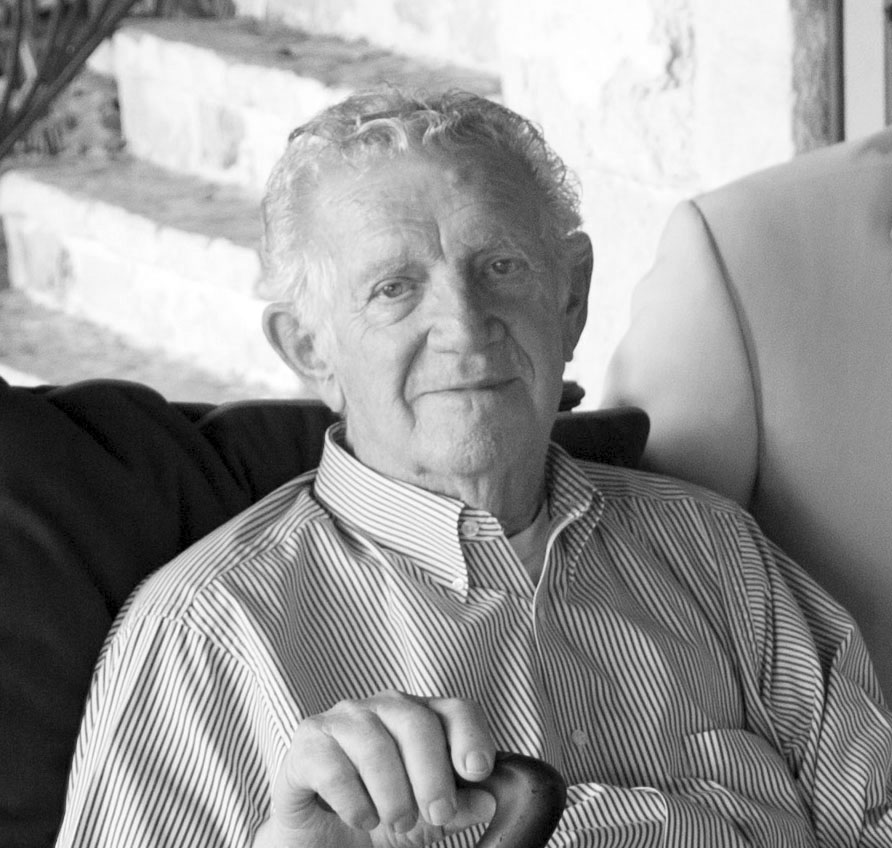 Dave (Dad) was the fourth of five children born to Ruth and Virgil Logan in Dallas City, Illinois, on December 27, 1933. He passed away at home on the evening of January 31, 2018 surrounded by his family. He married his high school sweetheart Norma Harris on April 20, 1952. After serving in the US Marines, he and Norma moved around the country following the dream to own his own business. Those journeys started humbly with him pumping gas at the local station while studying at Western Illinois University and her working at the Sheaffer pen and pencil plant. After many years of hard work and sacrifice, he earned his way to executive positions at Fruehauf Trailers, Dyna-Truck Division, and Dorsey Trailers. They finally settled in Minden in the early 1980s, where he eventually owned and operated Dunham Manufacturing/ Log Hog Manufacturing.
Dave was also proud to have built over 140 pieces of furniture, many from scraps and salvaged pieces of wood from the plant floor. Each piece was designed and crafted, then given to family and friends across the country. A few of these handcrafted works of art were donated to the St. Jude's Minden Charity Auction, including the first playhouse. Many friends and family turned to him to help with remodeling and construction projects. He was a thinker, a tinkerer, and the ultimate problem solver. He was always willing to swap "scar stories," those that are the occasional mishaps of craftsmanship and invention.
The comforting smell of wood and varnish will forever remind us of the importance of craft and generosity.
His family, however, was the accomplishment of which he was most proud. He would tell anyone who would listen about our latest adventures, including a few embarrassing "dad stories" that made us all chuckle or cringe, depending.
A memorial service will be held Saturday, February 3, 2018 at 2:00 p.m. at Rose-Neath Funeral Home Chapel in Minden, Louisiana with Bro. Bill Crider officiating. The family will receive friends from 12:30 p.m. until service time Saturday at Rose-Neath.
Predeceased by his parents Ruth Elma Nicol Clark and Virgil Lloyd Logan; his grandchildren-William Troy "T-Roy" Waters and Seth Harris Collier; his sister Virginia "Jean" Kukuk; and his favorite canine pal Casey.
He is survived by his wife of 65 years Norma Carol Harris Logan; son David Michael Logan and his wife Leslie; daughter Nancy Logan Waters and her husband Bill; daughter Lori Logan Collier and her husband Clive; son Curtis Marc Logan and his wife Paula; daughter Robin Elaine Logan and fiancée Keith; brother Gerald "Jerry" Logan and his wife Mary; sister Constance "Connie" Logan Ferrell; brother Robert "Bob" Logan; and brother-in-law Donald Harris.
Also survived by his grandchildren David Barton Waters and his wife Carlie; Holly Waters Mehrer and her husband Joseph; Schuyler Logan Colllier and his wife Courtney; Caroline Collier Roy and husband Justin; Elise Logan Archie and husband Will; Paul Lucas Logan and his wife Erin; Christopher Ryan "Kit" Logan; and great-grandchildren McKenzie Archie, Hayden Archie, Shepherd Roy and Henry "Hank" Mehrer.
Thank you, Dad, for teaching us the importance of sharing the art within each of us-that which we create, the craft we do with our hands, our hearts and our imagination. We know how proud you were of each of us. God granted us the special gift of having you as our father, mentor and friend. Your loving encouragement will remain in our hearts and will continue to be an inspiration for all that we do. We love you.
Friends and family, we ask that you remember Dave with smiles, laughter, and time with your family. When you create something beautiful, share it with the ones you love and think of him fondly. In lieu of flowers, we ask that you make a memorial donation to St. Jude's Children Hospital, Memphis.
Rose-Neath Funeral Home
211 Murrell Street
Minden, Louisiana 71055
(318) 377-3412