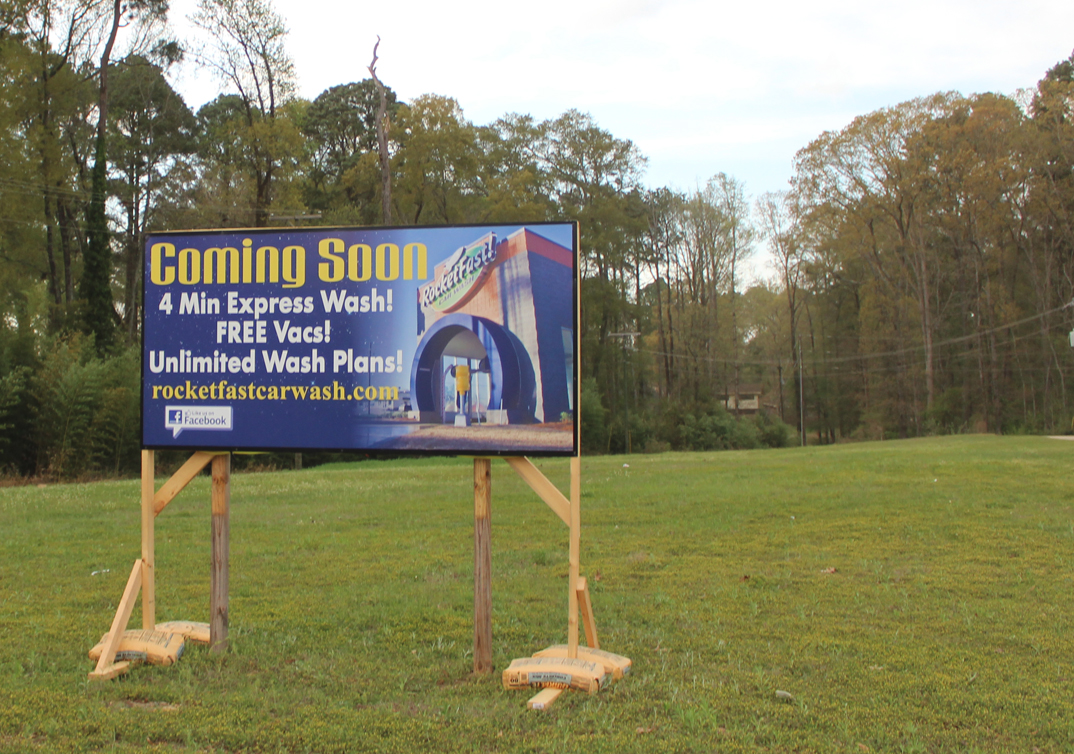 A new car wash is coming to Minden and it's rocket fast.
At least that's what owner Don Robertson says. In one of his current locations in Monroe, West Monroe and Ruston, a customer can have their car washed and dried in three minutes.
At Rocket Fast Car Wash's new location, 20 vacuum spaces will be available for drivers to vacuum their vehicles for free with a wash.
Drivers can get their vehicles washed several ways, Robertson says. They can pay for a one time wash with different packages offered, or they can purchase a monthly Fast Pass and get their cars washed as many times as they want within that month.
"It functions with a sticker that goes on your windshield and it's programmed," he said. "It sends a signal to a Fast Pass reader, and you pull in the gate and it automatically opens. You just pull through."
The system can accommodate all types of vehicles – except a dually.
Robertson says Rocket Fast Car Wash is different than other venues in that the tunnel wash is continuous motion. It has a conveyer belt that pulls the car through the process from beginning to end rather than pulling into a bay, stopping and having the system move over the car.
"It's a 125-foot tunnel, and you can put multiple cars in there at one time," he said. "It takes about three minutes, and there's a lot more equipment involved than just a typical automatic."
With multi-colored soaps and a lot of lights, he says it's an experience as well as a car wash – and the kids love it.
"Kids love to come through," he said. "Our facilities have a lot of colors. They're nice and bright. We spend a lot of money on our facilities. It's got lots of windows so they can see the cars come through."
He says he started the car wash because he saw a need for speed, adding people just don't have the kind of time to have their vehicles detailed like they used to. Robertson adds he already has many customers who travel to Ruston from Minden to get their car washed.
"The ability to get unlimited car washes for one monthly fee is why I started it," he said. "I'd never seen it in this industry. I saw a need for people to be able to wash their cars quickly and affordably. With a full service wash, it's time intensive. People are out of time these days, it seems like. And the older type washes aren't typically managed well."
Construction on the new Homer Road location will begin in May, he says, and it should be complete within six months.
Rocket Fast Car Wash is eco-friendly in that it uses up to 60 percent recycled water in the process. The soapy water is recycled and filtered before being used again. The rinse process is fresh water, he says.
A member of the Minden-South Webster Chamber of Commerce, Robertson says it's important to be a part of the community. In his other locations, he helps out organizations by helping them with fundraisers, or he will donate a year's worth of washes for a raffle for events like the chamber banquet.
"We have wash tickets and we'll have an organization sell those tickets," he said, "and they keep half the money. It's an easier way for organizations to do fundraisers. And we've done tons of them in Monroe, West Monroe and Ruston. Schools like to give them to teachers for teacher appreciation day, stuff like that."
The new business will create about 12 jobs when it opens, he says. Hours of operation vary from week to weekend, but it is open seven days per week.