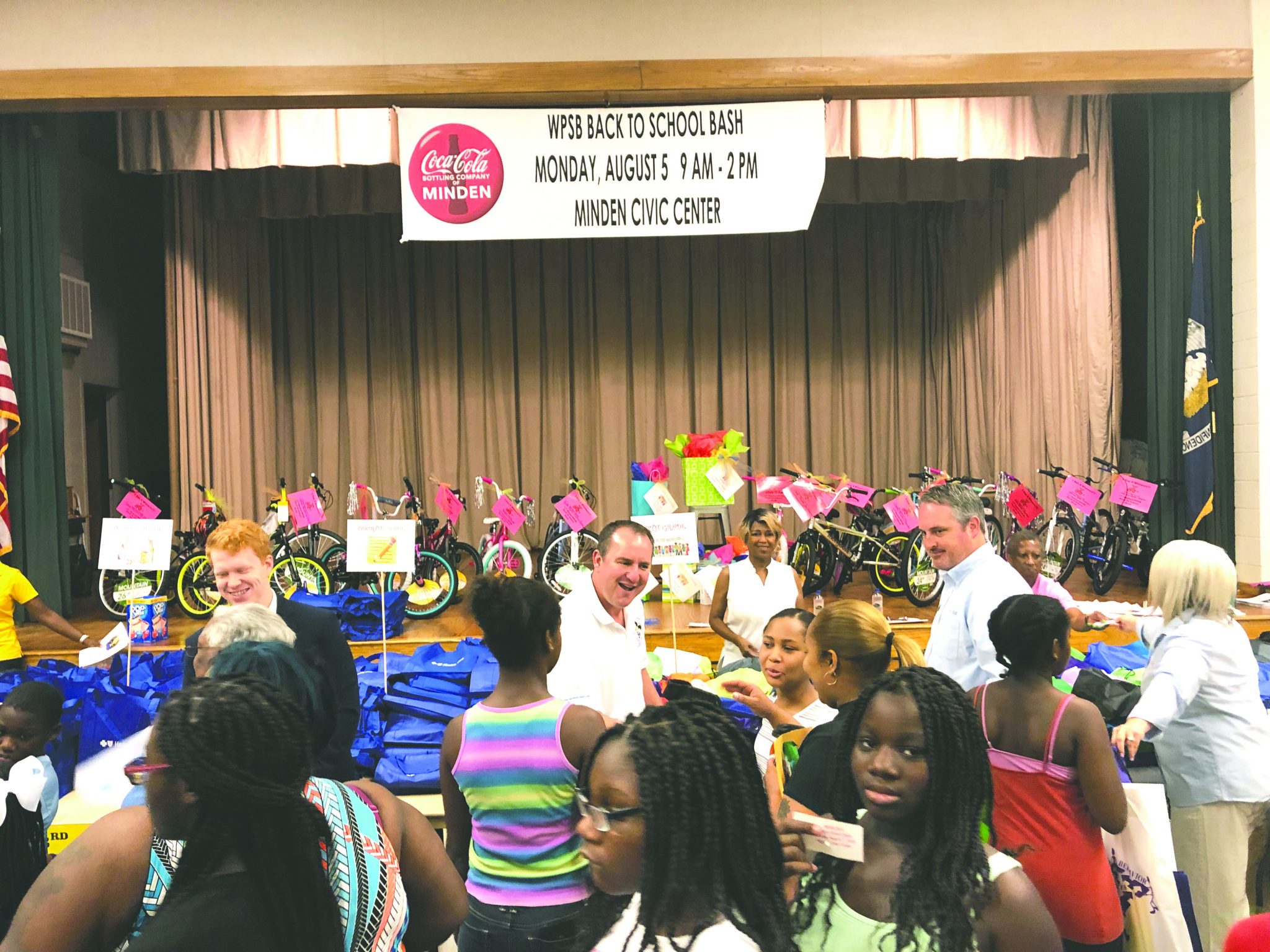 Will Phillips
Minden Press-Herald
Countless students and their parents filled the Civic Center wall to wall Monday morning during the 11th Annual Back to School Bash. The Bash is put on by the Webster Parish School Board as a way of helping families by giving them the supplies they need for their children to get an education.
The supplies that are being given out are those that have been raised during the annual Pack the Bus event that took place in late June. For the Bash, the supplies gathered are put into backpacks that are later given out to the students in attendance.
Johnny Rowland, Superintendent of the Webster Parish School Board said, "This is the 11th year the Webster Parish School Board has hosted the back to school bash, and I'm just amazed at the growth of this event from year to year. It's a true indication of how much the Webster Parish community values our public school system."
During the event, each child was given a ticket. To receive their school supplies, they had to visit two vendors and the booth for their respective school. These vendors are businesses and groups such as Minden Medical Center, Miles for Smiles, and the Louisiana Department of Health, who are there to educate the kids as well as the parents about various services, programs, and health information.
After that, the students could move forward to the front of the room where they would receive a book bag full of supplies that they will need for the coming school year. The event also gave away things such as free haircuts and a raffle for a limited number of bicycles.
"We're grateful to the community of Webster Parish for the tremendous support that they've given us today. This event started very small, and you can see today by the large number of people who are out here that we appreciate all the support," said Kevin Washington, Parish Athletic Director.
In the past, the Back to School Bash has given away school supplies to more than 1500 students and based on the attendance, it wouldn't be a stretch to believe that many students will be served again.
The Premiere Medallion Sponsor of the event is Walmart, and the other Medallion Sponsors are b1 Bank, Ryan Gatti Attorney at Law, the City of Minden, Jeanne Martin State Farm, Minden Family Dental, GB&T, Iota Rho Omega, Chapter of Alpha Kappa Alpha Society, Inc., Walkmar Resource, Inc., Jason Parker for Sheriff, Minden Medical Center, and Webster Printing.
"I'm overwhelmed by the support. It's bigger than it's ever been, and it's because of the support of the community that we have tons of people here. I can't even start counting," said Ursula Hulaby, Safe Schools Coordinator and Community Liaison.