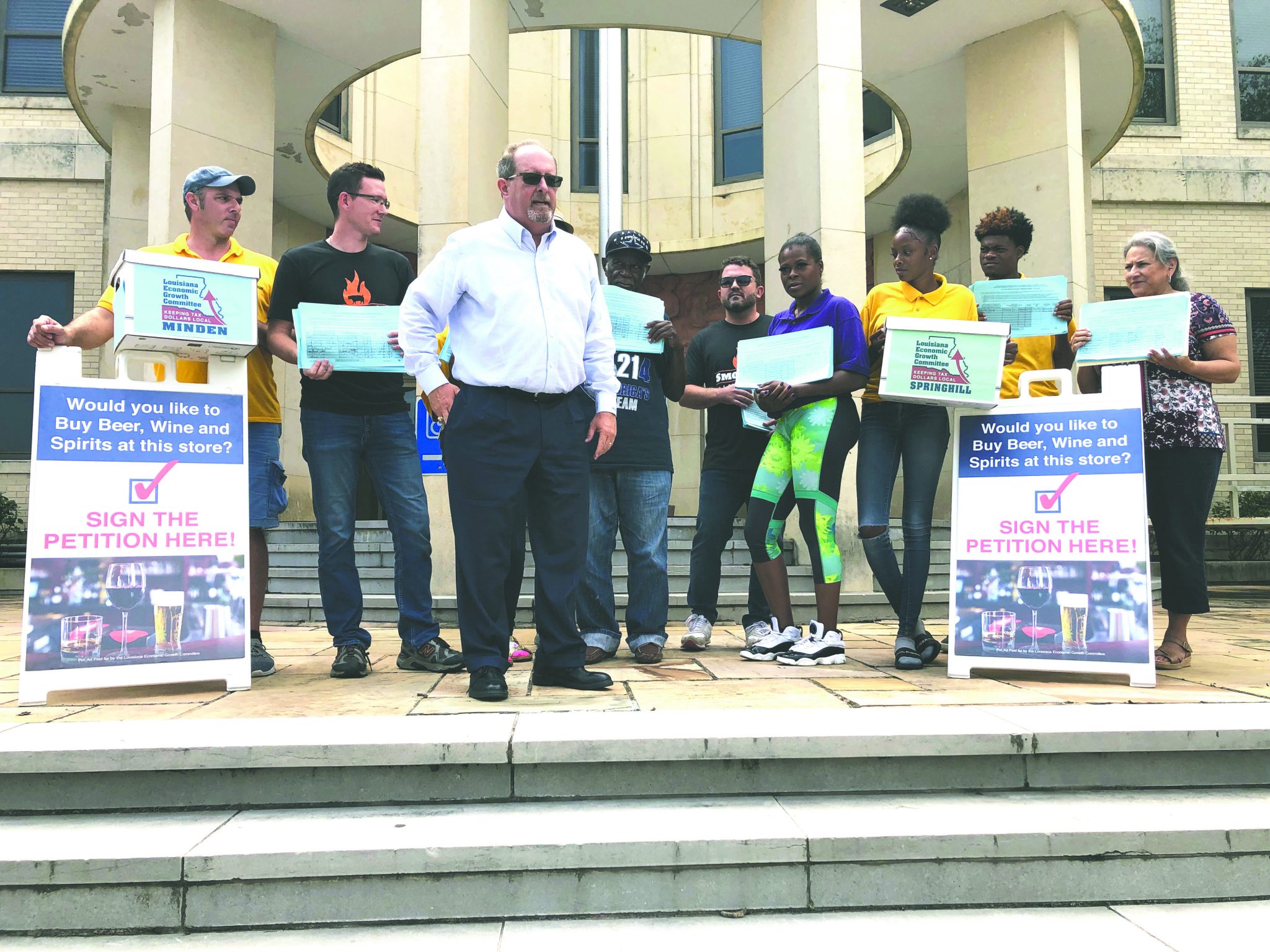 Will Phillips
Minden Press-Herald
John Hatch along with other members of the Louisiana Economic Growth Committee (LEGC) gathered on the Webster Parish Courthouse steps Monday morning in order to publicly submit the signatures required to get the petition regarding alcohol sales in Minden and Springhill to move forward.
Another reason Hatch took this issue to the courthouse steps is to showcase 89-year-old Minden resident L.B. Taylor, who signed the petition two times in 2018, and signed a sworn affidavit with picture ID, but still could not get any of his signatures counted. "I'm 89 years old. I can't help it my handwriting is shaky and doesn't look like it did 30 years ago, but they should still have to count my signature. I want to vote on this once and for all," noted Taylor. This time, four people also signed as a witness to attest that was Taylor's signature when only one witness is required by statute.
According to a press release from LEGC, "Over 3,000 voters, 2,250 in Minden and 800 in Springhill, signed petitions calling for an election to allow voters to approve additional alcohol sales in stores. Louisiana state law requires 25% of the registered voters to sign a petition to have a November election and in Springhill, more than 30% of voters signed the petitions, with Minden slightly higher at nearly 32%."
"We are very excited about the response from the community," stated Adam Harris, owner of the Spring Theatre in Springhill. "State law gives us 60 days to gather the signatures, but over 3,000 people—800 in Springhill and 2200 in Minden–signed the petitions in less than 16 days. I'd say getting nearly a one-third of all voters to sign petitions in barely two weeks sends a message they want to be able to vote on this."
Currently, in Minden, there are no alcohol sales allowed in grocery stores, but by-the-drink alcohol sales are allowed in some restaurants. In Springhill, stores can sell beer and low volume wine. By changing the law, the group hopes to allow grocery stores to be able to sell beer, wine, and spirits. Currently, residents are having to drive to other surrounding communities to purchase alcohol causing both communities to lose sales, local tax revenue, and jobs, proponents for the petition said.
According to the Business Research Center at Southeastern Louisiana University, Minden is losing more than $1.2 million dollars annually, in local sales to neighboring communities. Springhill loses more than $500,000 in alcohol sales. Industry officials state for every $1 a grocery store loses in alcohol sales, they will lose an additional $3 in general sales, which could be as much as $25,000 to $150,000 a week in lost sales.
"I get asked why I'm supporting this petition and election. The simple answer is it's another revenue stream for us and it would allow us to do more for our customers. It would also be a huge boost to the retail sector in Minden, which at the very least is needed," noted Jesse Waller, Owner of Bon Temps and Smokin J's restaurants in Minden.
Both communities submitted petitions last year to call the elections, but too many signatures were rejected based on legibility and handwriting comparisons.
The Louisiana Economic Growth Committee is a state registered political action committee, that has been supported by retailers like Wal-Mart and Brookshires.