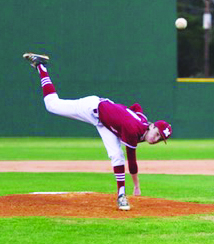 Glenbrook 6 – Claiborne 5
It came down to the wire on Monday night as the Apaches sealed a win in dramatic fashion with a walk-off walk to beat Claiborne.
"I felt very good about the game," Glenbrook head coach Tony Sanders said. "It feels good to get the first win on opening night."
The game was tied at five as the Apaches entered the bottom of the seventh when Cason Clemons drew a walk to score the game-winning run.
Cale Hollis pitched five innings and allowed just three hits and struck out two.
"We had a few miscues in the second inning, but Cale battled through the errors," Sanders said. "This team's motto is 'Next man up', and everyone battled through every at bat."
Glenbrook's big inning came in the fifth when singles by Jackson Powell and Maddox Mandino put pressure on Claiborne, which led to three runs for the Apaches.
Doyline 14 – North Caddo 0
Three pitchers combined to throw a shoutout as the Panthers picked up their second win of the season. Trey Ware led Doyline with five RBIs, going 3-for-3 on the night.
Hunter Carter got the win on the mound for Doyline (2-1), who will play next in the Minden Tournament on Thursday at 3:30 p.m. against Jonesboro-Hodge.
Minden 8 – Bossier 0
John Volentine threw a no-hitter to help the Crimson Tide to their first victory of the year.
Minden will play next on Thursday at 7:30 p.m. in the primetime game of the 2019 Minden High School Baseball Invitational against Jefferson High School of Texas.