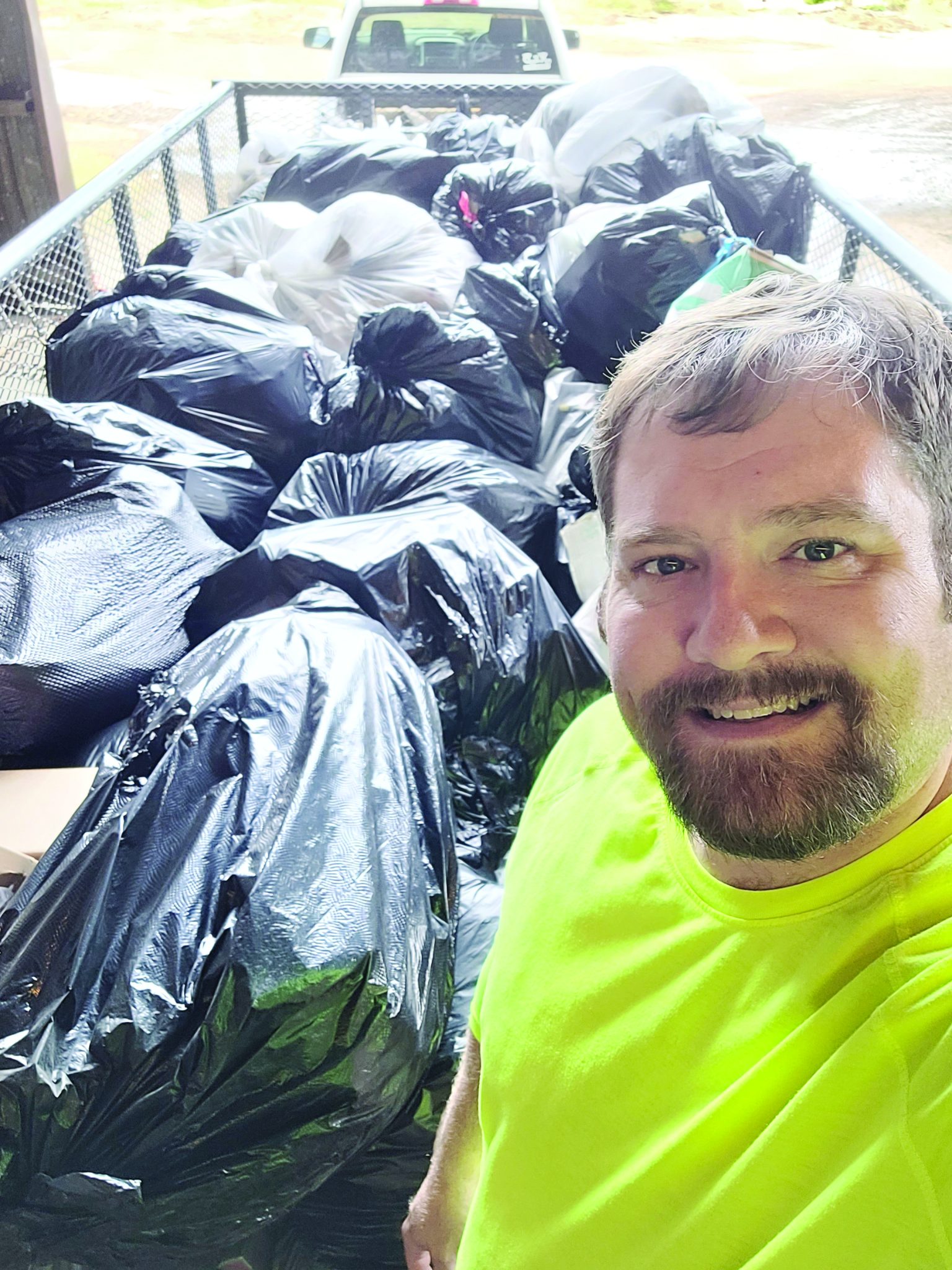 He operates a successful deer processing business; he is a garbage man; he teaches concealed firearms classes; he is a farmer who sells his produce; he is an award winning author; and he is pastor of his church. And he does all this while being blind. Yes, you read it right; Ben Dupree is functionally blind.
Dupree, 42, is a graduate of Northwestern State University in Natchitoches with a Master's degree in education.
"After college I began work as a teacher, basketball coach and assistant principal. Then I began having these strange problems with my eyes. I had 20-20 vision but I began having difficulty keeping my eyelids open and I sought medical treatment. I was finally diagnosed with a rare condition, Blephrospasm, a condition that forced my eyelids to close," Dupree said. "I go to Shreveport quarterly to have injections around my eyes so they can stay open."
After doing something he was trained for in the education system that he absolutely loved, he was forced to have to give it all up after 10 years because of the diagnosis; he was declared functionally blind.
Kristin, Ben's wife and mother of their two sons, is a registered nurse and the couple was faced with a "what's next?" dilemma.
"Kristin encouraged me to do something I had always wanted to do, and that's write a book. So I did and I eventually won an Excellence in Craft award from the Louisiana Outdoor Writers Association. I was a commercial fisherman for awhile, I cut and sold firewood and then
I got into deer processing. The first year I processed a few deer for friends, an activity that took place in my wife's kitchen but she thought it best that I find another place to cut up deer and make sausage. My dad helped me construct a building in our backyard and from something that started simply five years ago, K&B Processing is in a fully operational building with concrete floor, drains and a custom trolly system and I expect to process 400 to 500 this season," said Dupree.
Serious health problems forced Kristin to have to give up her job in the nursing profession as a nursing instructor and today, she's at home keeping records and handling book keeping for the family businesses. Sons Reagan, 15 and Michael 12, are home schooled and assist Dupree in his deer processing business and they take turns on Wednesdays helping their dad on the weekly garbage run, which was the next venture he explored.
The idea of developing a garbage collecting system for folks in the community took shape and today, Dupree has 92 customers throughout north Natchitoches Parish, furnishing cans and drum liners with each Wednesday designated as garbage collection day, garbage taken to the landfill in Natchitoches. "I'm the only garbage man I know who has a master's degree," he quipped.
Rev. Jason Womack, pastor of Goldonna Baptist Church was called to pastor a church in another community recently and before he left, he advised Dupree, who is a licensed minister, to expect to be asked to be interim pastor.
"The church did ask me to consider the interim position which Kristin and I prayed about and I felt led to do. Then the church voted, in a unanimous vote, to call me as pastor. I explained that with all the businesses that I operate, they would have to consider me a bi-vocational pastor and they agreed," he said.
He might have had to give up his profession of being an educator because of his functional blindness but being a renaissance man, he fits the definition of the word exactly … "a person with many talents or areas of knowledge." 
FISHING REPORT
BLACK BAYOU – Crappie fishing has improved on jigs and shiners. No report on bass or bream. Contact Honey Hole Tackle Shop 323-8707 for the latest information.
BUSSEY BRAKE – Bass fishing continues to be quite good with best catches made on fake frogs around the pads. A couple of fish over 10 have been reported along with several 8- and 9- pounders. Crappie fishing has been good also on jigs or shiners.
OUACHITA RIVER – The water is low with no current and fishing has in general been fairly slow. A few crappie have been caught and catfish are fair on jugs and in traps. For the latest information, contact the Honey Hole Tackle Shop at 323-8707.
LAKE D'ARBONNE – Crappie fishing had contCrappie fishing has continued to be good along the edges of the deeper channels on shiners or jigs. Bass fishing has improved along the channel edges on crank baits with the Corney Creek area producing best. in the channels on shiners. Bream are slow while catfish are biting cold worms fished off the banks. For the latest information, call Anderson Sport Center at 368-9669 or Honey Hole Tackle Shop at 323-8707.
.
LAKE CLAIBORNE – Crappie fishing has been good in the deeper channels with shiners seeming to be preferred over jigs. Bass have been fair fishing crank baits off the points. A few catfish have been caught on cold worms. The bream and stripers are slow. For the latest information, call Kel's Cove at 927-2264 or Terzia Tackle at 278-4498.
CANEY LAKE – The best bass fishing has been fishing deep water with jigging spoons and tail spinners working best. Soft plastics and deep diving crank baits have been producing some of the bigger bass in the 7- to 8-pound range. Crappie fishing continues to be best fishing the deep tops on shiners or jigs. No report on bream or catfish. For information contact Hooks Marina at 249-2347, Terzia Tackle at 278-4498 or the Honey Hole Tackle Shop at 323-8707.
LAKE POVERTY POINT – Crappie fishing has improved both around the slips and on the lower end of the lake on shiners or jigs. Catfishing has been good on a variety of baits. No report on bass or bream. For the latest reports, call Poverty Point Marina at 318-878-0101.
LAKE YUCATAN – The water is quite low. While both crappie and bass fishing have been fair, some really big fish are being caught. No report on bream or catfish. For information, call Surplus City Landing at 318-467-2259.
— Contact Glynn Harris at glynnharris37@gmail.com.