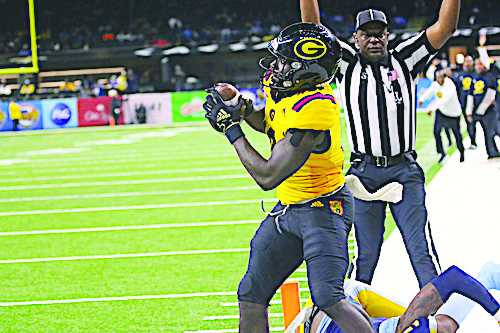 T. Scott Boatright
Minden Press-Herald
NEW ORLEANS — Second-half mistakes can ruin a strong start and result in a loss.
That's what happened Saturday afternoon in the 49th annual Bayou Classic at Caesar's Superdome, as Grambling State started strong before growing pains and missed opportunities for the Tigers allowed Southern to take control late in a 34-17 win over GSU
Grambling's defense held Southern, which entered the contest averaging 413.0 total yards per game, to only 12 yards in the first quarter.
But the G-Men, who finished at 3-8 overall and 2-6 in the Southwestern Athletic Conference, missed on a 47-yard field goal attempt 8:40 into the opening stanza.
Grambling grabbed led 7-0 by the end of the first quarter and only trailed 14-10 after a hardfought first half.
But the Tigers' offense failed to get anything going after that and allowed the Jaguars to score 20 unanswered points in the final stanza to earn the big win.
After the Jaguars retook the lead on a 22-yard touchdown run by Besean McCray with 13:30 left on the clock, Southern added two more scores off turnovers — a 48-fumble recovery by Jordan Carter with 7:42 remaining followed by a 42-yard pick six by Kriston Davis with 2:48 left in the fourth quarter.
Grambling ended the game giving up three turnovers (two fumbles and Davis' interception) while also being penalized six times for 66 yards.
"Penalties and turnovers," Jackson said of two of the obstacles his G-Men couldn't overcome. We've had the penalties. We're used to those. But the turnovers, they were magnified — by twice. Twice the ball fell out of the quarterback's hands. I haven't seen that."
Calvez completed 13-of-27 pass attempts for 152 yards, but faced constant pressure in the second half and sacked seven times in the contest.
Jackson said he didn't think adjustments by Southern helped the Jaguars pull away late.
Instead, Jackson felt it was a case of his young Tigers imploding at a crucial point in the game.
"I don't think they saw anything (to adjust to), I think if anything, they just saw a young quarterback," Jackson said. "I think they smelled blood in the water and just kept coming. I think there were chances to make plays there. And we didn't. We'll learn from it. He'll learn from it."
Chalk IV was named Grambling's Player of the Game after rushing eight times for 120 yards while Maurice Washington added 49 yards on six carries. for the Tigers while Williams chipped in with 41 yards on six carries for the Tigers, who finished with 201 yards on the ground as compared to 159 for the Jaguars.
That GSU rushing attack helped the Tigers outgain Southern 353-234 in total offensive yardage.
"That's something that's been good for us all year," Jackson said of his Tigers' rushing attack. "Our problem was not having the ability to gain 'chunk' plays in the passing game. That reared its ugly head again today and that's something we've got to work on. We get it.
"But like I said, we're not anywhere near where we want to be. Where we will be. I just told the team that I'm proud of them and love them all, but the next thing for us is to improve. We've got to get better and we've got to get better fast."
Jackson said he was thankful this holiday season for a group of senior football players who never gave up the fight.
"They mean a ton to me, I just told them that," Jackson said of his seniors. "I'm proud of them. I'm proud of the effort and the way they represented this team. They never wavered a bit, even when it was tough and even bleak. Those guys fought through. They're the guys who suddenly helped us win two in a row, fighting down the stretch.
"I'm thankful for those guys. But at the same time, I want them to be proud of what they started here. The only way we can give it back to them is to next year be a lot better football team."
And Jackson said he already has next year's 50th Bayou Classic on his mind. Southern's win over the Tigers gave the Jaguars a 25-24 advantage in the series between the schools since the Bayou Classic was born.
"It was 24-24 coming in — they've got one up on us now," Jackson said. "We'll be preparing for the next one for 365 days until we get the chance to do it again and get it back to 25-25, that's for sure."