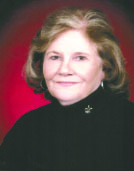 Betsy Ann Crothers Moreland, a long time resident of Louisiana, passed away September 3, 2019 in Houston, Texas following a long illness. Betsy Ann was born on August 19, 1936 to William W. "Billy" Crothers and Bessie Mae Baucum Crothers.
Betsy Ann was an active member of the Daughters of the American Revolution for over 32 years, leading Louisiana as State Regent from 2001-2004 and as National Vice-President General from 2004-2007. She held numerous chapter, state, and national offices. Betsy Ann also led the state's historical marker project, identifying and marking historical sites throughout Louisiana.
Betsy Ann retired from Louisiana State University after 37 years of service to Claiborne and Webster Parishes in the Agricultural Extension Service offices. Her dedicated service to the farmers, cattlemen, and 4-H clubs of Louisiana won her many lifelong friendships.
After retirement, Betsy Ann managed her farming interests in Claiborne and Concordia Parishes.
Betsy Ann served in numerous roles and offices of the American National Cattlewomen's Association and the Louisiana Cowbelles Association. She was named National Cattlewoman of the Year in 1998 and served on the National Beef Council. She chaired the National Beef Ambassador Program, which educated students about cattle farming and beef production. The Louisiana Cattlemen's Association honored her years of service by inducting her into the Louisiana Spur Club.
Betsy Ann was a lifelong member of the United Methodist Church and remained active in church work for over 70 years. She was President of the United Methodist Women of Homer where she served on the Church's Board and Chair of Ministry. She also volunteered as a Girl Scout and Boy Scout Leader in Homer and participated in numerous mission projects in Central America.
Betsy Ann was passionate about gardening and birds and possessed the "green thumb" enabling her to make any plant or tree grow and thrive. She was a highly sought genealogist and assisted countless families in tracing their family backgrounds.
She was predeceased by her parents; her brother Albert "Bubby" Crothers; her sister Patte Sue Crothers Turner; her son Joel Stephen "Jody" Moreland; and her grandson Joel Scott Moreland.
She is survived by a daughter Susan E. Moreland; son Scott B. Moreland and wife Mona; son Sidney S. Moreland, IV and wife Desiree; granddaughter Virginia Moreland McMullen and husband Will; great grandchildren Elizabeth, Vivienne, and William McMullen, Jr.; brother David E. Crothers and wife Barbara; sister-in-law Marguerite Crothers; nieces and nephews: Sarah Crothers Burgess and husband Derek; Daniel Crothers and wife Kelly; Stephen Crothers and wife Candace; Susan Turner; Patte Gale Turner and sons Oliver and Elijah; Brenham Burgess; Miller Burgess; Tanner Burgess; Madison Crothers; Myla Crothers; Lilian Crothers, Silas Crothers; Josiah Crothers; and Sybil Crothers.
A memorial service celebrating her life will be at 2:00 p.m. on Saturday, October 5, 2019 at the First United Methodist Church in Homer, Louisiana followed by a reception. All friends are invited to attend. Her interment was in the Crothers' section of the Calhoun Cemetery in Calhoun, Louisiana. Donations may be sent to First Methodist Church, 501 W. Third, Homer, LA 71040.